NEWS
SAMURAI BLUE prepare thoroughly for Saudi Arabia match
13 November 2016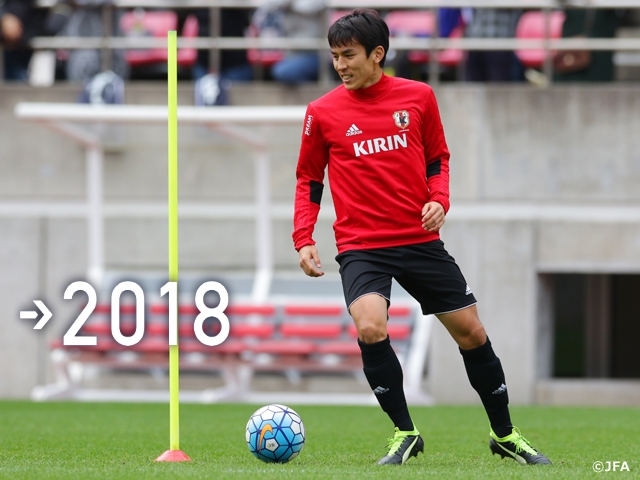 One day after the KIRIN CHALLENGE CUP 2016 against Oman, SAMURAI BLUE (Japan National Team) worked out at the Kashima Football Stadium on Saturday 12 November. The players who did not start for the Oman match took the central role in this session to get themselves well-prepared for the FIFA World Cup 2018's Asian final qualifiers match against Saudi Arabia.
While Saudi Arabia are now leading the group, Japan sitting at third place with three points behind have a possibility to move to the top place with a win in the next match, which certainly is the desired outcome for Japan.
The starters of the friendly match on the previous day including forward OSAKO Yuya (1.FC Koeln), who scored two goals in his first national team match in 18 months, and midfielder KIYOTAKE Hiroshi (Sevilla FC), who performed brilliantly getting involved in three goals for Japan, went through recovery regimen which included running, stretching and trunk training.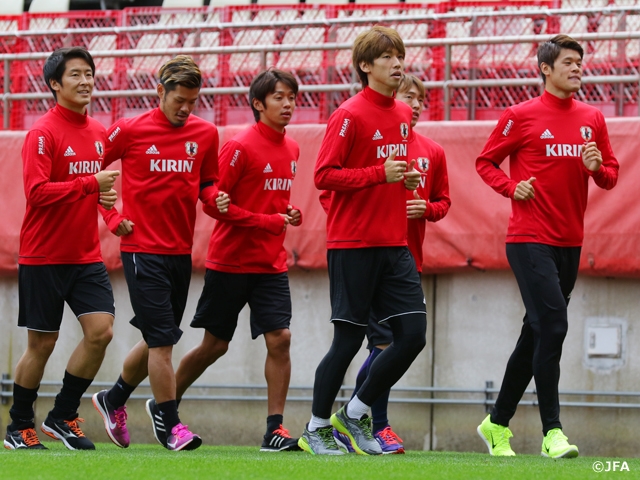 On the other hand, the rest of the team including forward KUBO Yuya (Berner Sport Club Young Boys), who made his national team match debut midway through the match, and midfielder HARAGUCHI Genki (Hertha BSC Berlin) engaged in 1-on-1 battles, 6-on-6 formation drills and shooting exercises involving build-up.
Coach Vahid HALILHODZIC occasionally instructed using body language to clarify important points during practice. He also provided passes himself in shooting drills to closely check on each player.
Defender NAGATOMO Yuto (FC Internazionale Milano), who did not play against Oman due to unfavourable physical condition, and KAGAWA Shinji (Borussia Dortmund), who did not join the team practise before the match, also joined the substitutes to work out for two hours.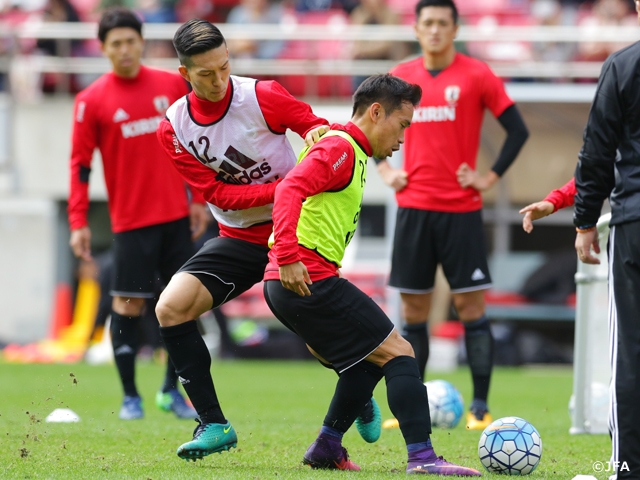 As a side note, the day was Kiyotake's 27th birthday. While he was talking with the media after practice, coach Halilhodzic showed up with a birthday cake in his hand, which lightened up the mood around the pitch. The coach smiled at him and said 'yesterday I presented him with the opportunity to play, and then he got himself a present of his own, a goal from a penalty kick'.
In the afternoon of the day, the team moved to Saitama where the Saudi Arabia match will be held. They will start their preparation from Sunday 13.
Players' Comments
FW #4 HONDA Keisuke (AC Milan)
When you don't get to play in matches, while you must have the stamina to compete for the match, you need to also have a refined image of ball touches and a keen sense of actually playing the game. Your mental state is reflected in your plays. But yesterday it was a test match, so I could get into it relaxed and I am getting back in form. I was reminded that your mental side can really affect how you play. I felt good yesterday, so my condition will get better from now on. In the Saudi Arabia match, no matter who gets the chance to play, we have to win. I am getting myself ready to start.
DF #5 NAGATOMO Yuto (FC Internazionale Milano)
Saudi Arabia have many skilled players, and they also have excellent players upfront. Their fullbacks remain at high positions, so we don't want to let them create outnumbering situations. In order for us defend collectively, we need to communicate proactively, and not only our fullbacks but also our players up-front need to be on the same page. I haven't had the chance to play in the national team matches for a while, but that shouldn't be a problem. Since I have been on this team long enough, I know the players' characteristics and favourite plays. I will do all the things necessary when required. That would never change.
DF #6 MORISHIGE Masato (F.C. Tokyo)
In yesterday's match some of the offensive tactics differed a bit, but those changes do not affect how we defend greatly. Our forwards have their own individual talents, so I think we need to understand those unique characteristics and take advantage of them at the same time. As we keep playing, sometimes we can't avoid getting carded. Furthermore, in order for us to cope with any unforeseeable accidents, we need to prepare ourselves as a team and the substitutes must be ready to enter the match at any time. I am always working hard and trying to get the chance to play in matches. I am not satisfied with myself. While having a sense of urgency at all times, I need to improve on what I am still lacking as an individual player.
MF #13 KIYOTAKE Hiroshi (Sevilla FC)
Yesterday before the match, we were talking about paying attention to distance among us. For example, when Honda comes into the middle I will move aside. I think we were able to demonstrate that on the pitch. The way we scored the second goal is something we want to replicate more in matches. Saudi Arabia have strong and fast players upfront and their individual abilities are outstanding. So it's up to how we can play collectively. Considering the goal differential, we want to score as many goals as possible, but winning comes first.
Schedule
Sun. 6 November
PM
Training
Mon. 7 November
PM
Training
Tue. 8 November
PM
Training
Wed. 9 November
PM
Training *
Thu. 10 November
TBC
Official Conference (Kashima Soccer Stadium)
Official Training (Kashima Soccer Stadium) *
Fri. 11 November
4-0
KIRIN CHALLENGE CUP 2016
vs Oman National Team (Kashima Soccer Stadium)
Sat. 12 November
AM
Training
Sun. 13 November
PM
Training *
Mon. 14 November
TBC
Official Conference (Saitama Stadium 2002)
Official Training (Saitama Stadium 2002) *
Tue. 15 November
19:35
ASIAN QUALIFIERS (Road to Russia)
vs Saudi Arabia National Team (Saitama Stadium 2002)

*Closed doors except for first 15 minutes
*Schedule is subject to change due to team condition, weather, or any other unforseeable circumstances
ASIAN QUALIFIERS - ROAD TO RUSSIA
2016-11-15 (Tue.) - 19:35 (Estimated time)
Saitama Stadium 2002
SAMURAI BLUE (Japan National Team) vs Saudi Arabia National Team
More Information