NEWS
SAMURAI BLUE prepare tactics behind closed doors for Saudi Arabia clash
14 November 2016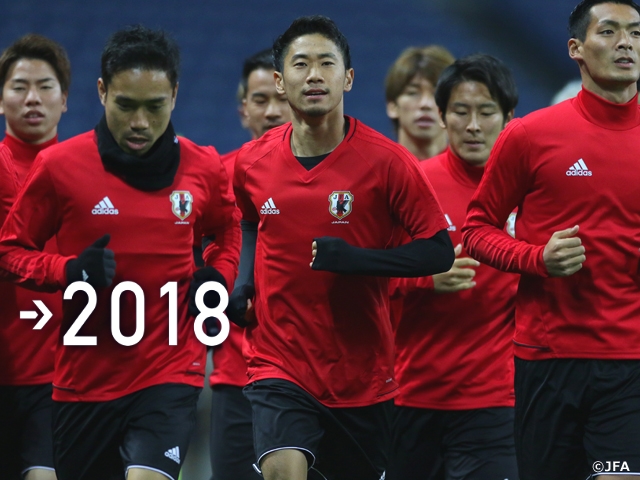 SAMURAI BLUE (Japan National Team) had another practice session on Sunday 13 November at Saitama Stadium 2002 where the FIFA World Cup 2018 Asian final qualifier's fifth match against Saudi Arabia will be held two days later. The doors were open to media only for the first 15 minutes in order to go through their tactics without disruption.
Currently Saudi Arabia are leading Group B with three wins, one draw, and no loss for a total of 10 points. Japan have earned 7 points with two wins, one draw and one loss. If Japan win the head-to-head match on 15 November, they will be tied with Saudi Arabia at 10 points and potentially take the top spot with the condition of second-placed Australia with 8 points drawing or losing in their away match against Thailand.
Midfielder KAGAWA Shinji (Borussia Dortmund/Germany), who did not play against Oman on Friday 11 due to pain in his right ankle, worked out fully with the team just as the previous day.
Kagawa says "I am fine now. We are playing tough matches one after another in this final qualifying round. To get momentum, we need to win this one and gain more confidence. Within the framework of our team's game plan, I want to try how I can utilise myself."
According to the FIFA, Saudi Arabia rank at 54th while Japan stand at 51st. As proved by a good run in this ongoing World Cup qualifiers, Saudi Arabia have greatly improved their rankings in this past 12 months from the 80th place last year.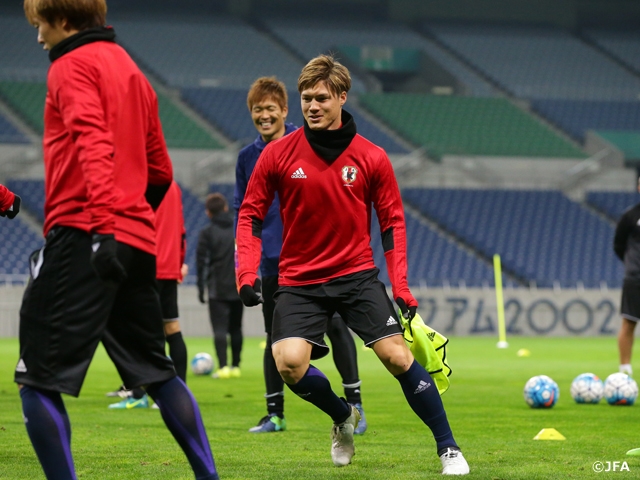 The head-to-head record between the two countries is Japan's seven wins, one draw and three losses since the first matchup in 1990. At the World Cup qualifiers, they have played against each other just once at one of the preliminary matches held in 1993 for the World Cup America 1994, where they shared a point with a scoreless draw. Their last meeting was a group stage match of the AFC Asian Cup in January 2011, and Japan came out victorious with a 5-0 rout.。
The Saudi Arabia side arrived in Japan on Tuesday 8, and they have been preparing themselves in Tokyo without playing any friendly on Friday 11, the date on which the international match between Japan and Oman took place.
Midfielder NAWAF ALABID, having scored four goals in the four matches of this final qualifiers, and forward MOHAMMED AL SAHLAWI, who tallied 14 in the second round, are leading their squad for the contest against Japan.
To look at some of the scoring details, Japan allowed four goals through set-pieces in this final round including two out of penalty kicks, and Saudi Arabia have scored three out of eight total goals by penalty kicks.
Defender YOSHIDA Maya (Southampton FC/England) points out "we will be in trouble if we let them take the ball deep in our end. We have to pay attention to details throughout the 90 minutes."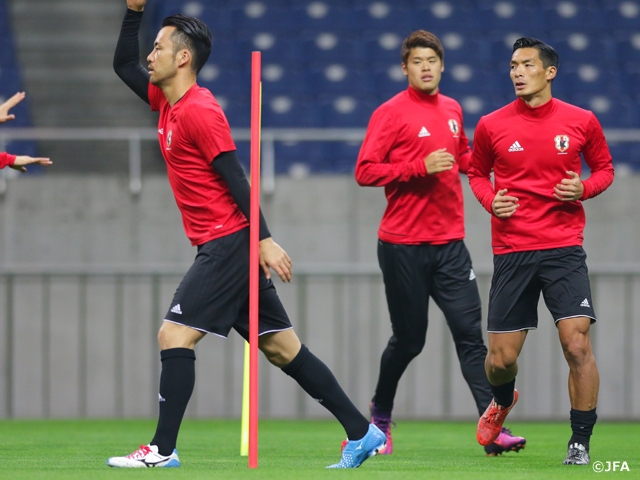 The contest is scheduled to kick off at 19:35 on Tuesday 15 at the Saitama Stadium.
Players' Comments
MF #10 KAGAWA Shinji (Borussia Dortmund/Germany)
Saudi Arabia have got small but agile forwards and physically strong defenders. But me personally, I will focus more on how we play than how they play. Every match is important, but Saudi Arabia are on top of the group. So if we don't beat them here, we might never be able to catch up. We want to win, and we are getting ready by picturing us winning. We need to believe in ourselves and play without putting too much pressure on us.
GK #12 NISHIKAWA Shusaku (Urawa Red Diamonds)
Everybody on this team wants to win this match. If we possess a good physical and mental balance as well as a strong will to win, we could play freely without putting too much pressure on us. We have to be careful of the way we lose the ball. So, as we move the ball forward, I want to keep predicting how the opponents react and attack, while controlling the potential risks.
FW #9 OKAZAKI Shinji (Leicester City Football Club/England)
There is no question that it will be a tight match. By staying currently at the top of the group, I think Saudi Arabia are confident. We need to be ready for an intense and tough match and be prepared to control all the risks. As a forward I think all I have to do is to score goals even with limited number of ball touches, but if the midfield battles are quite even, I will have to stay patient. I think I will also be required to help my team by creating scoring chances for myself.
DF #3 UEDA Naomichi (Kashima Antlers)
We were able to try various things in the match against Oman, and the condition of this team has improved significantly. So I think we are well-prepared for the Saudi Arabia match. There aren't any more games we can afford to lose, so we have to play as a united team with a sense of urgency. The opponents have quickness and physicality on the ball. I think they will initiate attacks from the flanks, but even if we have our sides get broken through, we can still keep them out of the middle. So I will make sure to defend where I am assigned.
DF #22 YOSHIDA Maya (Southampton FC/England)
It's important to keep our defence compact and not to give them space to operate. We have to pay attention to details throughout the 90 minutes. In our offence, we use both fast and slow attacks effectively. If the opponents stay back, the tempo of the match will be slower. So it will be very important for us to use change of pace.
DF #21 SAKAI Gotoku (Hamburger Sport-Verein/Germany)
My condition isn't bad. Not only Saudi Arabia but also any opponents can play differently than expected. So it's important how we deal with it as a team once the match starts. Everybody on this team has some ideas on our opponents' play style and individual characteristics. So everything should be fine if we stay focused and play.
MF #14 KOBAYASHI Yuki (Sport Club Heerenveen/Netherlands)
In the Oman match, I had many positive takeaways. I'm also confident that I can play well. I have excellent pace, the ability to make the right judgement when I have the possesion of the ball, and a clear image of reaching the opponents' goal. I am ready to showcase my unique skills. The opponents are skilful and fast, and they also have players with talent. We need to be careful in those aspects.
Schedule
Sun. 6 November
PM
Training
Mon. 7 November
PM
Training
Tue. 8 November
PM
Training
Wed. 9 November
PM
Training *
Thu. 10 November
TBC
Official Conference (Kashima Soccer Stadium)
Official Training (Kashima Soccer Stadium) *
Fri. 11 November
4-0
KIRIN CHALLENGE CUP 2016
vs Oman National Team (Kashima Soccer Stadium)
Sat. 12 November
AM
Training
Sun. 13 November
PM
Training *
Mon. 14 November
TBC
Official Conference (Saitama Stadium 2002)
Official Training (Saitama Stadium 2002) *
Tue. 15 November
19:35
ASIAN QUALIFIERS (Road to Russia)
vs Saudi Arabia National Team (Saitama Stadium 2002)

*Closed doors except for first 15 minutes
*Schedule is subject to change due to team condition, weather, or any other unforseeable circumstances
ASIAN QUALIFIERS - ROAD TO RUSSIA
2016-11-15 (Tue.) - 19:35 (Estimated time)
Saitama Stadium 2002
SAMURAI BLUE (Japan National Team) vs Saudi Arabia National Team
More Information