NEWS
Let's stop wasting time and just play - Always have respect Vol.113
26 October 2022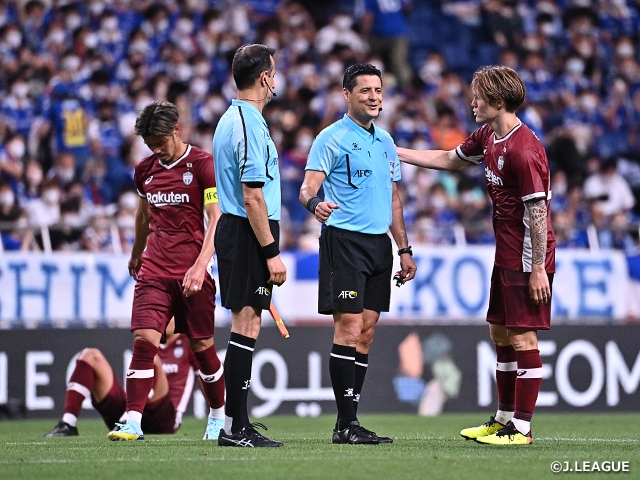 The AFC Champions League (ACL) East knockout stage was quite worth seeing.
Late in August, eight teams from the east part of Asia who won the group stage in April gathered in Saitama city to compete for the finalist of ACL in a single-leg knockout format. Saitama city was chosen to be the centralised venue for the East Region partly because three of eight teams were Japanese clubs; Urawa Red Diamonds, Yokohama F. Marinos, and Vissel Kobe.
Five other teams in the knockout stage were Jeonbuk Hyundai Motors FC and Daegu FC from Korea Republic, BG Pathum United from Thailand, Johor Darul Ta'zim from Malaysia, and Kitchee SC from Hong Kong. The competition showed the quality of J. League and rapid growth of professional leagues in ASEAN countries. It was also remarkable that the best referees in Asia gathered together.
Six referees from Asia, including YAMASHITA Yoshimi of Japan, have been selected to officiate at the FIFA World Cup Qatar 2022™, which gets underway in November. Four of them officiated in the knockout stage of this ACL: Abdulrahman AL-JASSIM of Qatar, Christopher BEATH of Australia, Alireza FAGHANI of IR Iran and Mohammed Abdulla Hassan MOHAMED of the UAE. Nine "World Cup Referees" in total were also appointed as VARs and assistant referees. It therefore came as no surprise that all of the fiercely contested matches were also extremely well managed. It was Faghani's officiating during the Round of 16 match between Kobe and Yokohama FM that particularly drew my attention.
Alireza Faghani, born in 1978 and now 44 years old, served as the fourth official in the opening match of the 2014 FIFA World Cup Brazil™ and was in charge of four matches up to the third-place Final at the 2018 FIFA World Cup Russia™. He has also officiated at the final matches of the AFC Asian Cup Australia 2015, the FIFA Club World Cup Japan 2015™, and the 2016 Summer Olympics [Rio 2016]. He is one of the currently best referees in Asia without a question.
He is a member of a family of football referees; his father and brother are also referees. Alireza moved from IR Iran to Australia in 2019 and is now actively involved in the Australian league, while his younger brother Mohammadreza FAGHANI relocated to Sweden to pursue his career as a referee.
He took a very strong stance against attempts to waste time on goal kicks and throw-ins, which was interesting to see. When Yokohama FM gained a free kick deep inside their own end in the 17th minute with the score still 0-0, he blew his whistle forcefully to instruct them to promptly restart the game. After Kobe took the lead, he continued to make efforts to speed up the restarts from goal kicks and throw-ins. He also gave a strict warning to a player for kicking the ball away, albeit lightly, when the opponents won a free kick.
The J. League referees are generally forgiving of such conduct and they usually warn only after a player actually spent excessive time. However, Faghani instantly blew his whistle to signal a goal kick or a throw-in when he noticed even the tiniest indications of time wasting.
The way he blew his whistle was also exquisite. It wasn't done in a way that irritated the players. It wasn't a statement of fury or disgust toward their action. It was a positive exhortation to the players to "stop wasting time, come on, let's play!"
With Kobe leading 2-1 in the second half, he kept this same approach. However, even after Kobe increased their advantage to 3-1, he didn't need to blow the whistle more frequently. In the final minutes, it was not unexpected that the players of Kobe wanted to "waste time" more often, but they understood Faghani's intention and played with alacrity.
Despite the intense heat, both teams engaged in a high-level battle, applying pressure to the other team right up until the very end, so the game was highly fast-paced and very exciting. I firmly believe that Faghani's desire to "waste no time, keep playing, and delight the fans" and the attitudes of both teams, who understood and accepted their referee's desire, were responsible for the success of this match.
Written by OSUMI Yoshiyuki (Football Journalist)
*This article was originally posted on the Japan Football Association Newsletter, "JFAnews," September 2022 edition.
Japan Football Association Newsletter "JFAnews"
The Japan Football Association Newsletter "JFAnews" contains all the information on the Japan National Team, and all the events hosted by the JFA. Tournament results and team information throughout the nation are also available. The official monthly magazine is a must read for coaches, referees, and all members of the football family.
For information on the newest edition (Japanese website)