NEWS
Gamba Osaka bags four in the second half to win the "Kansai Derby" at the Prince Takamado Trophy JFA U-18 Football Premier League 2021
19 April 2021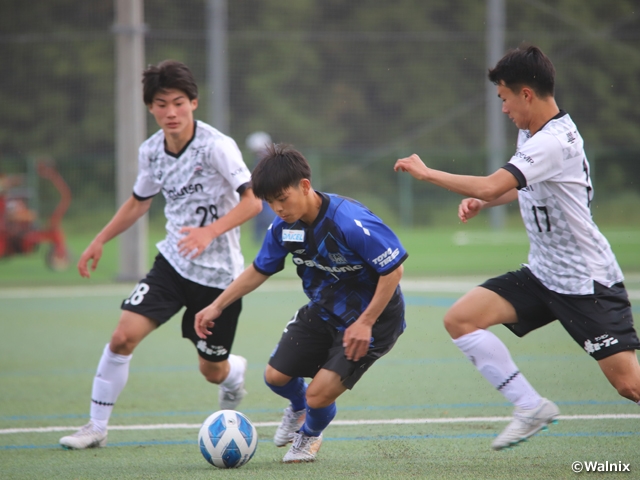 The third sec. of the Prince Takamado Trophy JFA U-18 Football Premier League 2021 WEST took place on Saturday 17 and Sunday 18 April, where Gamba Osaka Youth (Osaka) squared off against Vissel Kobe U-18 (Hyogo).
Pick-up Match
Gamba Osaka Youth 6-2 (2-2, 4-0) Vissel Kobe U-18
Gamba Osaka, who has scored eight goals in their first two matches, got off to a hot start in this match. With SAKAMOTO Isa (#11) earning a CK in the fifth minute, ASANO Naoki (#7) delivered the ball into the mix, allowing ADACHI Kodai (#22) to score the opening goal. Asano assisted another goal from a CK in the 13th minute, this time setting up the goal of WADA Naoki (#17).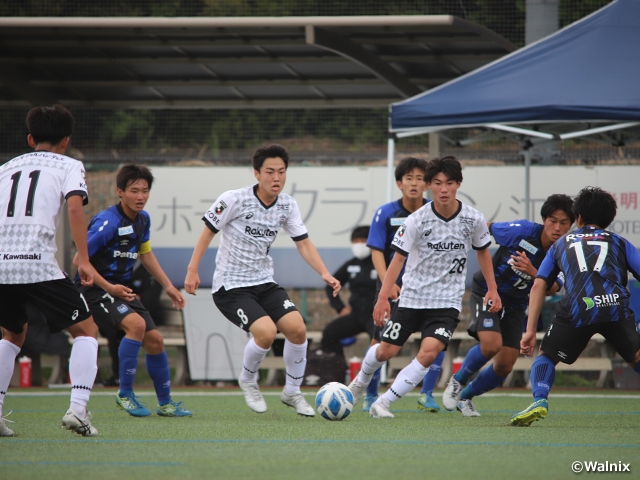 Despite taking an early two-goal lead, the Osaka side struggled to possess the ball, as coach MORISHITA Hitoshi later reflected, "We couldn't make our adjustments after our opponent switched their formation from 3-4-3 to 4-3-3." Vissel Kobe on the other hand, effectively penetrated the open space, as OZAKI Yusei (#4) mentioned, "We trained all week with the presumption that our opponent was going to apply aggressive pressure from their frontline. We focused on exploiting the space behind their backs." Following the goal scored by IZUMI Saiki (#11) in the 16th minute, Kobe managed to equalise the match in the 26th minute when MURAI Seita (#17) converted the cross sent by SOTETSU Koki (#23).
After coming from behind to level the match in the first half, it was thought that the Kobe side would control the match in the second half, but the effort of MINAMINO Harumi (#18) brought the momentum back to Osaka, as he reflected on the team's atmosphere during halftime, "We knew that the momentum had shifted towards our opponent, but we told each other to reset our minds and start over." Minamino's goal in the 49th minute set the tone for Osaka, as the striker recalled the scene where he received the ball from WAKIYAMA Haruto (#2), "As soon as I controlled the ball, I knew I was scoring the goal."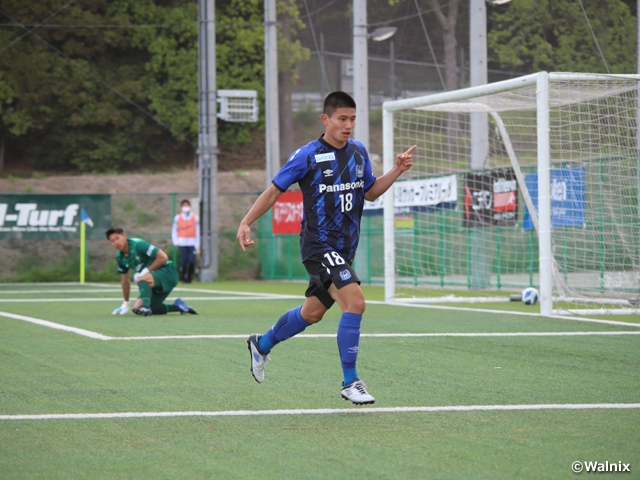 Following their struggles in the first half, Osaka managed to make adjustments to Kobe's four-back formation, as they started to force more turnovers in the midfield. With the team gaining full momentum, Osaka went onto score three more goals in the second half, including Sakamoto's brace. Osaka's GK JONISHI Shundai (#16) also made a spectacular save to keep the Kobe scoreless in the second half, adding another win to their win column.
Gamba Osaka has now won three consecutive matches to claim the lead in the WEST, but team captain Asano kept a modest attitude, as he commented after the match, "Instead of worrying about our opponent, we must focus on executing our own football. We will continue to enter the next match with a challenger's spirit."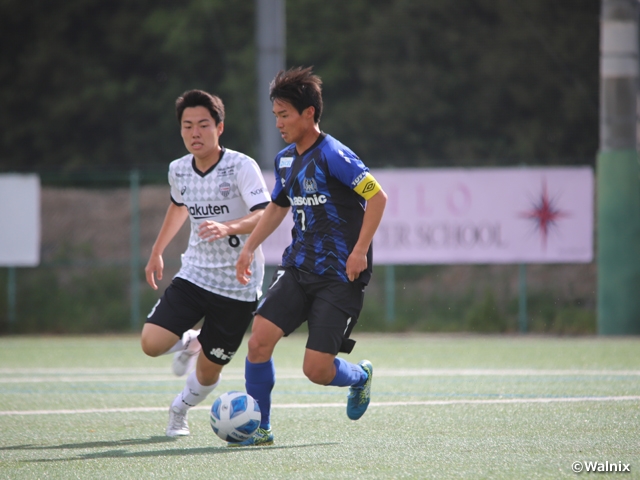 Coaches and Players' Comments
MORISHITA Hitoshi, Coach (Gamba Osaka Youth)
We made so many errors in this match. We were not executing our game plan and showed too many flaws. Although we managed to win the match, the score does not reflect our performance, as a single goal could have changed the entire outcome of this match. The players must improve themselves in order to reach the top team, which consists many players capable of playing for the national team. Regardless of who we face, I want our players to be able to make their own decisions on the pitch. In that sense, the Premier League is a great platform because we get to face many teams with different approaches.
MF #7 ASANO Naoki (Gamba Osaka Youth)
Although we managed to grab a two goal lead, we showcased our inability to manage risks, and conceded two goals soon afterwards. Our performance in the first half was poor, but after our coach gave us a pep talk during halftime, we were able to take the initiative and score four goals in the second half. We are so grateful to be given the opportunity to face strong teams at the Premier League. We will continue to give our best efforts on behalf of last year's senior players who were not able to play at this league.
NODA Satoru, Coach (Vissel Kobe U-18)
We conceded goals in the early minutes of both halves, which turned out to be the difference maker. We cannot win a match when we are losing every one-on-one battles. Our opponent was simply the better team, but we still had to put up a better fight, especially in the midfield. We did manage to create some opportunities, but it felt like we didn't have enough power to capitalise on them. Overall, we were beaten by a far better team.
DF #4 OZAKI Yusei (Vissel Kobe U-18)
Our opponent had the upper-hand in both the individual and team level. They were more eager to win the ball, showcased better skills, and made more runs, which ultimately translated to the final score. We cannot afford to let our guards down against such opponent. Although it was great to see our team score the equaliser in the first half, we entered the second half poorly and lost all the momentum we built up to that moment. The team is surrounded by a negative vibe after losing three in a row, so we must reset our minds and try to lift our spirts from the training sessions.
Results of other matches
Kyoto Sanga FC U-18 0-0 (0-0, 0-0) Ozu High School
Sanfrecce Hiroshima F.C Youth 0-0 (0-0, 0-0) Jubilo Iwata U-18
Higashi Fukuoka High School 1-2 (0-1, 1-1) Nagoya Grampus U-18
Sagan Tosu U-18 2-1 (0-1, 2-0) Cerezo Osaka U-18
The match between Kyoto Sanga FC U-18 (Kyoto) and Ozu High School (Kumamoto) ended in a scoreless draw after both sides fell short from finding the net. Jubilo Iwata U-18 (Shizuoka) and Sanfrecce Hiroshima F.C Youth (Hiroshima) also shared a point apiece in another scoreless draw. Despite conceding the equaliser to MAEDA Ryota (#12), Nagoya Grampus U-18 (Aichi) edged Higashi Fukuoka High School (Fukuoka) 2-1, thanks to the brace of TOYODA Koki (#8). Sagan Tosu U-18 (Saga) came from behind to win 2-1 against Cerezo Osaka U-18 (Osaka), as NITTA Rio (#11) scored two goals in the second half.

Prince Takamado Trophy JFA U-18 Football Premier League 2021
League Duration: Sat. 3 April - Sun. 5 December 2021