NEWS
【Match Report】International Friendly Match between Nadeshiko Japan and Netherlands Women's National Team ends in a scoreless draw
30 November 2021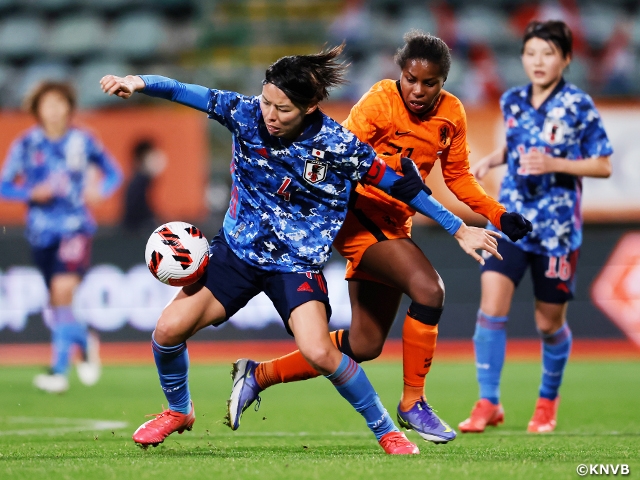 On Monday 29 November, Nadeshiko Japan (Japan Women's National Team) played an international friendly match at The Hague, Netherlands, and drew 0-0 against the Netherlands Women's National Team. Following their loss to the Iceland Women's National Team on Thursday 25, the team tried to book their first win under the new regime of coach IKEDA Futoshi but fell short from scoring a goal in back to back matches.
The Netherlands Women's National Team had to play against Nadeshiko Japan with just one day rest after their match scheduled for Friday 26 November was postponed to Saturday 27. Due to this sudden change of schedule, three players who had been called up to the team, Dominique JANSSEN, Vivianne MIEDEMA, and Jill ROORD, were not included in the squad. In order to fill the void, six new players were called up for this match, adding to their fresh line-up. Nadeshiko Japan on the other hand, made seven changes to their starting line-up from their match against Iceland. As the starting goalkeeper, TANAKA Momoko (Nippon TV Tokyo Verdy Beleza) made her first cap for the national team, and MIYAZAWA Hinata (Mynavi Sendai Ladies), who turned 22 on Sunday 28, made her first start for Nadeshiko Japan. The arm band was given to KUMAGAI Saki (FC Bayern Munich), who was named team captain by coach Ikeda during this tour. The team had three days to prepare for this match in order to earn results in this rare occasion to tour Europe.
The match started with Nadeshiko Japan taking the initiative, as they took a collective approach to deprive the opponent's freedom and collected the loose ball against opponents with superior physiques. Even when they lost possession of the ball, the team showcased quick transitions to recover the ball, keeping the Netherlands, who looked fatigued from the tight match schedule, at bay. Once entering the opposing half, Japan effectively utilised diagonal passes to penetrate the open space, as seen in the play where HASEGAWA Yui (West Ham United) delivered a lobbing pass to allow Miyazawa to enter the penalty area. Japan also created chances from the flanks, as SHIMIZU Risa (Nippon TV Tokyo Verdy Beleza) responded to a cross delivered by MIYAGAWA Asato (Nippon TV Tokyo Verdy Beleza) in the 19th minute. A close opportunity was created from a set piece in the 37th minute, when MINAMI Moeka (Mitsubishi Heavy Industries Urawa Reds Ladies) connected with a free kick delivered by NAGANO Fuka (Mynavi Sendai Ladies), but the defender's shot failed to capture the target, as the first half ended scoreless.
Using their substitutes, the Netherlands gradually picked up their pace in the second half. They attacked speedily with long balls sent from their defence line and tried to exploit the space behind the Japanese fullbacks, but Japan had worked on improving their line control after conceding a goal from a long ball against Iceland, showing great response to keep the Dutch offence from creating chances. Japanese goalkeeper, Tanaka, displayed great composure and coverage to respond to the balls sent behind the defence line. In offence, a close opportunity was created in the 74th minute, when the ball was connected through SUMIDA Rin (Mynavi Sendai Ladies) and IWABUCHI Mana (Arsenal), before SUGASAWA Yuika (Mitsubishi Heavy Industries Urawa Reds Ladies) made a run into the box, but a Dutch defender made sliding effort to block the shot.
Both teams continued to move the ball around with great intensity, but the score remained unchanged until the final whistle. As a result, Nadeshiko Japan's tour to the Netherlands ended with one draw and one loss.
This was the team's first tour overseas since March 2020, and with the presence of the players who are playing abroad, the team was able to spend a productive time to further instil the team concept. The players and staff were disappointed that they could not book their first victory as a new team, but they will continue to prepare for the AFC Women's Asian Cup India 2022 to be held in January 2022 by addressing the issues that were observed during this tour.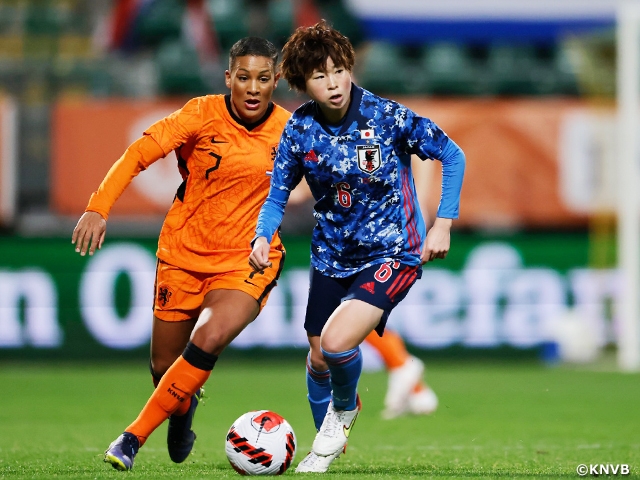 Coach and players' Comments
IKEDA Futoshi, Coach of Nadeshiko Japan (Japan Women's National Team)
In terms of offence, the players made collective efforts to create opportunities, but the combination, frequency, and timing of those attempts to break through did not result in a goal, so we need to improve the quality of each play. I think the defence was able to showcase their discipline and focus, including line control to keep the defence line compact. I am always thinking about various options with different players, including those who were not selected for this tour to Europe. The fact that we were able to travel overseas and play two friendly matches in four days was very meaningful, especially knowing that we can face similar situations at the Asian Cup. Through these matches, I think we were able to share a mutual understanding of both offence and defence. In terms of our combinations, I would like to see a little more creativity in front of the goal, such as how we use the space left open by a player, multiple players changing their decisions based on each other's movements, and the ability to take action based on the state of the player holding the ball. As we try various things, I think the players are starting to get on the same page. It was evident that these players have a high level of understanding that allows them to make adjustments to play along with each other, and that is the biggest gain of this tour. There are many areas where we need to improve our quality to compete in the world, and I think we need to gain a lot of experience to do so. For this reason, I would like to ask players to be stricter in their daily trainings.
GK #21 TANAKA Momoko (Nippon TV Tokyo Verdy Beleza)
Although it was my first time playing for the national team, I was not particularly nervous, and I focused on showcasing my usual performance. It was very difficult to maintain my focus because our team held position of the ball for a long time, and I didn't have many chances to touch the ball. That is why I tried to keep my concentration by staying vocal, just like I have done in the past matches. I was aware that our opponent was capable of creating chances with long balls, so I was focused on covering the space behind our defence line. I thought that the key to success was to anticipate the timing of their runs. I have only played one match so far, so I haven't grasped anything yet. I must focus on doing my best once I return to my club and in the future training camps. In the last training camp and in this tour to Europe, I saw a lot of flaws in my game, so I think it's up to me to take those flaws and improve them one by one. I was able to gain a wonderful learning experience, so I hope to stay on track and give my best effort to become a better player.
DF #4 KUMAGAI Saki (FC Bayern Munich/Germany)
As we played the match, I thought that this was a match we had to win. We knew that our opponent was playing with just one day rest, so we entered the match with the intention to get our job done and build on what we have worked on, rather than worrying about our opponent. We have many players with great potential, but we still have a long way to go to become a viable contender at the world stage, and that was evident in today's match. Including myself, we need to be able to compete at the individual level. In our match against Iceland, we took an aggressive approach to apply pressure from the frontline, but we were not able to make small adjustments on the pitch. That is why we focused on communicating with each other about what we noticed on the pitch, and to make adjustments when we were not on the same page. How we keep possession after winning the ball, and how we carry the ball upfront were some of the key factors in this match, but we struggled to finish our plays with a shot today. Compared to our match against Iceland, we managed to apply more pressure from the frontline and improved our defence.
MF #15 NAGANO Fuka (Mynavi Sendai Ladies)
Since our match against Iceland, we have improved how we apply pressure in defence by clarifying our aim. In terms of offence, I think we had opportunities we should have converted. It was a match that made us realise that we need to communicate more. While the team has improved on how we collectively apply pressure on the ball, and to make quick transitions once winning the ball, but we still need to be more creative in the final third. Compared to Japanese players, European players are superior in terms of speed and power, but if we can capitalise on their mistakes and play with a concrete aim, we should be able to win matches against them. Of course winning the ball is important, but more than anything, we must focus on showcasing our usual football. Although I always train with the world in mind, this match made us realise that we need to improve ourselves so that we can compete against foreign players at the individual level. It has been a long time since I had the opportunity to experience the world's standards, so I hope to make the most of this experience and work even harder in my daily trainings.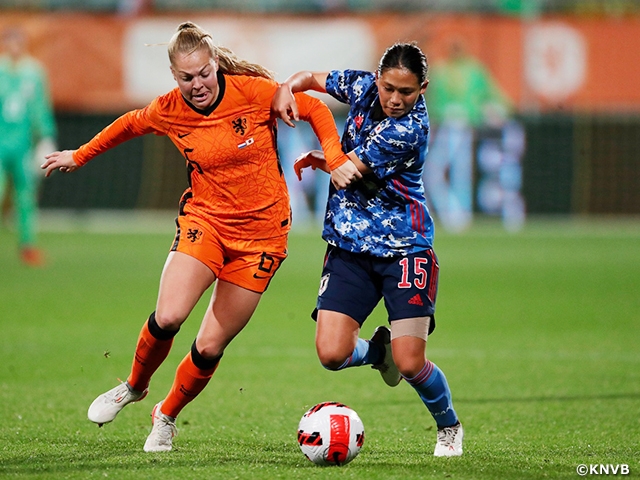 FW #10 IWABUCHI Mana (Arsenal/England)
Personally, this was my first match in nearly three weeks, so I don't feel like I was able to give 100%, but I was still able to give everything I've got right now. As I was playing, it felt like the goal was so far away. There are a lot of factors that go into scoring a goal, but if you cannot score, you cannot win the match. I think the defenders played very well today, so as a striker, I feel responsible for not being able to win a match like this. It made us realise that we still have plenty of room for improvements. We have been able to deepen our mutual understanding day by day, but it doesn't mean a thing if we cannot showcase that on the pitch. I think we should have won this match, and the fact that we couldn't score a goal is a sign that we still have a long way to go. I feel that I need to become a player that can singlehandedly create chances for the team.

International Friendly Match
Nadeshiko Japan vs Netherlands Women's National Team
Date: Mon. 29 November 2021, 19:40 (Tue. 30 November 3:40 Japan time)
Venue: Cars Jeans Stadion (The Hague, Netherlands)
TV Broadcast: Live on BS Fuji