NEWS
Nadeshiko Japan hold one last training session ahead of crucial test match against the Netherlands
29 November 2021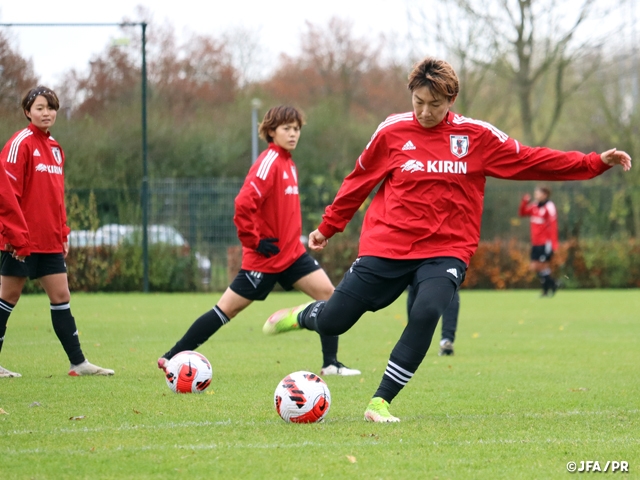 On Sunday 28 November, one day ahead of their international friendly match against the Netherlands Women's National Team, the Nadeshiko Japan (Japan Women's National Team) held a training session to go over their game plan and set pieces. Despite the rainy weather, the team played with great intensity ahead of their match against the European powerhouse who is currently ranked fourth in the FIFA rankings.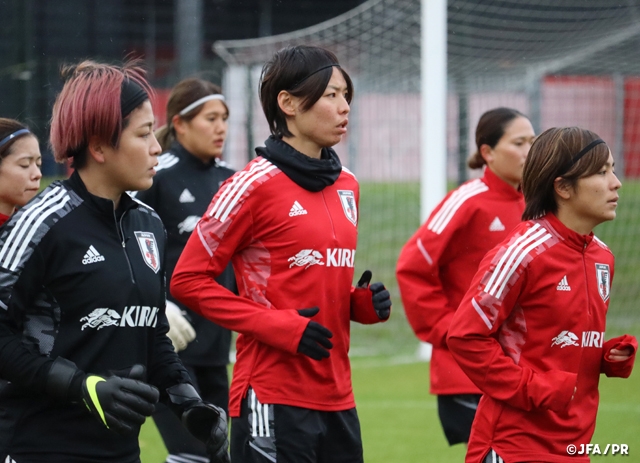 Following the training session, a press conference was held online, where coach IKEDA Futoshi, SUGASAWA Yuika (Mitsubishi Heavy Industries Urawa Reds Ladies), IWABUCHI Mana (Arsenal), NARUMIYA Yui (INAC Kobe Leonessa), and MINAMI Moeka (Mitsubishi Heavy Industries Urawa Reds Ladies) made their appearance. Under the new regime of coach Ikeda, the team has been training with the concept of "winning the ball" since their training camp in October and following what came to light in the match against Iceland, the coach mentioned, "I hope we can make the adjustments as we play more matches." The players also shared their aspirations, as Sugasawa mentioned, "Even if it doesn't work at first, we want to build from here," while Iwabuchi said, "We need to challenge and try again as a team, and I will also make efforts to embody the team concept."
As the team prepares for their match against the Netherlands, the team celebrated the 22nd birthday of MIYAZAWA Hinata (Mynavi Sendai Ladies) on this day. In measures to prevent the spread of Covid-19, they were not able to share the birthday cake, but a sense of unity was born by celebrating their teammate's birthday. Through the intense training session on the pitch and the relaxed atmosphere off the pitch, the team is now ready to enter the match against the Netherlands, which will be a crucial test match for the new Nadeshiko Japan.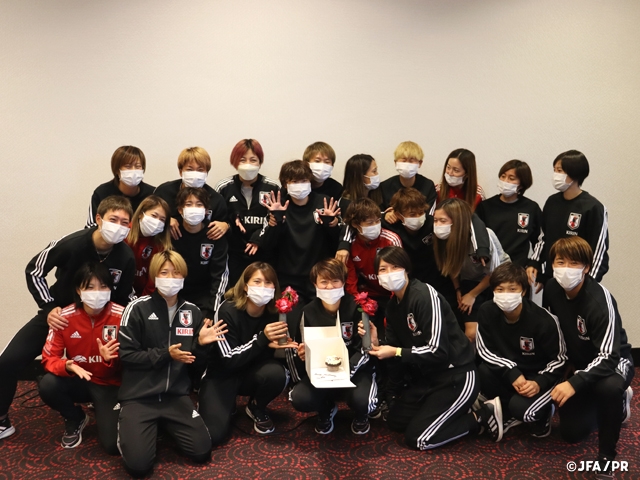 The match between the Nadeshiko Japan and Netherlands Women's National Team is scheduled to kick-off at 19:40 on Monday 29 November (3:40 on Tuesday 30 November), as the match will be broadcasted live on BS Fuji.
Coach and players' Comments
IKEDA Futoshi, Coach of Nadeshiko Japan (Japan Women's National Team)
In recent years, we have played against the Netherlands many times, and there is no doubt that they are one of the best teams in Europe. I think our players are well prepared for this match, including the away atmosphere, even though it will be played without spectators. We will continue to play aggressively, and I would like to tell the players in the meeting on how we want to approach the match tomorrow. I think the players showed our aggressiveness and willingness to score goals against Iceland. However, our aggression created situations where we crowded the final third, so we must try to use the width of the field more and keep a good distance with the opposing defenders to maintain a fine balance. The space behind our fullbacks were exploited in the match against Iceland, so we must be careful and try to make quick transitions to avoid such situation. It is important that we make the necessary adjustments to fix these issues, but we must not lose our aggression while doing so.
DF #3 MINAMI Moeka (Mitsubishi Heavy Industries Urawa Reds Ladies)
The Netherlands have just played a match yesterday, so we are not sure who will come out against us, but regardless of their line-up, they are a strong opponent, nonetheless. I personally would like to focus on our defence first. We conceded an early goal against Iceland, so we must play aggressively to avoid giving up goals this time. In addition, I would like us to work as a team to not only respond to the attacks of our opponents, but also to connect our aggressive defence to our offence. Following our match against Iceland, we trained as a team to go over our defence. When switching off our marks, we need to make better decisions on whether or not we have enough coverage, and actively communicate with each other from behind. I don't know which players will be playing, but the entire defensive line needs to take the initiative by being vocal, so I hope we can all speak out loudly and work together as a team. After the match against Iceland was over, we checked the goal scenes that night. We conceded the first goal when our fullbacks were pressing up, so we need to improve our positioning in case we lose the ball and face a counterattack. The second goal came from a play in which I was late to drop back, so I need to be more aware of the space behind me and respond quicker when we are dropping back as a team. We will be facing a lot of fast players in our next match against the Netherlands, so we must be fully prepared to make the transition between offence and defence. I will pay attention to all the details in order to showcase a solid defensive performance for the entire 90 minutes.
MF #17 NARUMIYA Yui (INAC Kobe Leonessa)
In our match against Iceland, we were able to carry the ball into our middle third but lacked quality in the final third to score goals. Even when we looked at our match video objectively, we lacked intensity in front of the goal. That is why we have been working to improve the quality of our attacks, even though we had only a few days to work with since the Iceland match. I personally felt like I was positioning myself in the central area too often, even though there were plenty of people there, and couldn't provide enough width for the team, as the coach later mentioned that the fullbacks were the only one's using the width of the field. I'm not a very fast player myself, and I don't think I have the ability to dribble past many people. That is why I need to utilise my endurance to find and receive the ball in spaces that would give the opponent a hard time to defend against. When facing opponents who are bigger and faster than you, you must make more runs to position yourself where you can play freely.
FW #9 SUGASAWA Yuika (Mitsubishi Heavy Industries Urawa Reds Ladies)
As a player, I am very honoured to be invited to play for the national team even after the coach has changed. I will do my best to earn results and showcase plays that would bring excitement to the Japanese women's football community. I still have regrets from the Olympics, and I want to make up for them. I realised again at the Olympics that there are still things I can do to help the national team, so I am ready to take on new challenges to achieve things we couldn't achieve at the Olympics. By applying aggressive pressure from the frontline, we can counter from a high position and create more chances to score goals. How and when we apply pressure is something that we have to work out by ourselves over the course of the matches. It may not go well at first, but we just need to work on it to get better. As a forward, my job is to score goals, and forwards of other countries use their power and speed to break through, which is the best way to help the team, but I am not a very fast player. However, by collaborating with my teammates, I can find ways to win the duel against a defender by using my agility, so I want to use those kinds of plays to my advantage to score goals. I am always anticipating to capitalise on a small opportunity, so I want to be ready to respond in any given moment.
FW #10 IWABUCHI Mana (Arsenal/England)
While I wasn't able to play in our match against Iceland, I watched the team from the outside, and I really wanted to be on the pitch. Since joining the team, I am still in the process of learning the team concept of this new team, so I would like to try my best to embody the team concept if I have a chance. I am an attack-minded player, so I think it's a plus for me that the team is striving to become more conscious to score goals. Watching our match against Iceland from outside, I was thinking that I would have to play with a stronger mindset and intensity to attack the goal, if were on the pitch. The team has just started, and we've only played one match, so we don't have any detailed goals in mind yet. However, I think it's only natural for us to aim to reclaim the world title, and I want to make sure that I can return the experience I've gained over the years to this team. It would be great if we can find more specific goals as a team, on our way to become the best in the world.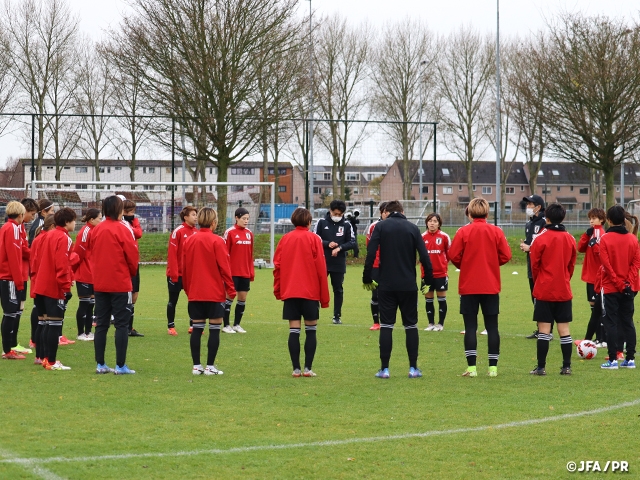 International Friendly Match
Nadeshiko Japan vs Netherlands Women's National Team
Date: Mon. 29 November 2021, 19:40 (Tue. 30 November 3:40 Japan time)
Venue: Cars Jeans Stadion (The Hague, Netherlands)
TV Broadcast: Live on BS Fuji