NEWS
Nadeshiko Japan resume training ahead of match against the Netherlands
27 November 2021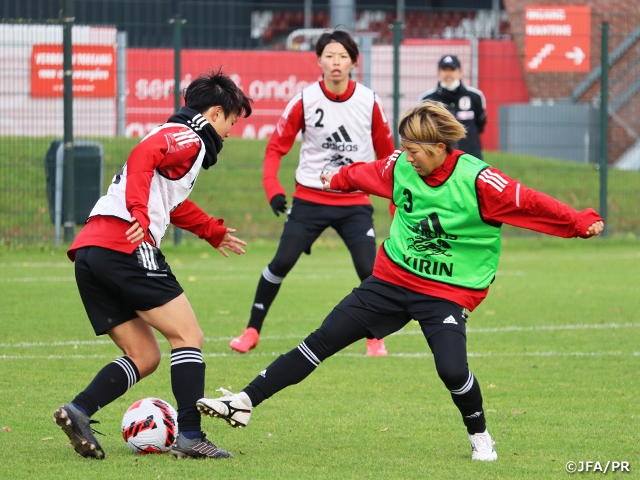 On Friday 26 November, one day following the international friendly match against the Iceland Women's National Team, the Nadeshiko Japan (Japan Women's National Team) held a training session in Almere, Netherlands.
At the training sessions, 12 players were seen going through a light menu to recover from the match, while the remaining 11 players went through a warmup routine directed by physical coach OTSUKA Keisuke, before conducting drills with the ball. At the end of the session, the team practiced scoring goals from crosses, while the defenders tried to stop the attack while playing with numerical disadvantage. It was a short but intense training session, with all the players actively communicating with each other, led by KUMAGAI Saki (FC Bayern Munich). Following the team training, some players were seen going through shotting drills on their own, including TANAKA Mina (INAC Kobe Leonessa), as they prepared for their match against the Netherlands Women's National Team on Monday 29 November.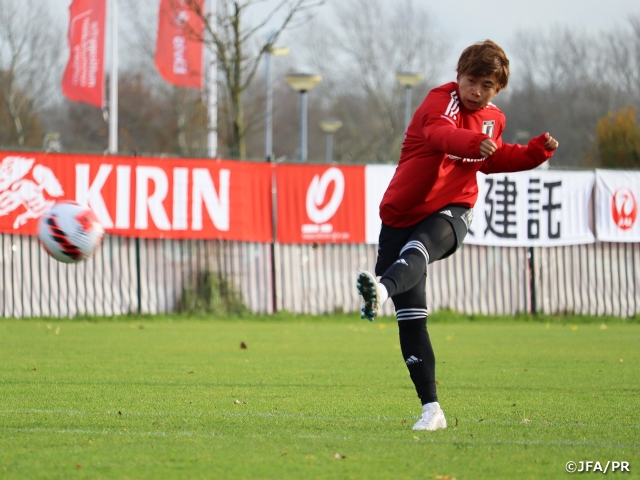 The team went back to the hotel to have lunch and spent the afternoon to recover their condition. After dinner, the team held a film session to review their match against Iceland and discussed the issues displayed in the match. In order to make this tour to the Netherlands a productive tour, each player is doing their best to make the most of their time.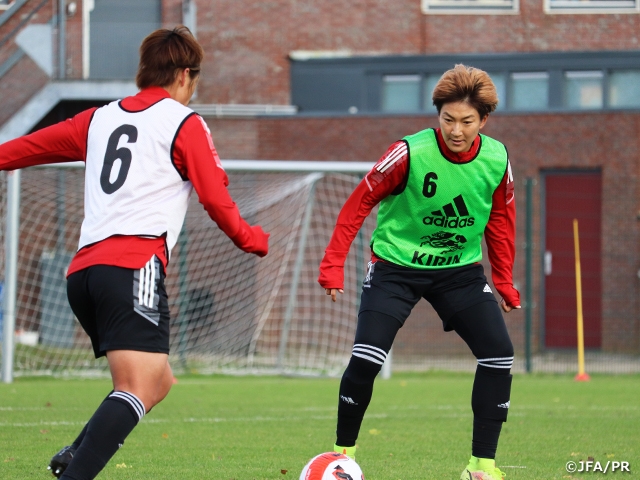 Players' Comments
DF #5 MIYAKE Shiori (INAC Kobe Leonessa)
We tried making up for the goal we conceded in the first half, but ended up conceding another goal, so that is something we must reflect on as a team. We knew that our opponent had players with great speed in the flanks. We were rushing our plays and made too many mistakes, which allowed our opponent to score the first goal from a counterattack. Despite having enough coverage, we were not on the same page in terms of who was going to pressure the ball. The fact that our defensive midfielder, (NAOMOTO)Hikaru-san, was the last player approaching the ball, shows that our positioning was off while we possessed the ball. We also knew that our opponent would take advantage of their height, and we were prepared for it too. Our opponent had their centre-halves pressing up for their long throws, so we had to be careful when defending against them in the box. It is an aspect we must prepare ourselves in the future, as stronger and bigger opponents will try to take advantage of their height to score goals against us.
MF #13 KOBAYASHI Rikako (Nippon TV Tokyo Verdy Beleza)
We were able to challenge ourselves while playing with a concept, so it wasn't like everything went wrong. I feel like we were able to make good adjustments in our defence during the first half. However, I wish I could have gotten myself more involved in our offence. The two forwards were not in sync with each other, so that is an area we can improve on. I was able to work with the defensive midfielders and wingers, but needed to demand the ball to me feet, instead of asking for the ball in space all the time. Of course, the intensity level of a match played overseas is high, and we were able to feel that in our match yesterday, but we cannot make that as an excuse of our lack of offence. We need to challenge ourselves to improve the way we defend, such as where we turn on the switch and how far we want to push forward when we are pressing as a team.
MF #15 NAGANO Fuka (Mynavi Sendai Ladies)
With this being our first match as a new team, I am disappointed with this result, not only because we conceded goals, but because we were kept scoreless. In terms of offence, we were able to possess the ball when facing our opponent, but we couldn't get deep into their territory. Our opponent seemed to be playing on the same page and knew when to turn on the switch as a team, while we struggled to turn it on, and that was the big difference yesterday. Personally, I would like to have a stronger presence in the midfield and make more challenges to win the ball. The match made us realise that we cannot just pass the ball around, but we need to take more risks to penetrate the opposing defence line with our dribbles and passes. It was also evident that we need to improve the way we press the ball in defence and be more creative in the attacking third. Our opponent had a longer reach compared to the players in Japan, so we had to focus on preparing ourselves before receiving the ball. Although we were responding to our opponent's pressure at first, we were able to play more freely as we communicated with each other and got used to the pressure. I wasn't able to create many chances in our match against Iceland, so I hope to get myself more involved in our offence when we play against the Netherlands.
MF #23 MIYAZAWA Hinata (Mynavi Sendai Ladies)
There are only a few matches left until the AFC Women's Asian Cup, and with this being our first international friendly match since coach Ikeda took over the helm, we had to try out many variations of players, and it was evident that everyone was doing their best to challenge themselves. While facing a faster and stronger opponent, it felt like we managed to play well as a team and kept a good distance with each other. During halftime, coach Ikeda told me to standby if the game doesn't change in the first 10 minutes, and he told me that he wanted me to play aggressive and make plays to create chances upfront. I focused on staying wide to expand the field, while also shifting inside when the fullback was making a run down the line. However, I felt like I needed to provide more support to the ball holder when they were not able to take on the opposing player. With the opponent dropping deep in their territory, we had to take more shots from distance to drag them out of their comfort zone. We only have three more days until our next match against the Netherlands, but we hope we can add more layers and play with more intensity in the final third.

International Friendly Match
Nadeshiko Japan vs Netherlands Women's National Team
Date: Mon. 29 November 2021, 19:40 (Tue. 30 November 3:40 Japan time)
Venue: Cars Jeans Stadion (The Hague, Netherlands)
TV Broadcast: Live on BS Fuji