NEWS
U-24 Japan National Team to go all-out against New Zealand at the Quarterfinals
31 July 2021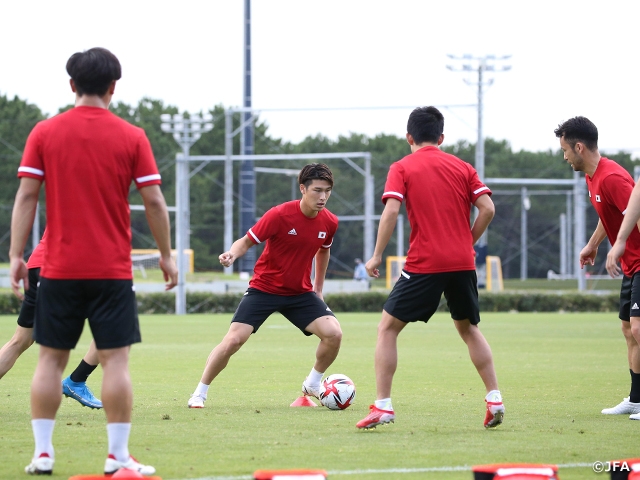 On Friday 30 July, the U-24 Japan National Team held their final training session ahead of the quarterfinals of the Games of the XXXII Olympiad (Tokyo 2020) men's football tournament, where they will face the U-24 New Zealand National Team at Ibaraki Kashima Stadium.
With the matches being held every three days, the team wrapped up the session early, as the players and staffs were seen huddling up at the end, with team captain YOSHIDA Maya (U.C. Sampdoria) telling everyone, "Let's go out there and win."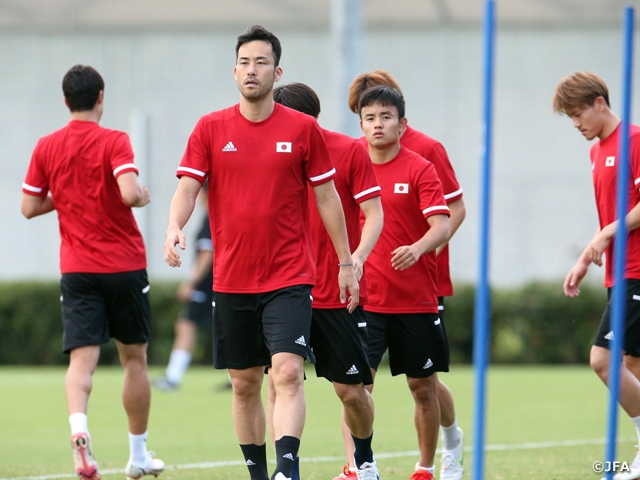 At the quarterfinals, Japan will face New Zealand, a team TOMIYASU Takehiro (Bologna FC 1909) described as, "A very organised team who can play aggressively while making quick transitions between offence and defence." TANAKA Ao (Fortuna Dusseldorf) also shared his take, "They are a solid team. I am sure they will not let us play freely, but it is important that we find ways to get past them and win at the end."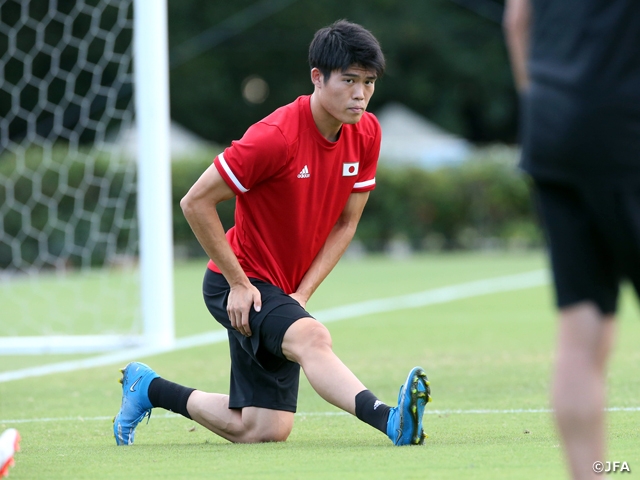 In terms of their physical conditions, the Japanese players are making every effort to take care of their bodies and recovery from each match, while the coaching and medical staffs provide necessary support and measures to keep the players in the best condition as possible. "The staffs are fully prepared and gathered all of our wisdom to reach this point," said JFA Technical Director SORIMACHI Yasuharu, as the match between the U-24 Japan National Team and U-24 New Zealand National Team is scheduled to kick-off at 18:00 on Saturday 31 July at Ibaraki Kashima Stadium.
Players' Comments
DF #13 HATATE Reo (Kawasaki Frontale)
All the players are aware that we have not achieved anything yet, and the team is surrounded by a positive vibe right now. I was a bit nervous in the early minutes of the match (against France). When playing in international competitions, the atmosphere is unique and there are many things we don't get to experience in a daily basis, so it was a fun match. Since entering this tournament, I have made new discoveries and feel my own growth each day, so it's been a lot of fun. We face unexpected situations every match, so I hope to keep myself flexible and make the necessary adjustments on the pitch.
DF #14 TOMIYASU Takehiro (Bologna FC 1909/Italy)
This match is one of the three matches we need to overcome in order to win the gold medal. I think how we enter the match will be the key for this match. Whether we concede or score first will make a huge difference on how we play the game. I have faced many strikers with strong and tall physiques at Serie A, and I feel that I need to focus on the battles inside the penalty box. I will try to analyse the opponents' abilities and make the most optimal decisions to keep a clean sheet.
MF #16 SOMA Yuki (Nagoya Grampus)
Every time I step on the pitch, I am getting the opportunity to face opponents with incredible speed and cutbacks, and although we are still in the midst of the tournament, I can tell that I am getting better after playing each match. In order for us to win the title, we must raise the overall level of the team, so we hope to play each match with the intention to make improvements both as a team and as an individual. I want to play with this team as long as possible. We fight, celebrate, and inspire each other as a team. The alternate players are supporting us at the locker room and everybody on this team is involved to help the team move forward. I am feeling the strong bond of this team through each action we take.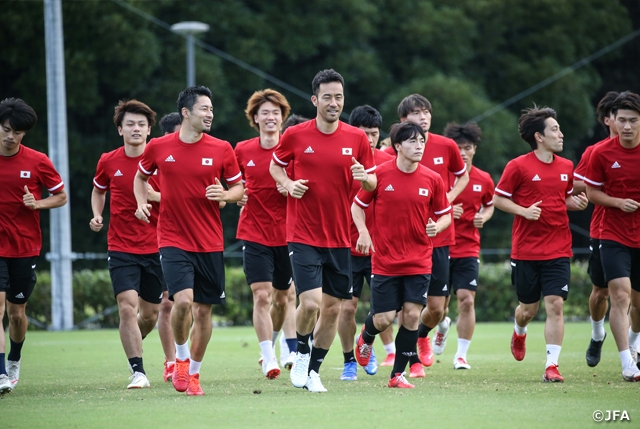 Games of the XXXII Olympiad (Tokyo 2020)
Football competition: Wed. 21 July - Sat. 7 August 2021