NEWS
U-24 Japan National Team to face France with ticket to the knockout stage at stake
28 July 2021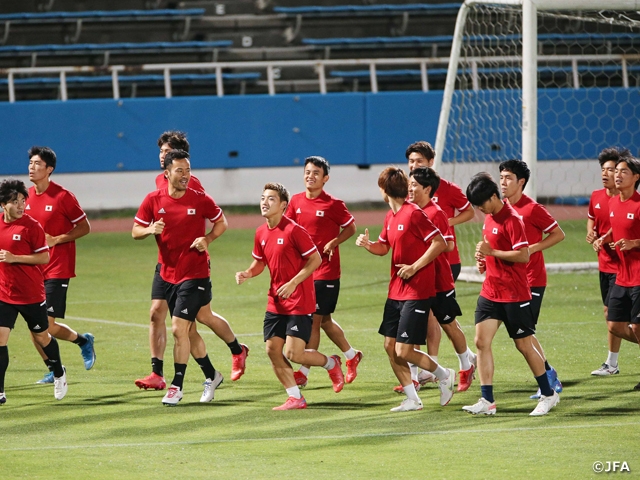 The third group stage fixtures of the Games of the XXXII Olympiad (Tokyo 2020) men's football tournament will take place on Wednesday 28 July. One day ahead of their match against France, the U-24 Japan National Team held their final training session at Yokohama.
All 22 players appeared at the training field, as the players were seen going through their warmup routines during the part where the session was open to the media. The session was then held behind closed doors, as the team went through their tactics for the upcoming match. MAEDA Daizen (Yokohama F.Marinos), who made his first Olympic appearance in their match against Mexico, mentioned, "I would like to contribute to the team by scoring goals. I will set aside what's ahead of us and just focus on this one match."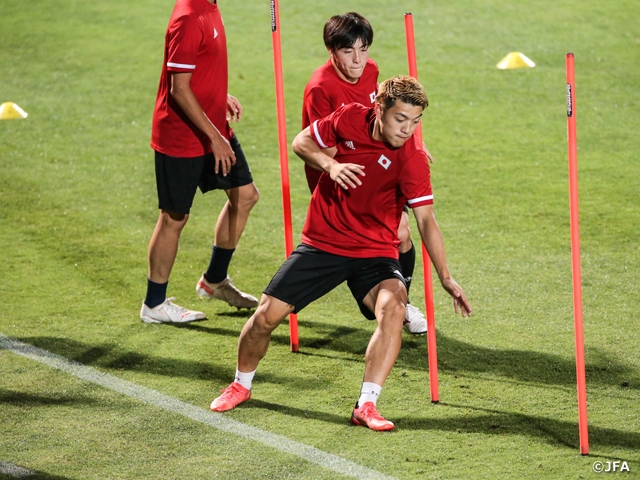 Currently in third place with three points, France will need to win over Japan with at least a two goal lead to clinch the knockout stage. "Everyone is aware that our opponent is in a must win situation, so we need to play with a higher intensity level than our opponent to win the match" said MIYOSHI Koji (Royal Antwerp FC), who continued to mention, "At the Olympics, we need to focus on the match in front of us, and I am fully prepared in that sense."
At the evening, the team watched the match of the Nadeshiko Japan and celebrated their victory over Chile. The match between the U-24 Japan National Team and U-24 France National Team is scheduled to kick-off at 20:30 on Wednesday 28 July at International Stadium Yokohama.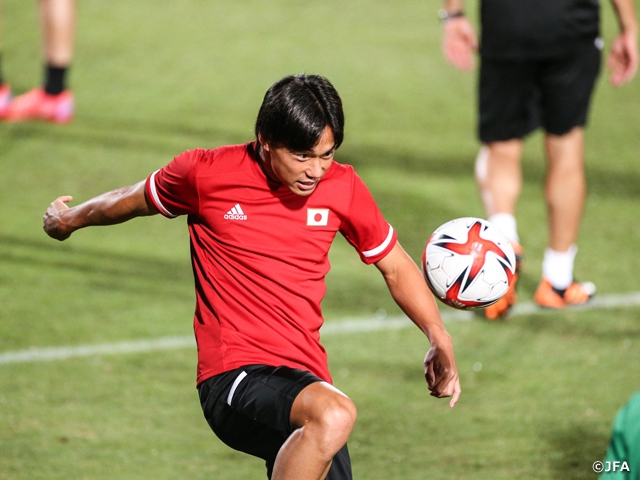 Players' Comments
DF #6 ENDO Wataru (VfB Stuttgart/Germany)
France is a strong opponent with many talented players. They are in a must win situation, so we are expecting a very tough match. It is important that we keep a clean sheet in this match, but we must not play too defensively. We need to showcase our willingness to score goals and play to win the match.
DF #2 SAKAI Hiroki (Urawa Red Diamonds)
When I heard that we were placed in the same group as France, I felt a strong connection with them, and I am looking forward to facing the French side. It would have been best if both teams had already clinched the knockout stage, but I am still going to enjoy this match. We are not totally satisfied with our performance thus far, but we have been able to make the necessary adjustments through each match. We hope to enter the match with a sense of nervousness and a mutual goal as a team.
MF #8 MIYOSHI Koji (Royal Antwerp FC/Belgium)
The team's overall strength will be tested at this third match. Players with limited playing time are fully motivated, and we have always told the starting players that we are ready to enter the match at any time, which allows the starting players to play without holding back. All 22 players trust everyone on this team. As we make a deep run in this tournament, there will be accidents, but this is a team that can respond and overcome any adversities.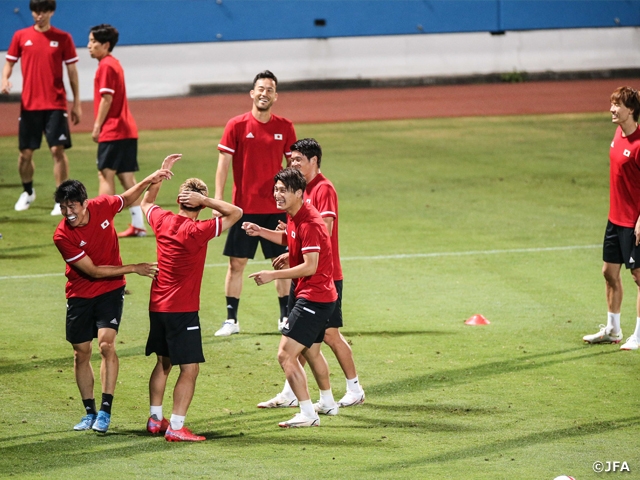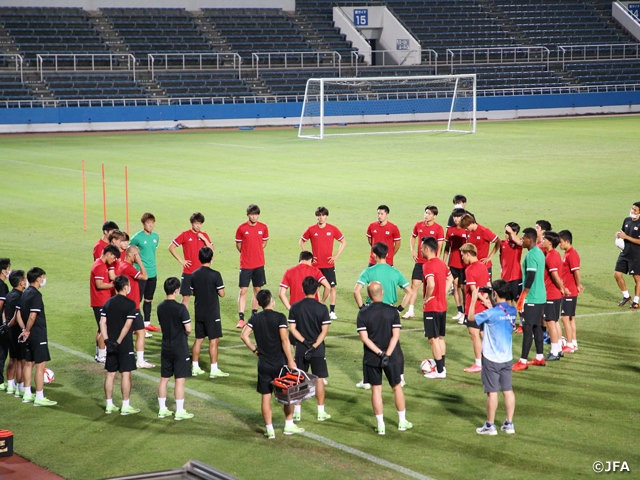 Games of the XXXII Olympiad (Tokyo 2020)
Football competition: Wed. 21 July - Sat. 7 August 2021