NEWS
Japan's Olympic squad get first day off
01 August 2016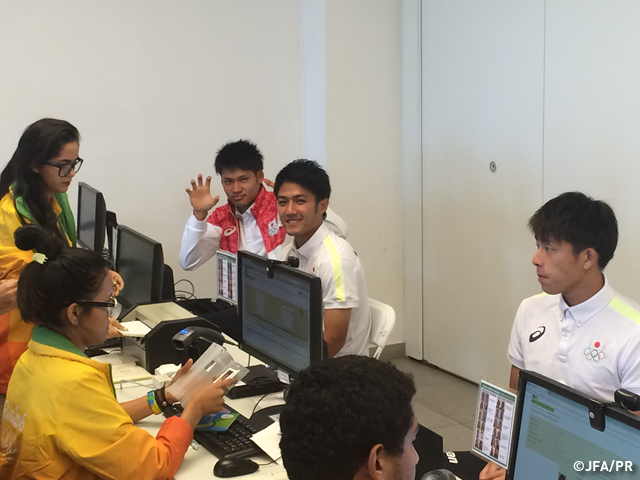 The Japan's Olympic squad moved to the host city of their opening match Manaus in the middle of Brazil, getting their first day off of the training camp on Sunday July 31.
After the Brazil match in Goiânia the previous day, the squad took a two-hour-and-a-half flight to Manaus and arrived at hotel around midnight. The players went to bed and got rested.
The hotel with historical atmosphere located on the outskirts of Manaus is an accommodation for all the male and female teams playing at Amazonia Arena and offers a big dining room that allows each team to have a meeting. The local police heavily secure the hotel and surrounding areas not only on land but also water.
On the next day, their scheduled practice in the evening was cancelled considering the condition of the players who have kept working hard without rest after they assembled in Japan. Instead, all the players went to the stadium together in the morning to get an ID card required for the tournament.
After that, they got the rest of the day off and spent time on their own. Some players took treatment for their body at hotel, while others went out to Negro River, a branch of Amazon River, in order partly to get used to the hot temperature. In the dinner time, the squad celebrated the birthday of Urawa Reds forward KOHROGI Shinzoh together.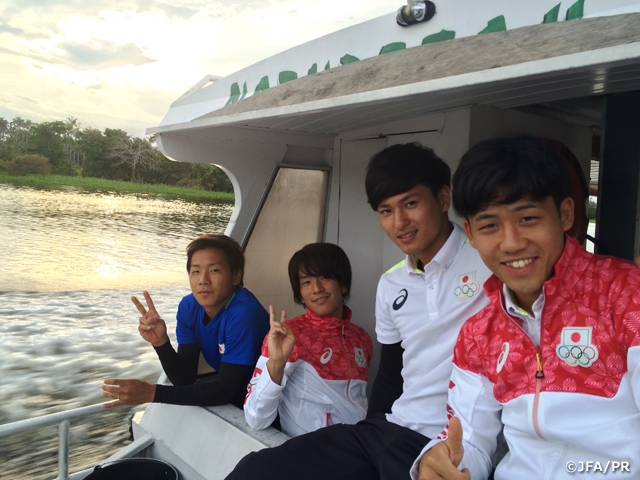 To adopt to the environment of the match kicking off at 21:00 in Manaus, the Japanese players set their times for wake-up and meals later than usual.
The local climate has been team's concern, and it appears to be more humid than coastal area Aracaju and central area Goiânia, where the team had a prep camp and played against Brazil respectively. National Team Director SHIMODA Masahiro says, "it's not hotter than we expected. It's similar to the Japanese climate and we are getting used to the hot temperature." He says the team have been on track with conditioning.
With backup players joining the team tomorrow on Monday 1 August, the team practice will resume and finally enter into their final tune-up phase.
Japan are in Group B, facing Nigeria on Thursday 4 and Colombia on Sunday 7. They will meet Sweden in the third match in Salvador.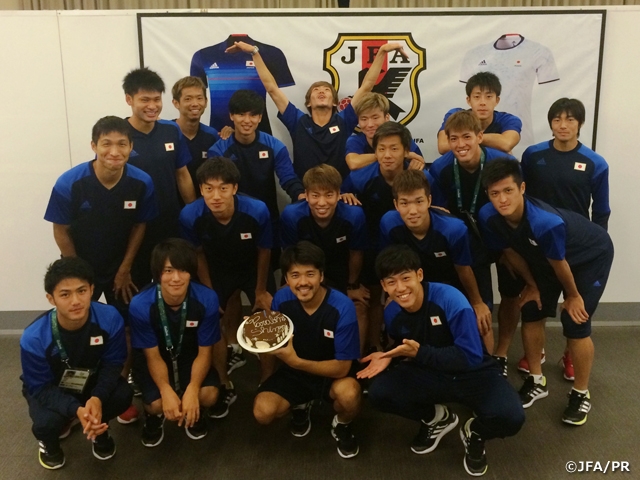 Players' Comments
MF #14 IDEGUCHI Yosuke (Gamba Osaka)
Brazil's shift between offence and defence was quick. And on offence, they moved right after passing the ball, and that was a matter of course for them. We weren't able to win the ball. That's the obvious difference between Brazil and us. Talking about my strength of winning the ball, if I can't win it at the first attempt, I need to go two or three times. That's why I've got to try different approaches and what I have to improve on. We were able to figure out our level by playing against the title contender before the tournament, so we won't be tensed in the first match.
FW #13 KOHROGI Shinzoh (Urawa Reds)
Brazil were better than I expected, but personally I was able to keep the ball while making physical contact with my opponents. So I feel I can go neck and neck. I think our coach was trying to gear up in the second half by subbing in Asano. With Asano and Ohshima coming on, we started to pass the ball well, so I felt it was important to keep the opponents from scoring in the second half. I found out a lot of things from the Brazil match, and those are all positive for me.
DF #4 FUJIHARU Hiroki (Gamba Osaka)
We held on to Brazil at the beginning, but they never miss a small gap after all. They played as well as their name suggests. Unless halting attacks in such a situation, we will lose in the Olympics. We've got to be more persistent. When we needed to be persistent, we called out to each other like "we've got to hang on right here." So we've got a better idea of how we are supposed to play.
DF #2 MUROYA Sei (F.C. Tokyo)
I expected before the Brazil match that we would be forced to defend in our end. And we actually struggled to go attacking and had most of our time defending. We wanted to take more shots. It was a disappointing match because we couldn't do anything. I want to play attaining this level as a standard and I hope this match will enable us to be better prepared for the first match.
DF #15 KAMEKAWA Masashi (Avispa Fukuoka)
I wanted to show my strength of going forward rather than sit back in our end and get beaten. I was trying to bring out what I have to get a starting spot since I came off the bench midway through the match. I felt we were still a challenger, but I wouldn't say everything was poor. In the second half, we had some shots and chances. It's going to be a key to hold the opponents scoreless in the first half and go on attacking in the second half when the opponents get tired.
MF #3 ENDO Wataru (Urawa Reds)
We should have a positive thought on having a chance to play against Brazil, but we've got to show better results next after this loss. We just need to improve the issues we've got in the Brazil match and show our strength. Each player can play with right duration and distance when holding the ball as we moved the ball really well after winning it in the second half. The Brazil match reminded me of the importance of playing tenaciously. The match would have gone differently if Nakajima's golden opportunity had been scored in the second half. How to convert few chances we get is what we've always imagined to be important. In the tournament, I believe we can show our tenacity and ability to capitalise on such chances.
Schedule
Olympic Football Tournament Rio 2016
Sun. 31 July
TBC
Training
Mon. 1 August
TBC
Training
Tue. 2 August
TBC
Training
Wed. 3 August
TBC
Official Training
Thu. 4 August
21:00
Group B 1st Match
vs Nigeria (@Amazonia Arena)
[Japan Time: Fri. 5 August 10:00]

Fri. 5 August
TBC
Training
Sat. 6 August
TBC
Training
Sun. 7 August
21:00
Group B 2nd Match
vs Colombia (@Amazonia Arena)
[Japan Time: Mon. 8 August 10:00]

Tue. 9 August
PM
Official Training
Wed. 10 August
19:00
Group B 3rd Match
vs Sweden (@Fonte Nova Arena)
[Japan Time: Thu. 11 August 7:00]

*The following schedule determines to win and advance to the next round
Sat. 13 August
16:00
22:00
Quarter-Final (If Japan top the Group)
vs Group A 2nd (@Fonte Nova Arena)
Quarter-Final (If Japan 2nd the Group)
vs Group A 1st (@Corinthians Arena)
Sun. 14 August
TBC
Training
Mon. 15 August
TBC
Training
Tue. 16 August
TBC
Training
Wed. 17 August
13:00
16:00
Semi-Final (@Maracana/Rio de Janeiro)
Semi-Final (@Corinthians Arena/Sao Paulo)
Thu. 18 August
TBC
Training
Fri. 19 August
TBC
Training
Sat. 20 August
13:00
17:30
3/4-Place Playoff (@Mineirao/Belo Horizonte)
Final (@Maracana/Rio de Janeiro)
*Local Time
*The schedule is subject to change due to the team condition, the weather, etc.