NEWS
Japan's Olympic team lose to Brazil 2-0
31 July 2016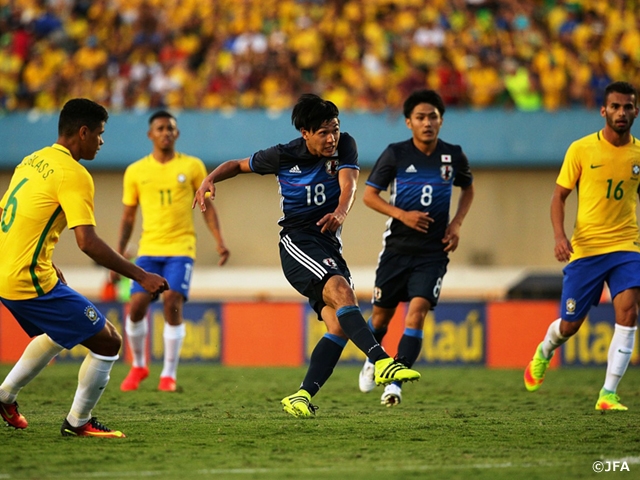 International Friendly Match vs Brazil's Olympic Team
2016-7-30 (Sat.) - 16:30 Playing Time: 90min. (45min.×2)
Estadio Serra Dourada (Goiânia/Brazil)
Japan's Olympic Team 0-2 (0-2, 0-0) Brazil's Olympic Team
Scores
33' Goal against (Brazil)
41' Goal against (Brazil)
Line-ups
GK: NAKAMURA Kosuke
DF: FUJIHARU Hiroki, UEDA Naomichi, SHIOTANI Tsukasa, MUROYA Sei
MF: HARAKAWA Riki, ENDO Wataru, MINAMINO Takumi, NAKAJIMA Shoya, YAJIMA Shinya
FW: KOHROGI Shinzoh
Substitutes
GK: KUSHIBIKI Masatoshi, SUGIMOTO Daichi
DF: IWANAMI Takuya, KAMEKAWA Masashi, KOJIMA Masaya
MF: OHSHIMA Ryota, IDEGUCHI Yosuke, TOMIYASU Takehiro, WATANABE Kouta
FW: ASANO Takuma, OGAWA Koki
HT HARAKAWA Riki → OHSHIMA Ryota
HT YAJIMA Shinya → ASANO Takuma
HT NAKAMURA Kosuke → KUSHIBIKI Masatoshi
59' FUJIHARU Hiroki → KAMEKAWA Masashi
68' KOHROGI Shinzoh → IDEGUCHI Yosuke
74' SHIOTANI Tsukasa → IWANAMI Takuya
77' NAKAJIMA Shoya → OGAWA Koki
77' ENDO Wataru → TOMIYASU Takehiro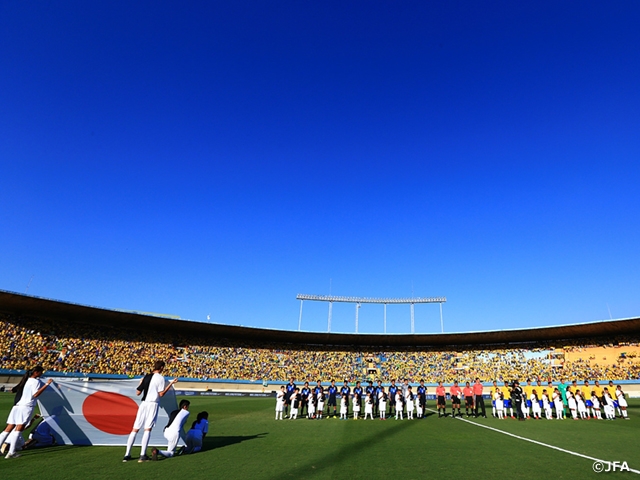 Match Report
The Japan's Olympic squad, who will participate in the Rio de Janeiro Olympics, played their last international friendly prior to the tournament against Brazil's Olympic team on Saturday 30 July in Goiânia, Brazil. They lost the game 2-0.
The match against a Brazil with captain Neymar attracted many local fans and kicked off amid enthusiastic cheers. Brazil are aiming to be the first hosts to win the gold medal in the Olympics.
Japan made some changes to the team from a practice game against C.S Sergipe on Wednesday 27 July. The team used a 4-3-2-1 formation with five new players to start the game — goalkeeper NAKAMURA Kosuke (Kashiwa Reysol), defenders MUROYA Sei (F.C. Tokyo) and UEDA Naomichi (Kashima Antlers), and midfielders YAJIMA Shinya (Fagiano Okayama) and HARAKAWA Riki (Kawasaki Frontale).
However, Brazil took the initiative in the first half with attacks led by the forward Neymar. The opponents used the space on the wings well, going close to the goal with a shot from midfielder Felipe Anderson in the 18th minute, and one from forward Gabriel Jesus's in the 21st minute. Although Neymar dribbled up to the penalty area and fired in a shot in the 27 minute, goalkeeper Nakamura, along with his fellow defenders, did not concede a goal.
In the 33rd minute, just after a two-minute (water) break, the flow of the match changed. Forward Gabriel Barbosa dribbled through the centre of Japan's defence and took a shot, which hit a Japanese defender and deflected into the goal.
Brazil continued their positive momentum and kept up the attacking pressure. In the 38th minute, midfielder Thiago Maia struck at goal. A minute later, a shot from Neymar hit the crossbar, followed by another shot from Barbosa in the 40th minute. After a couple of unsuccessful attempts, in the 41st minute, the defender Marquinhos, who reacted to a right corner kick from Neymar, headed home, scoring Brazil's second goal.
In the second half, forward ASANO Takuma (Arsenal FC/England) replaced Yajima, midfielder OHSHIMA Ryota (Kawasaki Frontale) substituted Harakawa, and goalkeeper KUSHIBIKI Masatoshi (Kashima Antlers) went on to replace Nakamura. Although Brazil once again went close to the goal at the beginning, Japan created a goal-scoring opportunity in the 53rd minute. Forward KOHROGI Shinzoh (Urawa Reds), who received a forward pass from Ohshima, sent it to the midfielder NAKAJIMA Shoya (F.C. Tokyo). He, then, fired a shot from the left of the penalty area, only for it to be saved by the opponents'goalkeeper.
Four minutes later, Nakajima got through on the left and received a return pass from Asano to take a shot, but, unfortunately, it went wide.
Then Japan changed formation to 4-1-4-1 with defender KAMEKAWA Masashi (Avispa Fukuoka) replacing defender FUJIHARU Hiroki (Gamba Osaka), and IDEGUCHI Yosuke (Gamba Osaka) substituting Kohrogi.
In attempt to score a goal, Japan made several additional changes to the team. In the 74th minute, defender SHIOTANI Tsukasa (Sanfrecce Hiroshima) was replaced by defender IWANAMI Takuya (Vissel Kobe). Three minutes later, forward OGAWA Koki (Jubilo Iwata) and middfielder TOMIYASU Takehiro (Avispa Fukuoka) also came off the bench, but Japan could not find the back of the net before the final whistle. Japan lost the game 2-0.
After the game, the team left for Manaus, where they will play the first game of their Olympic campaign against Nigeria on 4 August and their second against Colombia on 7 August. They will start their final preparations from Sunday 31 July at the host site.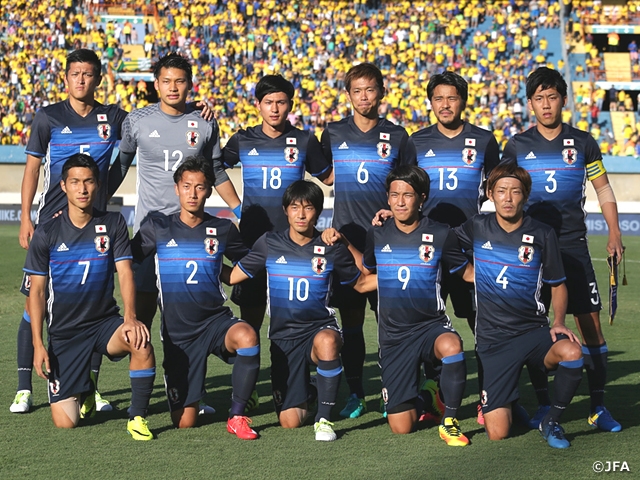 Coach and Players' Comments
TEGURAMORI Makoto, Coach
I always think that the winning a match in the Olympics requires persistence and resilience. I was hoping that we'd learn to be persistent and resilient in the game against Brazil. Despite the result, we battled hard throughout the entire 90 minutes. In this regard, we are better prepared for the coming tournament. It was an excellent experience playing a practice game against the host country and the favourites for the championship. We'll learn a lot from today's game. I'd like to show what we got at the Olympics.
The toughness of these strong teams comes across when they come out playing even more aggressively after a water break. We have to improve how often and how well we play in the final third. Under Brazilian pressure, we felt relieved whenever we just got back the ball today. However, attack starts from defence. We need to intercept the ball well, so that we can attack better. We'd like to practice the timing of doing so in the remaining days prior to the start of the competition. We also have to be aware of improving the accuracy of the team. Instead of feeling demoralised with this defeat, we'd like to face the Olympics, knowing that we are not strong enough, but will improve through the tournament.
MF #9 YAJIMA Shinya (Fagiano Okayama)
The opponents were quicker and more skilful than I expected. As they found their rhythm through their attack, we couldn't intercept the ball properly, pass it to the next player, or put them under pressure. I think it's essential to make better and quicker transition after stealing the ball. Today's match was part of our preparation for the Olympics. So we'll learn from it and perform better to win the game against Nigeria. I hope we can make the best out of this game and have a great championship.
MF #7 HARAKAWA Riki (Kawasaki Frontale)
It was good for us to play against a top-level team prior to the Olympics. We should have been more united as a team, bringing the ball forward together – not by one player, but all 11 players. It is vital to get used to the heat in Manaus. As we still have some time, I'd like to do everything we can to improve our condition and the quality of our play in preparation for the first game.
DF #17 IWANAMI Takuya (Vissel Kobe)
I felt a huge level gap, which we cannot easily close, especially in terms of tactics. Although I thought we stayed competitive against them in the FIFA U-17 World Cup, we could only take a few shots today.
GK #1 KUSHIBIKI Masatoshi (Kashima Antlers)
In the second half, although the opponent did not attack as strongly towards the end, I think I reacted calmly. I'm disappointed with the result. However, we shouldn't be negative. During the game, we occasionally stopped running. So I think we need to think about how to use our stamina as a team, so that we can play throughout the 90 minutes as the national team.
Micale, Coach of Brazil's Olympic Team
It was good that we won the game. We performed excellently in the first half, playing hard as a team. We found our rhythm prior to the Olympics. It is essential that we use the pitch widely to pass the ball around freely and steal the ball more quickly to take long-distance shots, especially when the teams play defensively, like Japan. Thanks to Neymar's inspired play, we are improving everyday with better offensive rhythms and defensive compactness.
Schedule
Tue. 19 July
PM
Training
Wed. 20 July
PM
Training
Fri. 22 July
PM
Training
Sat. 23 July
AM/PM
Training
Sun. 24 July
AM/PM
Training
Mon. 25 July
AM/PM
Training
Tue. 26 July
AM/PM
Training
Wed. 27 July
1-1
Training Match
vs C.S Sergipe
Thu. 28 July
AM
Training
Fri. 29 July
PM
Official Training
Sat. 30 July
0-2
International Friendly Match
vs Brazil's Olympic Team (@Estádio Serra Dourada)
[Japan Time: Sun. 31 July 4:30]

Olympic Football Tournament Rio 2016
Sun. 31 July
TBC
Training
Mon. 1 August
TBC
Training
Tue. 2 August
TBC
Training
Wed. 3 August
TBC
Official Training
Thu. 4 August
21:00
Group B 1st Match
vs Nigeria (@Amazonia Arena)
[Japan Time: Fri. 5 August 10:00]

Fri. 5 August
TBC
Training
Sat. 6 August
TBC
Training
Sun. 7 August
21:00
Group B 2nd Match
vs Colombia (@Amazonia Arena)
[Japan Time: Mon. 8 August 10:00]

Tue. 9 August
PM
Official Training
Wed. 10 August
19:00
Group B 3rd Match
vs Sweden (@Fonte Nova Arena)
[Japan Time: Thu. 11 August 7:00]

*The following schedule determines to win and advance to the next round
Sat. 13 August
16:00
22:00
Quarter-Final (If Japan top the Group)
vs Group A 2nd (@Fonte Nova Arena)
Quarter-Final (If Japan 2nd the Group)
vs Group A 1st (@Corinthians Arena)
Sun. 14 August
TBC
Training
Mon. 15 August
TBC
Training
Tue. 16 August
TBC
Training
Wed. 17 August
13:00
16:00
Semi-Final (@Maracana/Rio de Janeiro)
Semi-Final (@Corinthians Arena/Sao Paulo)
Thu. 18 August
TBC
Training
Fri. 19 August
TBC
Training
Sat. 20 August
13:00
17:30
3/4-Place Playoff (@Mineirao/Belo Horizonte)
Final (@Maracana/Rio de Janeiro)
*Local Time
*The schedule is subject to change due to the team condition, the weather, etc.