NEWS
Olympic prep camp in Aracaju came to an end
29 July 2016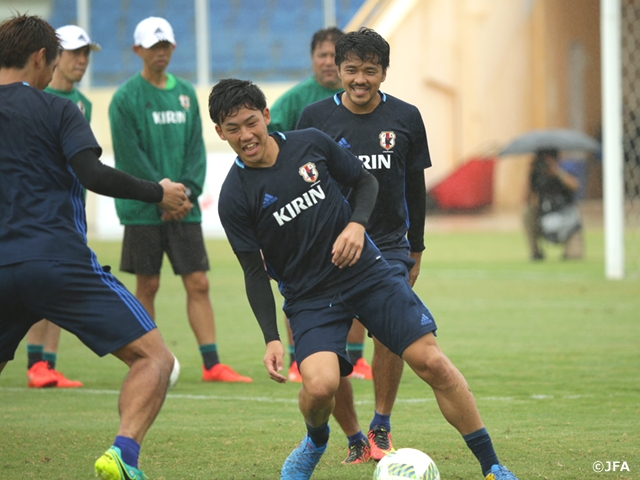 Japan's national team, who will participate in the Rio de Janeiro Olympics ended their Olympic prep camp in Aracaju, located in the coastal area of the northeast side of Brazil and moved to Goiania, in the central part of Brazil to play an international friendly.
A night after the practice match against the local club C.S Sergipe, the players had recovery sessions such as running and stretching exercises from the morning in the slight rainy weather. Goalkeepers joined in with the other players and they had pass exercises, being divided into two groups. The sessions included fun activities and the mood was relaxed with some cheerful voices from the players.
On the other hand, midfielder OHSHIMA Ryota (Kawasaki Frontale) who has recently recovered from unwell condition and started running had a different session focusing on fitness training.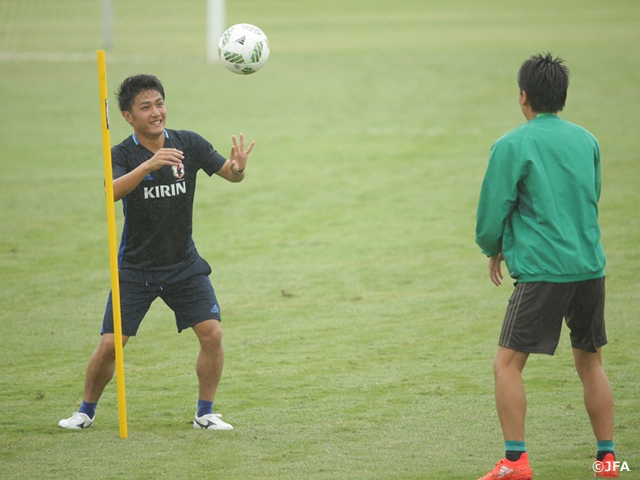 Ohshima had a harder session after a while. "It wasn't so hard. My teammates have already checked combination and other things having one match, so I want to join them as soon as possible to catch up with them," Ohshima said.
Defender IWANAMI Takuya (Vissel Kobe) was also unwell and had to be substituted in the 2nd half of the previous training match against C.S Sergipe. His fever went down by the afternoon of the next day and got recovered enough to have lunch with his teammates and move to Goiania with the team afterwards.
Defender MUROYA Sei (F.C. Tokyo) reviewed this prep camp. "We have got better day by day. The most important thing is to get ourselves into the best condition on the day of the first match of the Olympics. As a team we have been in a good condition so far."
The team departed from Aracaju to Brazilia on a flight lasting 2 hours, they then had a further 3 hour bus journey to Goiania. During the journey, each of the players had their own relaxed time by watching movies on tablets or reading books.
On 29th, the team will have an official training at the match venue of the International friendly against Brazil which will take place on 30th. This match is the last international friendly planned before the Olympics.
Olympic Football will start from 4 August, one day before the Opening Ceremony, and Japan will play against Nigeria in the first match of Group B.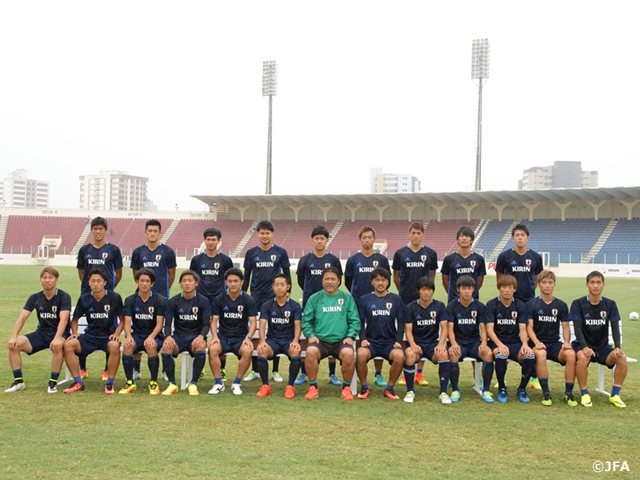 Players' Comments
MF #3 ENDO Wataru (Urawa Reds)
I was expecting to find out more issues prior to the match yesterday. They could be combination with over-aged players and physical condition which is not at its best yet. I believe that having a match in this opportunity is meaningful for us. What is more important in this camp is to get ready our condition well, and in fact I have been in a much better condition by trying the sessions prepared by the Coach and HAYAKAWA Naoki. After the training match, I expect that we can perform much better as a team in the next match against Brazil.
DF #2 MUROYA Sei (F.C. Tokyo)
I have played against Brazil in the FIFA U-17 World Cup and what I remember most was that we had longer time to be pushed by them due to their higher level of play, even though we could score; but the quality of their play was better than ours. I had to face with the fact that the level between them and us was very different.
Tomorrow, I look forward to see how much we have grown up and compete with Brazilian players. As a team we have to pay more attention to the play which directly goes to the goal. As a player, defence is the first thing to do, but at the same time I want to be involved in offence in a good timing; I want to be involved more in offence such as crossing after receiving the ball in a higher position, or cutting into deeper area.
FW #16 ASANO Takuma (Arsenal FC/England)
In the training match against C.S Sergipe, the offensive combination with KOHROGI Shinzoh seemed simple. I want to keep the ball more for the other teammates to come up and to collaborate more with him to break through. I also want to be more conscious about finding the space behind defenders. Our sense of distance was not bad.
We have to be more conscious about taking shots, and for that we need to think about what we can do. I want to be involved more in offence. I am looking forward to another combination with him in the next International friendly against Brazil. We don't have anything to lose since we are just challengers in front of them. What is important is to do 100% of what we can do, so I will challenge to see how much I can do through trapping with sense of confidence and trying to take shots.
Schedule
Tue. 19 July
PM
Training
Wed. 20 July
PM
Training
Fri. 22 July
PM
Training
Sat. 23 July
AM/PM
Training
Sun. 24 July
AM/PM
Training
Mon. 25 July
AM/PM
Training
Tue. 26 July
AM/PM
Training
Wed. 27 July
1-1
Training Match
vs C.S Sergipe
Thu. 28 July
AM
Training
Fri. 29 July
PM
Official Training
Sat. 30 July
16:30
International Friendly Match
vs U-23 Brazil National Team (@Estádio Serra Dourada)
[Japan Time: Sun. 31 July 4:30]

Olympic Football Tournament Rio 2016
Sun. 31 July
TBC
Training
Mon. 1 August
TBC
Training
Tue. 2 August
TBC
Training
Wed. 3 August
TBC
Official Training
Thu. 4 August
21:00
Group B 1st Match
vs Nigeria (@Amazonia Arena)
[Japan Time: Fri. 5 August 10:00]

Fri. 5 August
TBC
Training
Sat. 6 August
TBC
Training
Sun. 7 August
21:00
Group B 2nd Match
vs Colombia (@Amazonia Arena)
[Japan Time: Mon. 8 August 10:00]

Tue. 9 August
PM
Official Training
Wed. 10 August
19:00
Group B 3rd Match
vs Sweden (@Fonte Nova Arena)
[Japan Time: Thu. 11 August 7:00]

*The following schedule determines to win and advance to the next round
Sat. 13 August
16:00
22:00
Quarter-Final (If Japan top the Group)
vs Group A 2nd (@Fonte Nova Arena)
Quarter-Final (If Japan 2nd the Group)
vs Group A 1st (@Corinthians Arena)
Sun. 14 August
TBC
Training
Mon. 15 August
TBC
Training
Tue. 16 August
TBC
Training
Wed. 17 August
13:00
16:00
Semi-Final (@Maracana/Rio de Janeiro)
Semi-Final (@Corinthians Arena/Sao Paulo)
Thu. 18 August
TBC
Training
Fri. 19 August
TBC
Training
Sat. 20 August
13:00
17:30
3/4-Place Playoff (@Mineirao/Belo Horizonte)
Final (@Maracana/Rio de Janeiro)
*Local Time
*The schedule is subject to change due to the team condition, the weather, etc.