NEWS
Last training in Japan before leaving for Olympics
21 July 2016
Japan's National Team participating in the Rio de Janeiro Olympics had the last training session in Chiba on Wednesday 20 July before leaving for the tournament.
The team saw thirteen players participating in the session, without forward KUBO Yuya (Berner Sport Club Young Boys/Switzerland) and others joining later and midfielder IDEGUCHI Yosuke (Gamba Osaka) resting due to bad physical condition. In a one-hour-and-a-half session, the squad worked on running and physical training before going through passing moves in a small area with the idea of quick shifts between offence and defence. In an attacking drill with shooting after one-touch passing using a half-sized pitch, defender SHIOTANI Tsukasa (Sanfrecce Hiroshima) and others scored goals.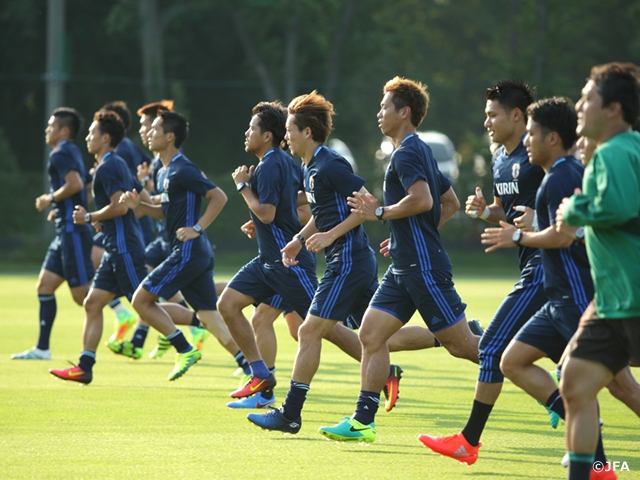 Defender UEDA Naomichi (Kashima Antlers) says, "How much we can recover from fatigue in these two days is a key."
F.C. Tokyo midfielder NAKAJIMA Shoya and defender MUROYA Sei and Vissel Kobe defender IWANAMI Takuya, who were sidelined on the first training day because of getting vaccinated for the trip, worked out together with their teammates on this day.
After finishing their session of the day, coach TEGURAMORI Makoto spoke from the pitch to fans at stands. "Is anyone going to Manaus? The team are leaving for Brazil tomorrow. We will battle with all our soul on the other side of the world. We hope that you will keep supporting us." He received a warm ovation from the stands before leaving the practice venue.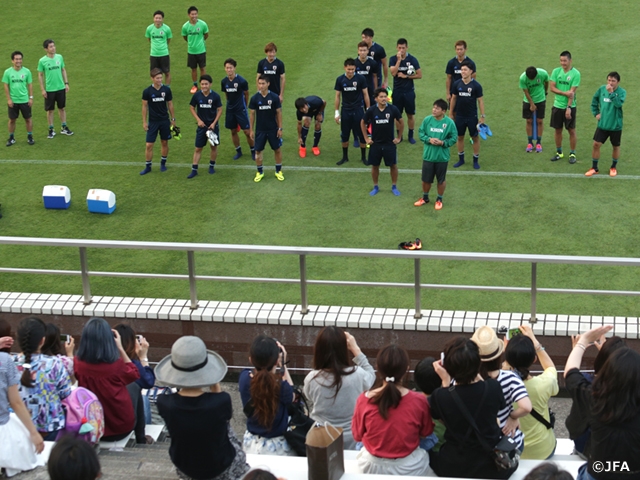 After the training session, JFA National Team Director SHIMODA Masahiro announced additions to their team staff.
Mr. NAKAMURA Daisuke, a conditioning expert from the Japan Institute of Sports Science, and chef Mr. NISHI Yoshiteru will join and support the team from the Aracaju camp in accordance with the rule of the Olympics. Mr. Nakamura joins for the first time since last December in Ishigaki Island before the final Olympic qualifying round, whilst Mr. Nishi teams up with the team for the first time since January of this year in the final round.
Director Shimoda says, "Mr. Nakamura's main role is to evaluate players' condition through methods like saliva tests. Mr. Nishi knows well about local food ingredients as he experienced Brazil in the FIFA World Cup two years ago. Along with other staff members who also have an experience in Brazil, we will go out to get a medal with the best possible support."
The team will leave Japan on Thursday 21 and start a prep camp in the North East coast, Aracaju. Then, including playing an international friendly against Brazil in Goiania on Saturday 30, they will prepare for the first match of the group stage against Nigeria to be held on Thursday 4 August. Japan later face Colombia on Sunday 8 in Manaus and Sweden on Wednesday 10 in Salvador.
Players' Comments
DF #5 UEDA Naomichi (Kashima Antlers)
We still have a little time until the tournament. The preparation up to the tournament is important. Of course, we've got to improve condition for the coming matches, but how much we can recover from fatigue in these two days is a key for our end results. I will try to stick to that. This time, we have 18 players. It doesn't matter if I can play. I want to help the team out.
MF #10 NAKAJIMA Shoya (F.C. Tokyo)
I think we are going to be better with overage players as we play together. The team solidarity is our strength, so we will try to improve it by communicating well about combination. Personally, I want to perform well in any match and get involved in Japan's win. I don't have any special feeling because of my number 10, but if there are people who have a certain type of expectation because of that, I want to live up to it. Anyway, my determination to perform well with any number on my back and to help my team win will never change.
DF #4 FUJIHARU Hiroki (Gamba Osaka)
It's still been two days since I joined the team, but I feel team's mood is good. I will try to talk to my teammates actively. I've watched their matches and I can imagine how they play. And I can draw a picture of how I can play with them as well. This team have been built up for many years. But we overage players came here just two days ago. The three guys including me need to understand the style of football coach Teguramori is installing. I want to ask whatever I don't understand.
DF #15 KAMEKAWA Masashi (Avispa Fukuoka)
The Olympics is a big stage that I've only seen on TV. I know there are a lot of people who support us in front of TV. I'm determined to work hard for them. I will try to think about what I can do while playing. I've been told by Fukuoka coach IHARA, "A small mistake leads to a big mistake. Because he has an experience in a big stage when he was a player and the national team captain, what he says is convincing. He taught me a lot of things in the past year and a half with me. I want to repay him by performing well in the tournament.
JFA-TV (Japanese version only)
Interview - SHIOTANI Tsukasa (Sanfrecce Hiroshima)

Interview - ENDO Wataru (Urawa Reds)

Interview - KUSHIBIKI Masatoshi (Kashima Antlers)
Schedule
Tue. 19 July
PM
Training
Wed. 20 July
PM
Training
Fri. 22 July
PM
Training
Sat. 23 July
AM/PM
Training
Sun. 24 July
AM/PM
Training
Mon. 25 July
AM/PM
Training
Tue. 26 July
AM/PM
Training
Wed. 27 July
PM
Training Match
vs C.S Sergipe
Thu. 28 July
AM
Training
Fri. 29 July
PM
Official Training
Sat. 30 July
16:30
International Friendly Match
vs U-23 Brazil National Team (@Estádio Serra Dourada)
[Japan Time: Sun. 31 July 4:30]

Olympic Football Tournament Rio 2016
Sun. 31 July
TBC
Training
Mon. 1 August
TBC
Training
Tue. 2 August
TBC
Training
Wed. 3 August
TBC
Official Training
Thu. 4 August
21:00
Group B 1st Match
vs Nigeria (@Amazonia Arena)
[Japan Time: Fri. 5 August 10:00]

Fri. 5 August
TBC
Training
Sat. 6 August
TBC
Training
Sun. 7 August
21:00
Group B 2nd Match
vs Colombia (@Amazonia Arena)
[Japan Time: Mon. 8 August 10:00]

Tue. 9 August
PM
Official Training
Wed. 10 August
19:00
Group B 3rd Match
vs Sweden (@Fonte Nova Arena)
[Japan Time: Thu. 11 August 07:00]

*The following schedule determines to win and advance to the next round
Sat. 13 August
16:00
22:00
Quarter-Final (If Japan top the Group)
vs Group A 2nd (@Fonte Nova Arena)
Quarter-Final (If Japan 2nd the Group)
vs Group A 1st (@Corinthians Arena)
Sun. 14 August
TBC
Training
Mon. 15 August
TBC
Training
Tue. 16 August
TBC
Training
Wed. 17 August
13:00
16:00
Semi-Final (@Maracana/Rio de Janeiro)
Semi-Final (@Corinthians Arena/Sao Paulo)
Thu. 18 August
TBC
Training
Fri. 19 August
TBC
Training
Sat. 20 August
13:00
17:30
3/4-Place Playoff (@Mineirao/Belo Horizonte)
Final (@Maracana/Rio de Janeiro)
*Local Time
*The schedule is subject to change due to the team condition, the weather, etc.