NEWS
TEGURAMORI pick squad for Rio de Janeiro Olympics
02 July 2016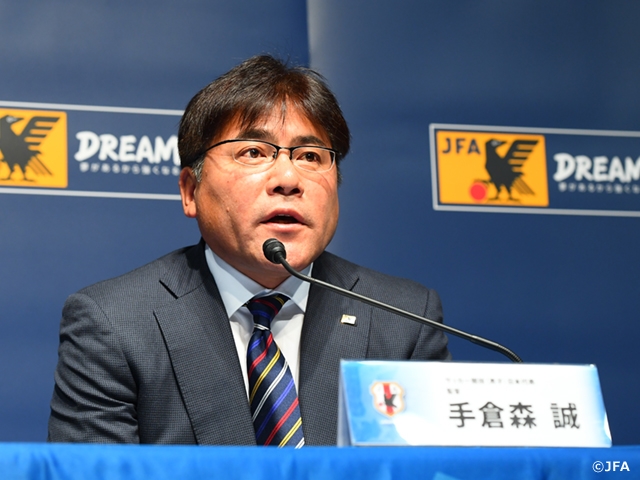 The U-23 Japan National Team coach TEGURAMORI Makoto revealed his 18-man roster for the Rio de Janeiro Games on 1 July. The squad included forward ASANO Takuma (Sanfrecce Hiroshima) and European-based members in forward KUBO Yuya (Berner Sport Club Young Boys/Switzerland), MINAMINO Takumi (Salzburg/Austria). "We would like to play looking for the best medal available," Teguramori said.
Teguramori's squad also have midfielder ENDO Wataru (Urawa Reds), midfielder NAKAJIMA Shoya (F.C. Tokyo), who scored a pair of goals against the U-23 South Africa National Team in the 2016 KIRIN CHALLENGE CUP on 30 June, and defender IWANAMI Takuya (Vissel Kobe), who's working on his rehabilitation.
All the members, except for goalkeeper NAKAMURA Kosuke (Kashiwa Reysol) and a pair of overage players in defenders SHIOTANI Tsukasa (Sanfrecce Hiroshima) and FUJIHARU Hiroki (Gamba Osaka) and forward KOHROGI Shinzoh, competed in January's AFC U-23 Championship, which served as the final Olympic qualifier. The team consist of six defenders and four defensive midfielders.
"It took us a long time to decide the squad," Teguramori said. "We are going to have to play patiently on the defensive side of ball, so we wanted to make our backfield as concrete as possible." Regarding the selection of Iwanami, the coach said that the team looked into his situation carefully and it was a big decision, although Iwanami was making quick recovery. "He's been involved in this team and we thought that he'd have the right condition for sure," Teguramori said.
Teguramori pointed out that the team would have to play three games in a week in the group round and conditioning would be a key. "Observing our players' conditions, we want to compete with the entire team, splitting their energy. It will be up to how much we can capitalize on the collectiveness that we had with our U-23 players on these 18 men," Teguramori said.
The team will assemble on 19 July to hold a training camp in Japan and leave Japan on the 21st. They will practice at Aracaju, which is located in the northeastern part of Brazil and play an international friendly against Brazil in Goiania to prepare for the Olympics.
The men's football competitions will kick off on 4 August, one day before the opening ceremony of the Games. Japan will take on Nigeria on the 4th and face Colombia on the 7th, both in Manaus, and then square off against Sweden on the 10th in Salvador.
"The players who will experience this tournament will accumulate valuable lessons for Russia," Teguramori said.
Goalkeeper SUGIMOTO Daichi (Tokushima Vortis), defender NAKATANI Shinnosuke (Kashiwa Reysol), midfielder NOTSUDA Gakuto and forward SUZUKI Musashi (both of Albirex Niigata) were chosen as the backup member and will be with the team between 1 and 13 August.
Meanwhile, considering the development of the team for the 2020 Tokyo Olympics, defender KOJIMA Masaya (Vegalta Sendai), midfielder WATANABE Kouta (Tokyo Verdy), TOMIYASU Takehiro (Avispa Fukuoka) and forward OGAWA Koki (Jubilo Iwata) have been picked from the U-19 national team as the training partners along with Sugimoto and will be with the Olympic squad until 31 July.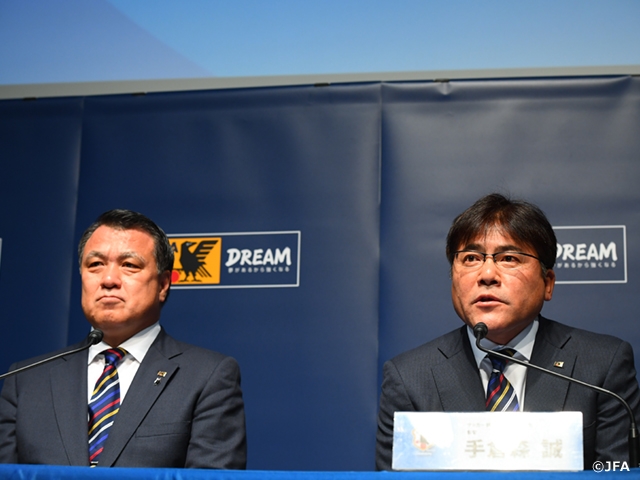 Comments
TEGURAMORI Makoto, Coach
It took us a long time before we finally came to the decision late last night. We hope the players that have been left out of it to stay involved in the development of Japanese football and hope the players that have been selected to be aware of the mind of those teammates and national public and to compete in the Olympics with determination. It will be up to how much we had the collectiveness with the U-23 players for this team that consists of these 18 members, but I believe that this is a group that will carry this opportunity for Russia. Tactically-wise, we chose players that have flexibility and manage the tempo that they have to display at this global stage.
In our game against the U-23 South Africa National Team earlier, we kept playing patiently, trying to read their strengths and capitalized on their weaknesses that we looked for. I think that it's Japan's current style to play reading the flow of the game and then grab a win. We want to play controlling the game and make small holes to bigger holes to have better chances to win in the Games. When we win six more games, we will reach the gold medal. If you don't aim at the gold medal, you won't even win the bronze. We want to play shooting for the best medal available. We were now able to announce our squad with a lot of support from so many different people. I would like to express my appreciation for the J. League club, which have helped us.
TASHIMA Kohzo, the President of the Japan Football Association
Whether you play in the Olympics or not will enormously affect players' life and a lot of other things. I genuinely felt that the coach made the toughest decision, but he did his job as the coach. Those who didn't get selected must be feeling disappointed, but they still have long life and have got the FIFA World Cup. We would like them to work hard to aim at it. Considering the Tokyo Olympics, some players of the U-19 team will be with the team and I want to thank coach Teguramori for having approved it. I would also like to appreciate for our sponsors, boys football clubs, junior high, club, J. league academies, national high school federation clubs and collegiate administrators. We the Japan Football Association will back the team up so they will have good outcomes in the Rio de Janeiro Olympics.
JFA-TV (Japanese version only)
Schedule
Tue. 19 July
PM
Training
Wed. 20 July
PM
Training
Fri. 22 July
PM
Training
Sat. 23 July
AM/PM
Training
Sun. 24 July
AM/PM
Training
Mon. 25 July
AM/PM
Training
Tue. 26 July
AM/PM
Training
Wed. 27 July
Training Match
vs C.S Sergipe
Thu. 28 July
AM
Training
Sat. 30 July
16:30
International Friendly Match
vs U-23 Brazil National Team (@Estádio Serra Dourada)
Olympic Football Tournament Rio 2016
Sun. 31 July
TBC
Training
Mon. 1 August
TBC
Training
Tue. 2 August
TBC
Training
Wed. 3 August
TBC
Official Training
Thu. 4 August
21:00
Group B 1st Match
vs Nigeria (@Amazonia Arena)
Fri. 5 August
TBC
Training
Sat. 6 August
TBC
Training
Sun. 7 August
21:00
Group B 2nd Match
vs Colombia (@Amazonia Arena)
Tue. 9 August
PM
Official Training
Wed. 10 August
19:00
Group B 3rd Match
vs Sweden (@Fonte Nova Arena)
*The following schedule determines to win and advance to the next round
Sat. 13 August
16:00
22:00
Quarter-Final (If Japan top the Group)
vs Group A 2nd (@Fonte Nova Arena)
Quarter-Final (If Japan 2nd the Group)
vs Group A 1st (@Corinthians Arena)
Sun. 14 August
TBC
Training
Mon. 15 August
TBC
Training
Tue. 16 August
TBC
Training
Wed. 17 August
13:00
16:00
Semi-Final (@Maracana/Rio de Janeiro)
Semi-Final (@Corinthians Arena/Sao Paulo)
Thu. 18 August
TBC
Training
Fri. 19 August
TBC
Training
Sat. 20 August
13:00
17:30
3/4-Place Playoff (@Mineirao/Belo Horizonte)
Final (@Maracana/Rio de Janeiro)
*Local Time
*The schedule is subject to change due to the team condition, the weather, etc.