NEWS
Introduction of the referees in charge of match between U-22 Japan National Team and U-22 Jamaica National Team at KIRIN CHALLENGE CUP 2019
28 December 2019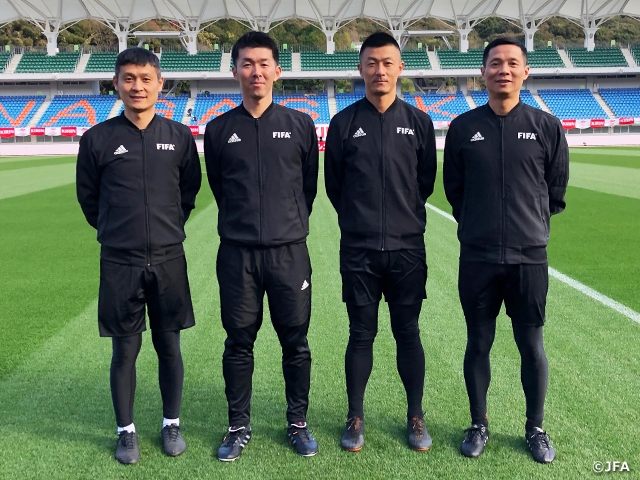 One day ahead of the KIRIN CHALLENGE CUP 2019 match between the U-22 Japan National Team and the U-22 Jamaica National Team, the referees in charge of the match held a practice session at the match venue, Transcosmos Stadium Nagasaki, on Friday 28 December.
Referees in charge
Referee: FU Ming (China PR)
Assistant referee1: HUO Weiming (China PR)
Assistant referee2: SUN Kai (China PR)
Fourth official: ARAKI Yusuke (Japan)
Referee Crew's Comment
We are very honoured to be a part of this match. We are looking forward for a wonderful match between the two teams and we will also give our utmost efforts to showcase our best performance. Lastly, we would like to thank everybody who is involved in making this match happen.

U-22 Japan National Team vs U-22 Jamaica National Team
Date: Sat. 28 December 2019 19:20
Venue: Transcosmos Stadium Nagasaki, Nagasaki