NEWS
U-22 Japan National Team wrap up 9-day Ishigaki Island camp
31 December 2015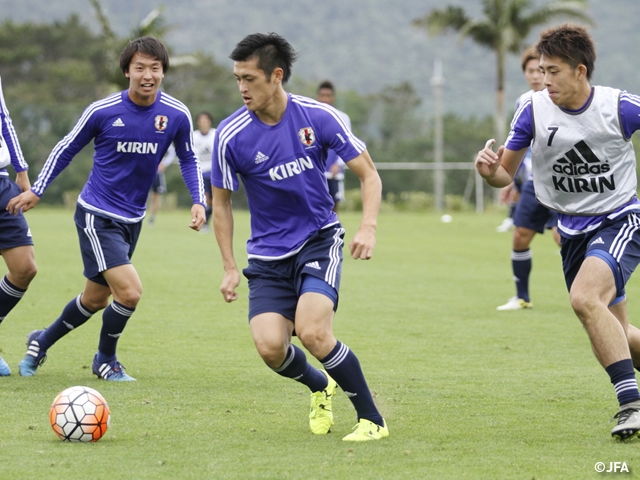 U-22 Japan National Team have just finished their training camp on Ishigaki Island.
The final day enjoyed another good weather following the previous day, and there the 13th training session was carried out. The players, apparently relaxed throughout the session, took on light workout including a small-sided game. After they finished the training, they took a commemorative group photo with the players of Yaeyama High School, who had assisted the training camp, those from the city of Ishigaki, and the Yaeyama Football Association officers to wrap up the 9-day camp.
After lunch, with serious mood hanging over them, coach TEGURAMORI announced the two players who fill the last two spots left open on the squad.
His message to the squad was as follows. "In representing the country, the 23 players selected will be held accountable and required to make further improvement. I also want the players who didn't get selected to improve further based on this bitter experience. 2016 is the make-or-break year for all of us. We have to get to the Olympics and we have to rewrite our history in the Olympics. That will lead Japanese football as a whole to grow and Japan to do well in the FIFA World Cup Russia.
The players selected this time are supposed to get the Olympic spot by all means. The ones not selected are supposed to start working hard for the matches to play at the Olympics. That's a must. And they are also expected to earn playing time with their own club. It is impossible for a country to win only with the players selected. That's a job to do for everybody in this generation. From a tournament to another, there are players who get selected and who don't, but our future can be changed by everyone being held accountable to improve Japanese football as a whole. Japan haven't achieved anything yet at the world stage. But you are the one who changes that. The more we have on the same page to make a difference, the easier it gets.
I want the players who didn't get selected to send their spirit to Qatar, the spirit to fight together. And once we get the ticket to the Olympics, I want them to celebrate it just as they have done it themselves. I want the players who got selected and play at that stage representing all other guys not selected to make a firm commitment to fight through the process."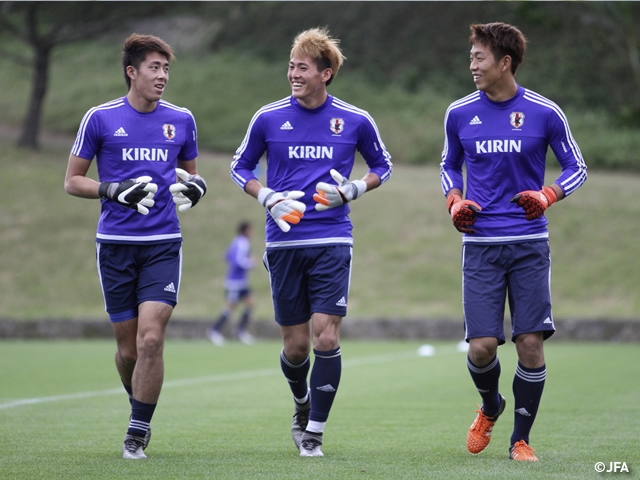 After that, the JFA's Technical Director, SHIMODA Masahiro added, "only Japan can carry out a training camp in a good atmosphere like this. No other country can do it. It's our strength that regardless of who gets selected we can respect the concept of the team and we can fight together."
On Saturday 2 January in the new year, 23 young samurais will head for Qatar, the final qualifiers site.
Coach and Players' Comments
TEGURAMORI Makoto, Coach
In this camp, the players created a productive atmosphere for each other and worked out with good motivation and determination. The weather hasn't been always good for us, but we were given a very good environment of this Ishigaki Island, and the camp turned out to be very meaningful. Now all we have left to do is to get a good result. Whether what we did in this year comes to fruition next year or not is all up to us. I told the players that we would have to work on it with an unshakable belief that we would make it no matter what happens.
The biggest takeaway of this camp is everyone's mindset came together as one. This group has been a very good group of players. They have such a good attitude that I can say if there were no limitation on the number of players on the squad, I would want to take them all. A camp like this doesn't happen so often. They all have different emotions and feelings, but they came together as one under the spirit of representing the country. They were well aware of what was expected from them and they executed it. It seems ordinary but it really is a very difficult thing to do. But they just did that.
GK SUGIMOTO Daichi (Kyoto Sanga F.C)
This camp had a good sense of urgency and we trained hard. Our conditioning has improved greatly, so I think this was a very good camp. Throughout this camp, our bond among all the players got better, and we now understand what kind of players our teammates are. We can never afford to stop the Olympics appearance streak, and getting there is the obligation that we have got to fulfil. To do that, I personally want to get myself ready to be able to get playing time. Even if I don't get playing time, I want to keep doing what I can do for the team.
DF KUSHIBIKI Kazuki (Consadole Sapporo)
I knew this camp would be very intense in order for us to get the last two spots. I think I could do what I was supposed to do in this camp. I will keep improving what I still lack. We get along with each other very well, and for the final qualifying round, we have been able to practise in a very good atmosphere.
MF KAWABE Hayao (Jubilo Iwata)
We spent a lot of time for fitness training, but I tried to show what I was supposed to show. In the intrasquad scrimmage yesterday, I was able to show my strength and at the same time I found what I need to correct. On the pitch, we competed against each other while training, and off the pitch we got along very well and communicated with each other. I think that resulted in our unity.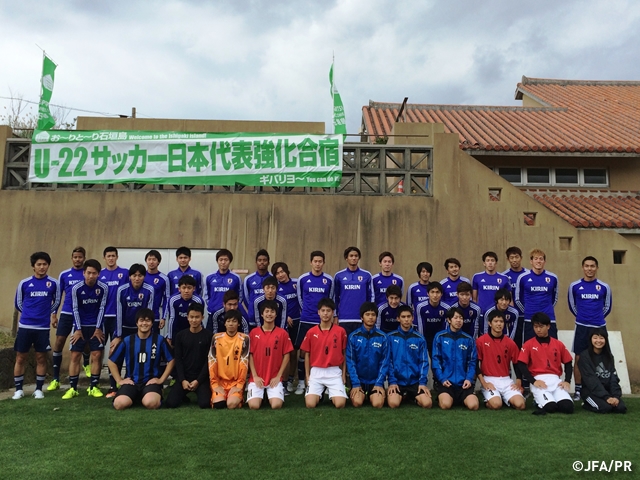 Schedule
| | | |
| --- | --- | --- |
| Wed. 23 December | AM/PM | Training |
| Thu. 24 December | AM/PM | Training |
| Fri. 25 December | AM | Training |
| Sat. 26 December | AM/PM | Training |
| Sun. 27 December | AM/PM | Training |
| Mon. 28 December | AM | Training |
| Tue. 29 December | AM/PM | Training |
| Wed. 30 December | AM | Training |