NEWS
U-22 Japan to face Malaysia on 31st night
31 March 2015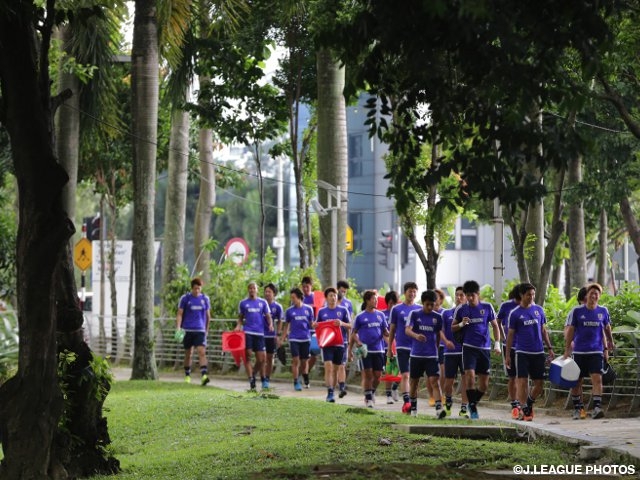 On 30 March, one day after the win over Vietnam, Japan's U-22 national team spent the daytime for recovery from a series of battles.
Starting from the evening, the squad, divided into two groups, worked on recovery workouts. Yet as soon as the training started, heavy squall came in. Thirteen players, mostly who played the last match, cut the scheduled running session short and went through recovery exercises such as stretching at hotel. The rest of the eight players continued practice on the pitch, but rain became stronger and then reached the worst level they had experienced in this trip. As a thunderstorm was also coming close, this group was also forced to terminate the session after about 20 minutes.
It might have been a message to the players with accumulated fatigue, saying "Take a rest." Japan face home country Malaysia in the last match of the AFC U-23 Championship Qualifiers (Olympic Qualifiers Round 1) on 31st. With a win or tie, the Japan side will pass through the first qualifying round. The players have got fired up for the third straight win with clean sheets.
AFC U-23 Championship 2016 Qualifiers (Rio 2016 Olympic Asian Qualifiers Round 1) Match 3
Tuesday 31 March, Kick-off: 8:45 p.m. (9:45 p.m. Japan time)
U-22 Japan National Team vs U-22 Malaysia National Team
TV Broadcasting: Live on Fuji TV from 9:45 p.m. Japan time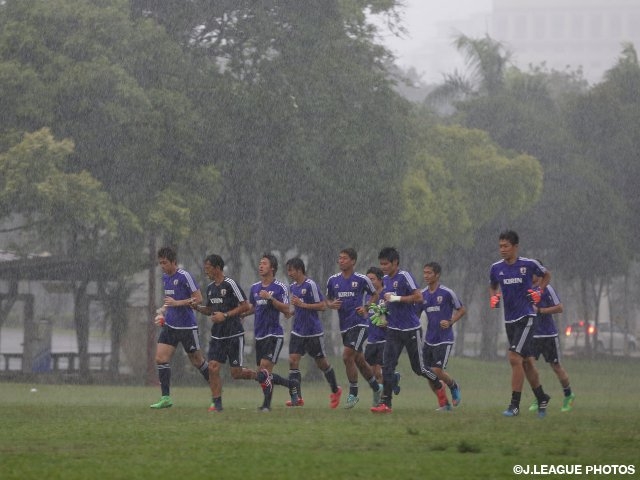 Head Coaches and Players' Comments
TEGURAMORI Makoto, Head Coach
There was some unfunctional part in the Vietnam match. We were able to carry the ball to the vital area but lacked final passing accuracy. We ended up making their five-man defence even tighter by our own attacking pattern. The opposing players got too close, so we weren't able to widen the opposing gap. Our keyword to break through the defence is diagonal passes and one-touch passes. They won't take effect if the players' distances are too close. Of course, Malaysia are certainly coming out with a different formation from Vietnam's. Yesterday's Vietnam match turned out to be a good learning in terms of how to attack against opponents who play close to each other in defence.
This is not a practice match, but we want to try out lots of things with an eye for the final qualifying round. Now we are seeking what the best attacking combo is. There are matches in a short period of time under centralised venue system (tournament held in a single host country), so we need to have several different combos. I won't fix a regular line-up, having the players compete in the team and playing the players who are in good form. Without organising the team working well with a different line-up, we won't survive and win a series of matches.
Tomorrow's match is the last one. The players have got all sorted out inside their head, so the only thing they need is get back in form so that they can put their full effort on it.
SUZUKI Musashi, FW #9 (Albirex Niigata)
In the Vietnam match, the pitch condition was bad because of squall before the start and that made it a tough battle for us. Even so, we were able to play out to get a 2-0 win. By losing in the last eight at the AFC U-22 Championship Oman and last year's Asian Games, we as a team strongly felt the importance of winning and have gradually picked up the strength to win out. But it's not enough yet and will show our toughness not only on the technical side but the mental side in the Malaysia match, even further in the final qualifiers and the finals. Tomorrow, I will go for a goal and we will definitely win to go home with three straight wins.
NAKAMURA Kosuke, GK #30 (Avispa Fukuoka)
With the determination this is the first step for the Rio De Janeiro Olympics, I came out for this tournament. The Malaysian climate is hot, but I'm getting used to it. It's similar to the climate in Myanmar where the AFC U-19 Championship was held, but the pitch is more slippery here. I'm a bit disappointed I wasn't able to play but I'm just happy when my team won. I will keep up my work to take advantage of my strength, which is denying shots, and work hard to play on the pitch both for the Japan U-22 and my club.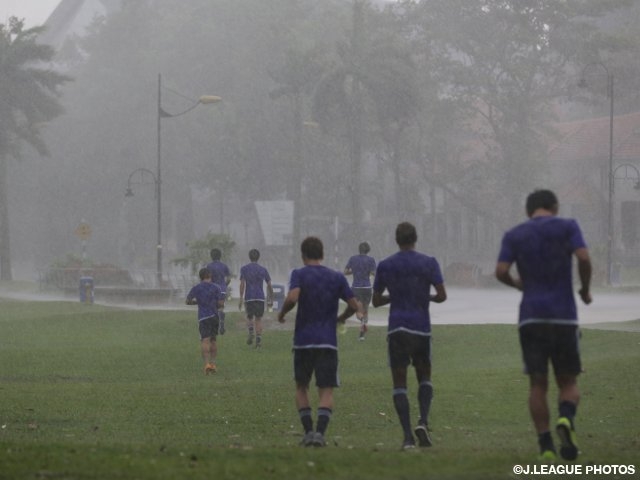 Schedule
AFC U-23 Championship 2016 Qualifiers
Fri. 27 March
7-0
1st Match vs.Macau U-22 National Team(@Shah Alam Stadium)
Sat. 28 March

AM

Training
Sun. 29 March
2-0
2nd Match vs.Vietnam U-22 National Team (@Shah Alam Stadium)
Mon. 30 March


PM

Training
Tue. 31 March

20:45

3rd Match vs. Malaysia U-22 National Team (@Shah Alam Stadium)
Local time