NEWS
U-22 Japan advance to Rio 2016 Olympics Asian Qualifiers Final Round!
01 April 2015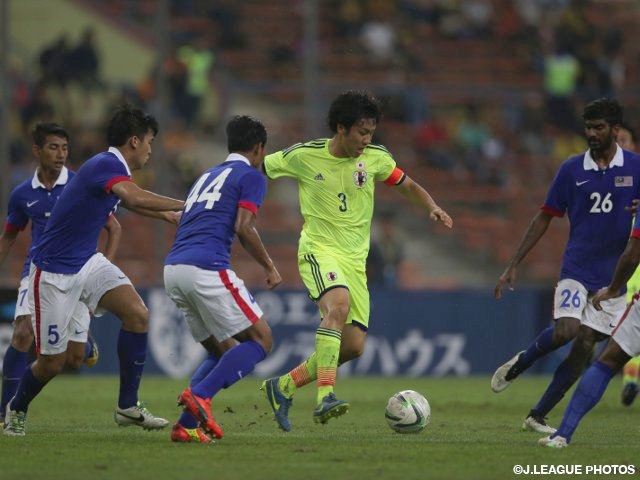 AFC U-23 Championship 2016 Qualifiers (Rio 2016 Asian Qualifiers Round 1)
3rd Match: vs U-22 Malaysia National Team
Tue. 31 March 2015, Kickoff: 20:45, Playing time: 90 min (45-min halves)
Shah Alam Stadium (Malaysia)
U-22 Japan National Team 1-0 (1st 1-0, 2nd 0-0) U-22 Malaysia National Team
Scores
2' KUBO Yuya (Japan)
Line-ups
GK: NIEKAWA Ayumi
DF: ANZAI Kazuki, UEDA Naomichi, NARA Tatsuki, MUROYA Sei
MF: ARANO Takuma, ENDO Wataru, KUBO Yuya, OHSHIMA Ryota, NOTSUDA Gakuto,
FW: SUZUKI Musashi,
Substitutes
GK: KUSHIBIKI Masatoshi , NAKAMURA Kosuke
DF: NISHINO Takaharu, YAMANAKA Ryosuke, MATSUBARA Ken
MF: HARAKAWA Riki, NAKAJIMA Shoya, TOYOKAWA Yuta, YAJIMA Shinya,
FW: ASANO Takuma
59' KUBO Yuya → NAKAJIMA Shoya
66' OHSHIMA Ryota → HARAKAWA Riki
82' ARANO Takuma→ ASANO Takuma
Match Report
In the final match of the AFC U-23 Championship Qualifiers (Olympic Qualifiers Round 1) U-22 Japan National Team beat host country Malaysia 1-0 to make a final qualifying round berth.
Because the match between Vietnam and Macau was temporarily halted due to the most torrential thunderstorm the Japanese squad had experienced in their trip, they were not able to warm up on the pitch before their match. Despite the unexpected problem, Japan took the match in control early on.
Japan, who played a 4-2-3-1 throughout the three matches in the first round, kept attacking on the Malaysian side one after another. Malaysia laid out five-man defence just as they did against Vietnam on 29 March, but Japanese players and the ball together moved around vertically, horizontally and diagonally despite the pitch condition being bad.
In the 16th minute, defender ANZAI Kazuki blasted from outside of the box, but it was denied by an opposing defender. In the 32nd minute, midfielder ENDO Wataru's effort was again denied by the opposing goalkeeper's fine save. Finally in the 41st minute, forward KUBO Yuya headed home Anzai's cross from the left to give his side a long-awaited opener. In the closing minutes of the first half, the Japanese defence once gave away space behind them, which led to a dangerous situation for them, but goalkeeper NIEKAWA Ayumi made a superb save before the Japan side ended the first half with 1-0 up.
Head Coach Teguramori encouraged the players and sent them onto the pitch again, saying, "You are playing with a good balance. Let's finish it up successfully with the 45 minutes left!"
The Teguramori side kept going on aggressive attacking in the second half as well. Endo headed midfielder NOTSUDA Gakuto's corner kick in the 59th minute, but it went inches left of the Malaysian goal. The Japanese bench sent on midfielders NAKAJIMA Shoya, HARAKAWA Riki and forward ASANO Takuma, but all their efforts did not pay off. While the score remained at 1-0 until the end, U-22 Japan won out the tough contest to grab a ticket to the final round.
The team leave Malaysia in the night of 1st after recovery workouts in the morning. U-22 Japan National Team, aiming at their sixth consecutive Olympic berth, have an international friendly at Yurtec Stadium Sendai on Wednesday 1 July in preparation for the final qualifying round to be held in Qatar in January 2016.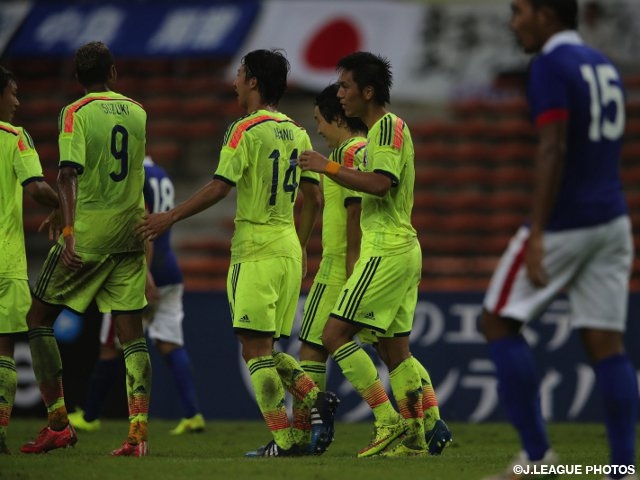 Head Coach and Players' Comments
TEGURAMORI Makoto, Head Coach
I'm thankful to the players, who got a grip on the match and won three matches in a row. I sent them onto the pitch, telling them to be unmoved in any situation and put their effort into it for their objective. We scored only one, but I said to them the balance was important and the players actually made it improve compared to the previous match. But they paid attention to the balance a little too much and played too neatly. We need to work on how to use the humbleness and forcefulness in different situations. We will improve the team overall as if there were two regular teams with different players, who can show the same level of performance.
KUBO Yuya, FW #11 (BSC Young Boys / Switzerland)
I was able to put up a good result with a goal in today's match. But my performance was about 50% of my best. I have lots of things that have changed compared to the spell when I was playing in Japan. I came to play simple and don't waste too much energy. To me, Japan's national team are where I want to go and I'm proud, compared to myself when I was in Japan. I definitely want to go to the Olympics, so I will try to improve myself including my condition for the final qualifying round. The final round is a must-win, so we will win.
ARANO Takuma, MF #14 (Consadole Sapporo)
I'm glad we finished with the three straight wins. Personally, I should've played more in a way directly linked to goal. People tend to expect Japan to win by a wide margin, but the level of Asia is improving. And the tough match like today's will continue from now on. In the final round, I want to score even in such a situation. To achieve that, I will try to improve finishing accuracy at my club and come back to the U-22 team with some improvement.
UEDA Naomichi, DF #5 (Kashima Antlers)
While the pitch condition wasn't good and we struggled to score, it's good we won the match with a clean sheet. But we also had some dangerous situations for us. We won't go up further if we keep playing like this. I will practice more and improve my level after I go back to my club. As a team, we have gradually understood how we are trying to play. We need to practice more to play football our coach requires in the tough Asian environment. First I will work hard to get playing time in my club's matches.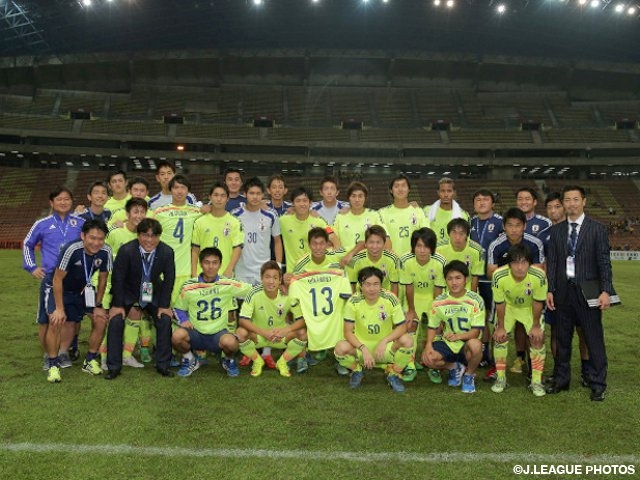 Schedule
AFC U-23 Championship 2016 Qualifiers
Fri. 27 March
7-0
1st Match vs. U-22 Macau National Team(@Shah Alam Stadium)
Sat. 28 March

AM

Training
Sun. 29 March
2-0
2nd Match vs. U-22 Vietnam National Team (@Shah Alam Stadium)
Mon. 30 March


PM

Training
Tue. 31 March
1-0
3rd Match vs. U-22 Malaysia National Team (@Shah Alam Stadium)
Local time