NEWS
U-22 Japan squad have final preparation for AFC U-23 Championship qualifier
26 March 2015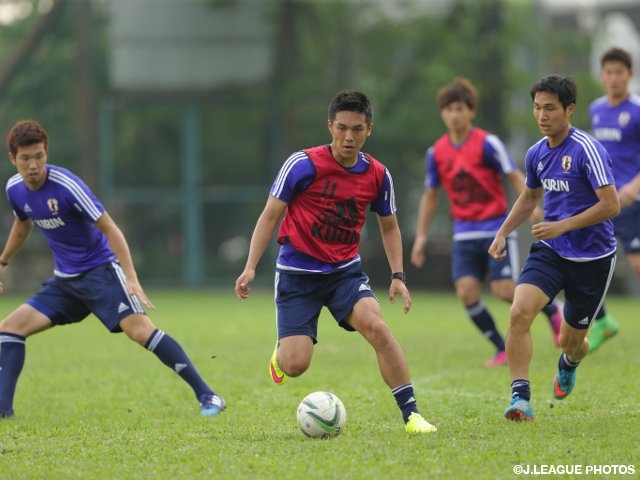 The U-22 Japan national team entered their 10th day in Malaysia, the site for the AFC U-23 Championship. In the morning of 25 March, only forward KUBO Yuya worked on training to adjust himself to the heat.
The team began their afternoon practice session with a temperature of 33 degrees and humidity of 57 percent. The 22-man members, excluding KAMEKAWA Masashi, who had gone back home, tried to perform the football their head coach Teguramori aims to put up with a higher motivation for the big event in mind. Following their warming ups with passing and controlling, the team were divided into the offence and defence and worked on functional practices, trying to check their disciplinary things and combinations. And then they would move to a tactical training to check on their detailed buildups from restarts. Teguramori often jumped in and give the players elaborate instructions in order to raise the quality of the team as their game was drawing near. In the end, the team played an intra-squad game in a full court, in which they occasionally stop their plays to check on their plays.
The team wrapped up high-intensity practices and now get into the phase to work on their conditioning and practical games. They will hold an official practice at the same time as the kickoff time for their match on the 26th at Shah Alam Stadium. They will tune up for the game for one last time, getting the feelings of the grass and stadium to have a better image of the contest.
The U-22 Japan squad will make their first step of their long journey on 27 March.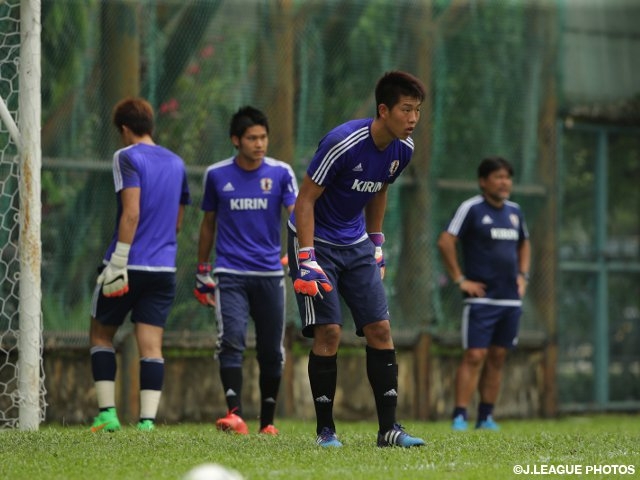 Head Coach and Players' Comments
TEGURAMORI Makoto, Head Coach
We focused mainly on practice on restarts today. We have to think of our game with 90 minutes, but majority of the plays begin with restarts. Goal kicks and throw-ins are what you can control yourself. We worked on how to start them and not losing our concentration.
One of our strengths is that when we divide our team into two squads for intra-squad game, we have two equally-capable teams. We can think of variety of player selections, so we can save our energy inside our team to play through the three straight games. We are going to give all out in all the three games. All of our players here will play as the representatives of Japan, but it is this generation's strength that we have so many other players in Japan who are not so behind these guys here. I told our players that once they get loose, they could easily be left behind. Rather than how our opponents will come against us, we want to focus on how much we will play to our own themes we've set and concentrate to play with what this team want to put up more. We've got to prove that we have a higher ambition than other participants. I want our players to show their determination and attitude to lead Japan's future.
MF #7 OHSHIMA Ryota (Kawasaki Frontale )
It was the biggest them for me to go injury-free, but I felt sorry for the team that I wasn't able to play in our against Myanmar on 11 March as I had hurt my leg in the last minute. I lacked extra cautions and reflect on that.
I think that I've been able to play to what our coach is trying to do for the tournament. As our games are getting closer, I've been able to turn my switch well and do things including the practices in severe circumstance. I have the feelings of growing in terms of the timing of plays and communication, so hopefully I will be able to harmonize what the coach asks for with the timings of our plays even more from now on.
GK #1 NIEKAWA Ayumi (Jubilo Iwata)
I've been working with a theme that I adjust myself to the environments and I don't lose my condition in the long period of the tournament, including the training camp term. We are in a circumstance with the temperatures, humidities, rain showers and grass, that we can't normally experience in Japan, but I've gotten used to it a lot. Our goalkeeper unit are peculiar about our quality of practices and we are all prepared to compete in the games. We have been able to train with better content and mood.
Through our activities so far, I feel that our members have understood our team concepts and we should be able to perform constantly no matter who plays, and I think that our team level has developed. I think that we will be forced to play very tough battles in our three consecutive games, but we will give all out to qualify the first qualifying, so please give us your support.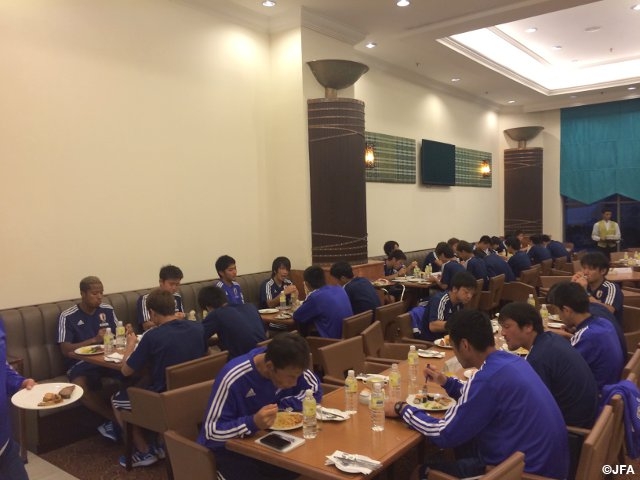 Schedule
Mon. 9 March

PM

Training
Tue. 10 March

PM

Official Training
Wed. 11 March
9-0
International Friendly vs. Myanmmar U-22 National Team
(@Fukuda Denshi Arena)
Tue. 17 March

AM

Training

PM

Training
Wed. 18 March

AM/PM

Training
Thu. 19 March

AM/PM

Training
Fri. 20 March

PM

Training
Sat. 21 March

4-1

vs Sime Darby FC (Selayang Stadium / Malaysia)
Mon. 23 March

AM/PM

Training
Tue. 24 March

AM/PM

Training
Wed. 25 March

PM

Training
Thu. 26 March

PM

Official training(@Shah Alam Stadium)
AFC U-23 Championship 2016 Qualifiers
Fri. 27 March

16:00

1st Match vs.Macau U-22 National Team(@Shah Alam Stadium)
Sat. 28 March

AM

Training
Sun. 29 March

20:15

2nd Match vs.Vietnam U-22 National Team (@Shah Alam Stadium)
Mon. 30 March


PM

Training
Tue. 31 March

20:45

3rd Match vs. Malaysia U-22 National Team (@Shah Alam Stadium)
Local time