NEWS
Two days to go for U-22 Japan for AFC U-23 championship, Olympic qualifiers opener!
25 March 2015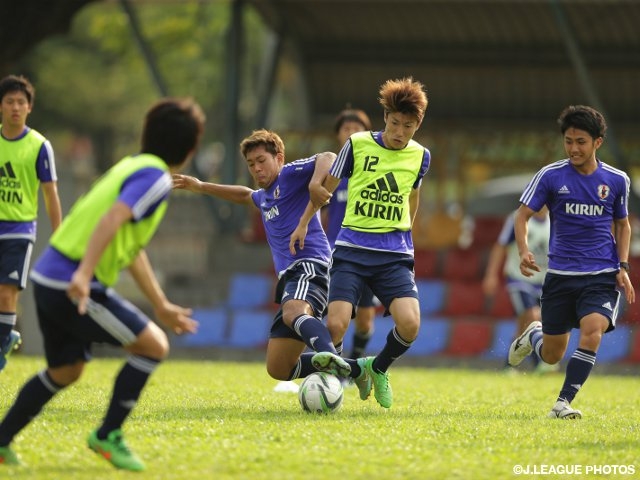 As KUBO Yuya arrived from Switzerland to join his teammates in the morning of 24th, it completed the national U-22 team with all the 23 players.
In the morning, defender KAMEKAWA Masashi, who had undergone a rehabilitating programme due to injury, and three players who later joined the team, defender NISHINO Takaharu, forwards MINAMINO Takumi and KUBO Yuya, went through training on a turf field near the hotel, where we can enjoy Blue Mosque, one of Malaysia's biggest Islamic temples. Kubo and Minamino, who travelled from the cold weather in Europe, spent the time working on a programme for acclimatising the heat with big drops of sweat on their face under Malaysia's warm climate, which has the temperature difference of 20 C compared to Europe.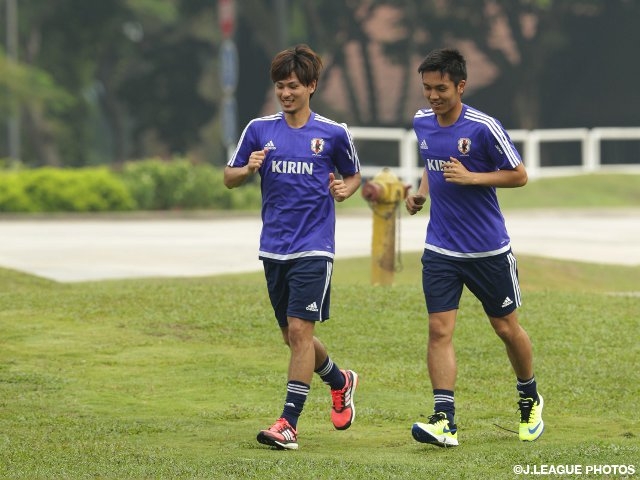 The afternoon had a squall again. Although it stopped before training, the training started in a very hot and humid condition with 29 C and 76% humidity. As the U-22 squad will have single-session training from this point to the upcoming fixture, how much the players can concentrate on each session and how meaningful their practice becomes will be tested. The squad worked on possession drills, finishing drills and game-style practice at the end. As head coach TEGURAMORI Makoto boosting their motivation aloud and the players calling out to each other, they finished the training session of the day in a great mood.
Because the squad have matches and conditioning drills one after another on 26th and later, there are only two remaining days on 24th and 25th to work on tactical training. For the opening match, the quality of the team has been improving.
Although all of the 23 Japan U-22 men got together, there was disappointing news at night. It was announced that Kamekawa, who had been aiming to make a comeback from injury, left for home much to teammates' regret. Since the team's activity continues for as long as two weeks from the preparation camp to the end of the tournament, one of the most important missions for the players is to keep their form.
 
There are only two days left until the opening match against Macau at the AFC U-23 Championship Qualifiers (Olympic Qualifiers Round 1).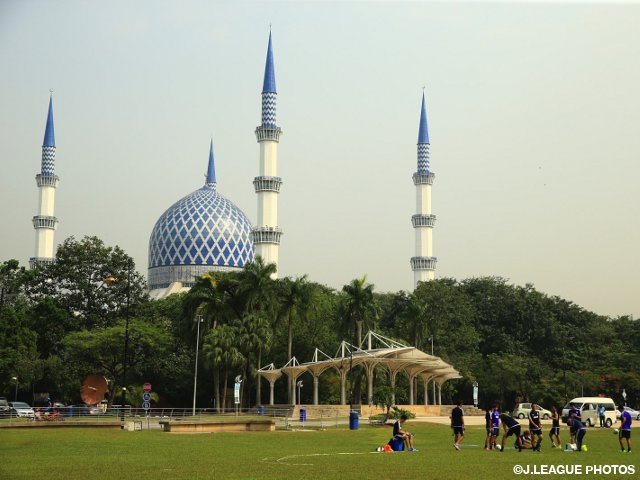 Players' Comments
DF 25 NISHINO Takaharu (Gamba Osaka)
I was surprised first when I knew I was called up because it came so suddenly, but I will work hard to establish my place on the team for the chance at this important Olympic qualifying. First, I will focus my energy on team's victory but try to showcase myself as well. It is hot and humid in Malaysia, but I will try to get used to the environment quickly because the competition is coming soon. My teammates are all I worked together with during the past national team activities. So I was able to fit into the team even though I came here halfway through the camp. It's been a year and three months since the national team was started up. Our long-awaited Olympic qualifiers are about to begin. By having the determination to represent the country as a team and by capitalising on my individual strength, aerial ability, we will ensure to win every single match. We appreciate your support.
FW 11 KUBO Yuya (BSC Young Boys/ Switzerland)
I feel hot here because I came from the three-degree environment. I wasn't able to move very well in the Thai and Bangladesh trip I was called up for last time. So I will try to adjust my form to get used to the environment quickly. There are lots of players who I know since our youth, so we can have training in a good atmosphere. You have competitions on the forward position anywhere and at any club. We will try to play well and improve together. To take advantage of my strengths in attacking and combinations in front of goal, I will communicate more with my teammates. When I can play on the pitch, I will put in my all from the start without saving any energy for later. I want to get involved in team's scoring and also contribute to the defensive side.
MF 20 YAJIMA Shinya (Fagiano Okayama)
These are very important three matches to advance to the Olympics. How we play is of course important, but first of all we will play for the win. It's been a week since I arrived in Malaysia, but it feels longer than that.
Individually, I got behind because of injury, so it's good to have lots of training opportunities. Because of the injury, I wasn't able to take part in my team's camp that included many matches, so I haven't played so many matches. But I'm getting in better shape. I've never played football in that kind of squall. It was a good experience. Since the team's start-up last January, our thoughts have been shared well with each other because we played with almost the same teammates. To me, this is my first time to be here since the December trip, but I'm playing pretty well without any problem. I will try hard to contribute to the team and win all the three matches.
Schedule
Mon. 9 March

PM

Training
Tue. 10 March

PM

Official Training
Wed. 11 March
9-0
International Friendly vs. Myanmmar U-22 National Team
(@Fukuda Denshi Arena)
Tue. 17 March

AM

Training

PM

Training
Wed. 18 March

AM/PM

Training
Thu. 19 March

AM/PM

Training
Fri. 20 March

PM

Training
Sat. 21 March

4-1

vs Sime Darby FC (Selayang Stadium / Malaysia)
Mon. 23 March

AM/PM

Training
Tue. 24 March

AM/PM

Training
Wed. 25 March

PM

Training
Thu. 26 March

PM

Official training(@Shah Alam Stadium)
AFC U-23 Championship 2016 Qualifiers
Fri. 27 March

16:00

1st Match vs.Macau U-22 National Team(@Shah Alam Stadium)
Sat. 28 March

AM

Training
Sun. 29 March

20:15

2nd Match vs.Vietnam U-22 National Team (@Shah Alam Stadium)
Mon. 30 March


PM

Training
Tue. 31 March

20:45

3rd Match vs. Malaysia U-22 National Team (@Shah Alam Stadium)
Local time