NEWS
U-22 Japan squad practice lively to prepare for AFC U-23 qualifier (3/23)
24 March 2015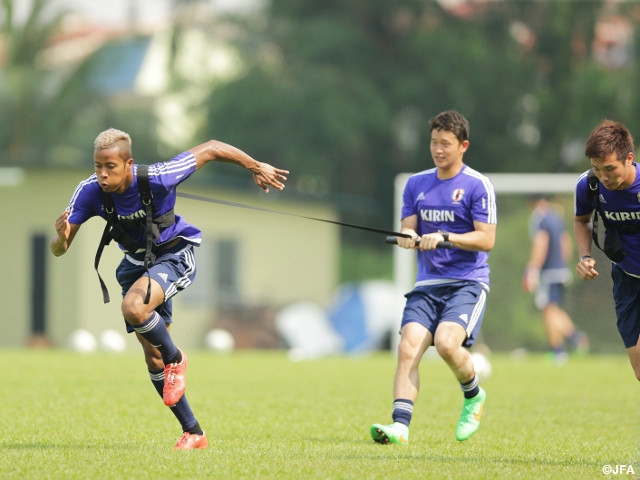 The U-22 Japan national team held their first practice since they moved to the official hotel for the AFC U-23 Championship qualifier, which also serves as the first Olympic qualifying, on 23 March. In the first of the two-a-day practice, they went through a power training, which gives the players some loads in the movements of playing football and develops their bodies.
As MINAMINO Takumi and NISHINO Takaharu arrived in Malaysia to join the team in the morning, the Japan squad, now missing only KUBO Yuya, who's scheduled to come on the 24th, wrapped up the morning session with a higher motivation.
Before the afternoon session, rain shower hit, which would actually helped the players as the temperature got lower to 26 degrees. The team worked on possession practice by the positions and then 9-on-9 possession practice, and after that they were divided into the offence and defence to work on a functional practice focusing on combinations of clearing and finishing. In the end, they wrapped up the day with a practical game-style practice of the attacking third with the entire squad. Coming off a day off they were required to have a high-intensity practice, but the players still showed cheerful expression on their faces.
Because their adjustment with the heat has gone smoothly, the team decided to eliminate a morning practice on the 24th and was the last day to have two practice session in the same day. Japan entered the official hotel, at which all the four participating teams will stay, before the other three on the 22nd. The Vietnam U-22 team, who are led by head coach MIURA Toshiya, came in on the next day. The Japan team have begun to have more tense atmosphere.
The U-22 Japan team have three more days until their first game in the AFC U-23 Championship against Macau.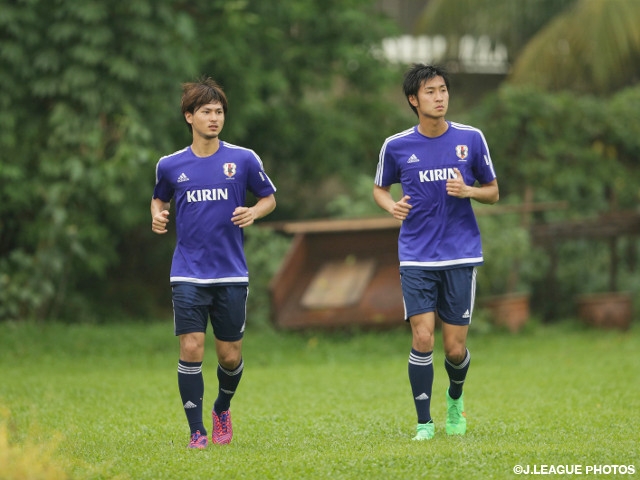 Head Coach and Players' Comments
TEGURAMORI Makoto, Head Coach
Our main purpose was to judge our players' adjustment to the heat and conditioning, but while we didn't have the full squad, we were able to do what we wanted to do. During the tournament period, we would like to imprint how we are supposed to play towards the games. This team have the imagination when they try to get their opponents off balance. Also, they have the shooting ability and ball speed, and understand well enough that they are in the position that they have to do well no matter what kind of circumstances they are in. In today's practice, we improved our play speed and game tempo a lot. I think that it was possible because our adjustment to the heat and the player's bodies have moved better. I told our players that our preparation has come accordingly, that we've had good trainings and games and took some good rest, and that let's develop our conditioning and motivation even more.
DF 23 NARA Tatsuki (FC Tokyo)
Because I'm from Hokkaido, it's very tough for me to deal with this temperature and humidity in Malaysia, but it's been well that I've come to this point without having any big injuries. In our exhibition matches, I was able to play, confirming what our coach wants to do. Yet there were some occasions that we allowed counter attacks, I want to be careful to prepare our defence while we are attacking, and I think that's my role. I haven't played much compared with other members, but I still feel that I've stepped up the ladders step by step. Our bodies have accustomed, and the maturity level of the team have improved. I doubt that we are going to play all the three games that we have to play with one day's rest in between with the same members, so I would like to prepare myself, understanding my role, what I'm required to do, so I can put up my 100 percent whenever I have an opportunity to play for Japan. I want to support my teammates around me and qualify through the qualifying with three straight wins.
FW 13 MINAMINO Takumi (Salzburg/Austria)
It's very hot in Malaysia, but I think I will just need to get used to it. I want to also adjust to the unique grass that's different from the circumstance that I'm usually in. But I've experienced the South East Asian environments through the AFC Under-19 Championship in Myanmar in 2014, so I came here with some anticipations. Our team is in a good mood and I hope to give something extra to the team and will do my best to give some stimulation to the competition inside the team. Also, because I got here a little late than others, I want to get used to it sooner and play in games showing my own performance. Once I get to play, I will give my best as a Japanese representative to help the team advance to the final qualifying, contributing to it with some goals.
DF 6  YAMANAKA Ryosuke (Kashiwa Reysol)
In our game against Myanmar on 11 March, we held them to zero goals and as a defensive player it gave me a confidence. And it was also great that I made a pair of assists. Fukuda Denshi Arena was a stadium that I played the entire year last year, so I was glad to be back there and I enjoyed the atmosphere and lively mood. Malaysia has been hotter than I expected, but because I was sick and got here later than scheduled, I would like to raise my condition, getting used to the heat. We want to be careful on caring for our own counter attacks and risk management when we have the ball, and do my best to help the team qualify through the first qualifying, giving up no goals and winning all the three matches.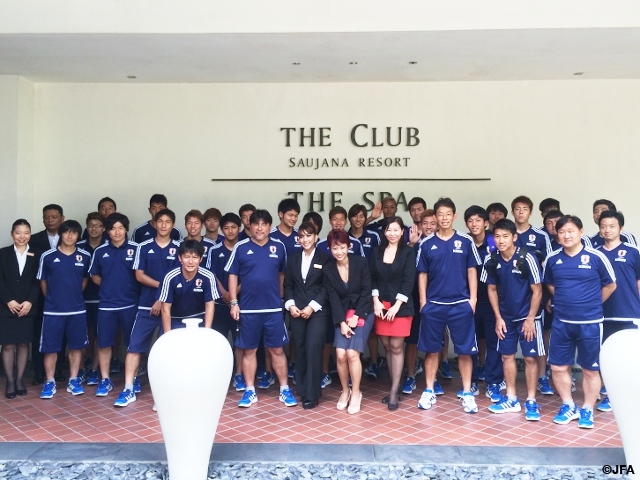 Schedule
Mon. 9 March

PM

Training
Tue. 10 March

PM

Official Training
Wed. 11 March
9-0
International Friendly vs. Myanmmar U-22 National Team
(@Fukuda Denshi Arena)
Tue. 17 March

AM

Training

PM

Training
Wed. 18 March

AM/PM

Training
Thu. 19 March

AM/PM

Training
Fri. 20 March

PM

Training
Sat. 21 March

4-1

vs Sime Darby FC (Selayang Stadium / Malaysia)
Mon. 23 March

AM/PM

Training
Tue. 24 March

AM/PM

Training
Wed. 25 March

PM

Training
Thu. 26 March

PM

Official training(@Shah Alam Stadium)
AFC U-23 Championship 2016 Qualifiers
Fri. 27 March

16:00

1st Match vs.Macau U-22 National Team(@Shah Alam Stadium)
Sat. 28 March

AM

Training
Sun. 29 March

20:15

2nd Match vs.Vietnam U-22 National Team (@Shah Alam Stadium)
Mon. 30 March


PM

Training
Tue. 31 March

20:45

3rd Match vs. Malaysia U-22 National Team (@Shah Alam Stadium)
Local time