NEWS
Japan U-22 prep camp for AFC U-23 Championship (Olympic Qualifiers) Report (21 March)
22 March 2015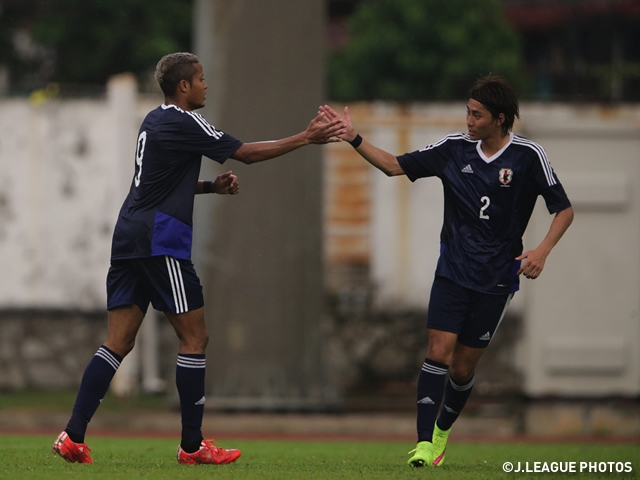 Japan U-22 team entered the final day of the preparation camp in Malaysia for the AFC U-23 Championship (Olympic Qualifiers Round 1).
The squad had a training match against Malaysia Super League side Sime Darby FC. Japan U-22 started the match with a 4-2-3-1 at Selayang Stadium, Sime Darby's home.
Training Match vs Sime Darby FC
Sat 21 March 2015 Kick Off 17:00 Playing Time 90mins (45 halves)
Selayang Stadium (Malaysia)
Japan National U-22 Team 4-1 (1st 1-0, 2nd 3-1) Sime Darby FC
Scores
24min ARANO Takuma(U-22 Japan National Team)
48min Goal Against(Sime Darby FC)
65min SUZUKI Musashi(U-22 Japan National Team)
69min NOTSUDA Gakuto(U-22 Japan National Team)
84min SUZUKI Musashi(U-22 Japan National Team)
Starters
GK:KUSHIBIKI Masatoshi
DF:MATSUBARA Ken、IWANAMI Takuya、UEDA Naomichi、YAMANAKA Ryosuke
MF:ARANO Takuma、ENDO Wataru、NAKAJIMA Shoya、OHSHIMA Ryota、TOYOKAWA Yuta
FW:ASANO Takuma
Substitutes
GK:NIEKAWA Ayumi、NAKAMURA Kosuke
DF:NARA Tatsuki
MF:HARAKAWA Riki、YAJIMA Shinya、NOTSUDA Gakuto、ANZAI Kazuki
FW:SUZUKI Musashi
HT ARANO Takuma → SUZUKI Musashi
HT NAKAJIMA Shoya → NOTSUDA Gakuto
HT ENDO Wataru → NARA Tatsuki
HT KUSHIBIKI Masatoshi → NIEKAWA Ayumi
HT YAMANAKA Ryosuke → ANZAI Kazuki
HT OHSHIMA Ryota → HARAKAWA Riki
HT TOYOKAWA Yuta → YAJIMA Shinya
68min NIEKAWA Ayumi → NAKAMURA Kosuke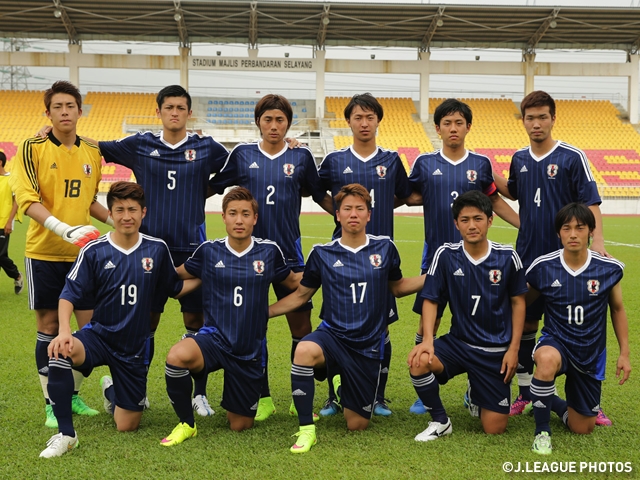 Match Report
In the 5th minute, Iwanami Takuya headed Yamanaka Ryosuke's right corner kick, but it hit the bar. Early in the match, Japan struggled with physically bigger and intense Sime Darby in addition to the long-turf pitch where the ball was hard to roll. Japan, however, gradually caught their pace with compact defence led by Ueda Naomichi and Iwanami. In the 24th minute, Asano Takuma and Toyokawa Yuta fired shots from a goalmouth scramble. Although both shots were denied by opposing defenders, Arano Takuma composedly kicked the ball into the net in the end. The first half ended with Japan's 1-0 lead.
Rain cloud appeared over the stadium during the halftime, which reminded yesterday's squall. Japan replaced seven players and changed their system to a 3-4-3 to look for another goal. Yet in the 48th minute, for the moment from a restart, Siam Darby attacked when Japan was being careless. They easily moved the ball forward into the box and scored the equaliser. Then, the referees halted the match due to threat of thunder storm nearby. The players came off the pitch to the locker room and reviewed their positioning and tactics. Then thunder storm was gone, and after a 10-minute interval, the match was resumed. Soon after that, Japan created offensive rhythm with a 3-4-3 system starting working well. In the 65th minute, Suziki Musashi added a goal to put his team ahead. In the 69th minute, Notsuda Gakuto met Matsubara Ken's cross for his team's third goal. In the 84th minute, the combination between Matsubara and Suzuki, who are the teammates with their club, made it through as Suzuki added one more. The score remained at 4-1 until the end.
The Japan U-22 team, with their achievements and assignments being obvious through the camp, recharge their energy on one day off and travel to a hotel assigned by the tournament organiser. They will have not much time left to boost their motivation for the tournament. There are only six days left until the opening match against Macau at the AFC U-23 Championship Qualifiers (Olympic Qualifiers Round 1).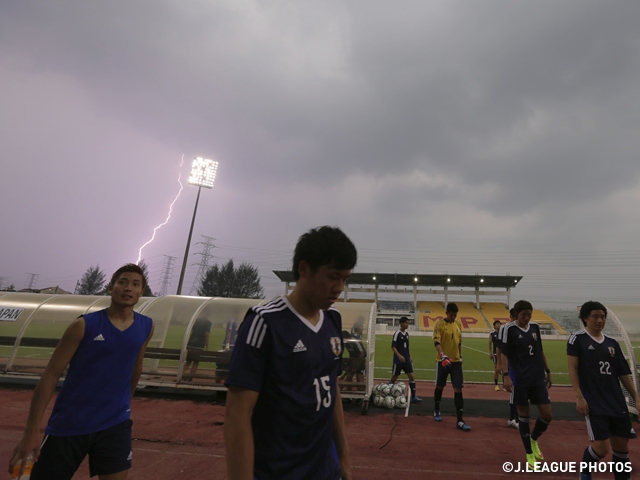 Comments
TEGURAMORI Makoto, Head coach(Japan National U-22 Team)
Before the kick-off when I sent them off to the pitch, I said to our players "Be quick to get prepared for next offence and defence and positions yourself." But what happened in the second half was because we didn't do those things. We let them restart the play very easily, and the entire team is accountable for that. But it was a good simulation for the real matches we will play. We used 3-4-3 in the second half to let everyone play, but we found out that it works well. The balance in our offence was good, and we could control the tempo of the match. I think the players are finding out when to get through opponents' defensive unit and what kind of distance is needed to do that.
GK 18 KUSHIBIKI Masatoshi(Shimizu S-Pulse)
It was a difficult pitch to play on, but our defenders were focused and able to stop the opponents' offence. So we played well. The concept of our team style is getting understood, and everyone is trying to show that on the pitch. So I think that's where this team are improving. But when we play against good teams in the world, we need to be more competitive, intense and smart to win matches. In Malaysia, it felt very hot in the beginning, but we have been used to it better. But we have to adjust to this environment more. And we have to win the first qualifiers no matter what. So in this hot weather, we have to aim for a high level of plays, not just for winning. This tournament can be a good experience in our future career. No matter what environment we are in, we have to be flexible and able to play accordingly.
MF 19 TOYOKAWA Yuta(Kashima Antlers)
The heat in Malaysia is very tough, but I have got used to it little by little. I want to keep adjusting myself to the heat by paying attention to how we do it off the pitch as well. This national team have some familiar faces, and the combination and set-pieces are getting better. But in order to compete against good teams in the world, we have to get them even to a higher level. In terms of possessing the ball, we are getting better as well, so what we have to work on is finishing the play with a goal after connecting passes. We have got to win those three straight matches, so we have to raise the level of our combination. I am looking forward to playing those matches.
Schedule
Mon. 9 March

PM

Training
Tue. 10 March

PM

Official Training
Wed. 11 March
9-0
International Friendly vs. Myanmmar U-22 National Team
(@Fukuda Denshi Arena)
Tue. 17 March

AM

Training

PM

Training
Wed. 18 March

AM/PM

Training
Thu. 19 March

AM/PM

Training
Fri. 20 March

PM

Training
Sat. 21 March

4-1

vs Sime Darby FC (Selayang Stadium / Malaysia)
Mon. 23 March

AM/PM

Training
Tue. 24 March

AM/PM

Training
Wed. 25 March

PM

Training
Thu. 26 March

PM

Official training(@Shah Alam Stadium)
AFC U-23 Championship 2016 Qualifiers
Fri. 27 March

16:00

1st Match vs.Macau U-22 National Team(@Shah Alam Stadium)
Sat. 28 March

AM

Training
Sun. 29 March

20:15

2nd Match vs.Vietnam U-22 National Team (@Shah Alam Stadium)
Mon. 30 March


PM

Training
Tue. 31 March

20:45

3rd Match vs. Malaysia U-22 National Team (@Shah Alam Stadium)
Local time