NEWS
U-22 Japan squad practice, play training matches (3/20)
21 March 2015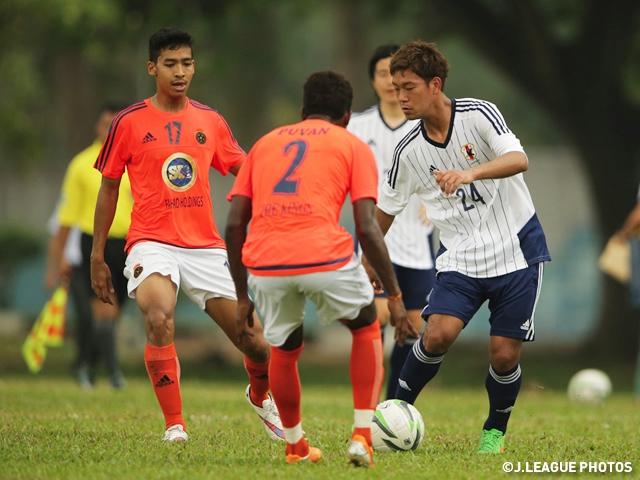 The U-22 Japan national team entered the fifth day since they arrived in Malaysia to prepare for the AFC U-23 Championship (RIO 2016 Olympic Asian Qualifiers Round 1).
They had only one practice session for the first time since they got to Malaysia. After 45 minutes of possession and counter attack practices, the team played a pair of 30-minute training matches with a local club Real Mulia FC. Under a cloudy weather with a temperature of 34 degrees and humidity of 60 percent, the U-22 Japan players entered the game with a 4-3-3 formation putting on jerseys with vertical stripes. They had ANZAI Kazuki, NARA Tatsuki and MATSUBARA Ken as the defenders, OSHIMA Ryota, ENDO Wataru and NOTSUDA Gakuto in the mid field, and TOYOKAWA Yuta, SUZUKI Musashi and YAJIMA Shinya up front. They would rotate NIEKAWA Ayumi, NAKAMURA Kosuke and KUSHIBIKI Masatoshi for their goalkeeper's position. Japan struck quickly when Notsuda scored a goal on 2nd minute. They added another when Yajima, who found a space with a combination with Notsuda, launched a cross and Nara headed it into the net on 11th. Suzuki netted the third goal for Japan right before entering halftime.
Because they were stuck by a shower from the late first half, it became darker and had some puddles on the pitch in the second half. The Japanese team came in it substituting their squad a lot. They had YAMANAKA Ryosuke, Nara, IWANAMI Takuya and Anzai as the defenders, HARAKAWA Riki and Notsuda as the defensive midfielders, TOYOKAWA Yuta, NAKAJIMA Shoya and Yajima as the offensive midfielder and Asano up front, applying a 4-2-3-1 formation. Japan, because of the rain that would get stronger, struggled in their game controlling. They still managed to add two more goals from Asano despite of a stormy weather with some thunderclaps on 59th and 60th minutes. Japan won it 5-0 in the end.

Japan are scheduled to play against Sime Darby FC of the Malaysia Super League as their wrap-up contest of the training camp on the 21st. This game will be a touchstone for the team to showcase their potential.
Japan have seven more days to go until their first match of the AFC U-23 Championship Qualifier (RIO 2016 Asian Qualifiers Round 1) against Macau.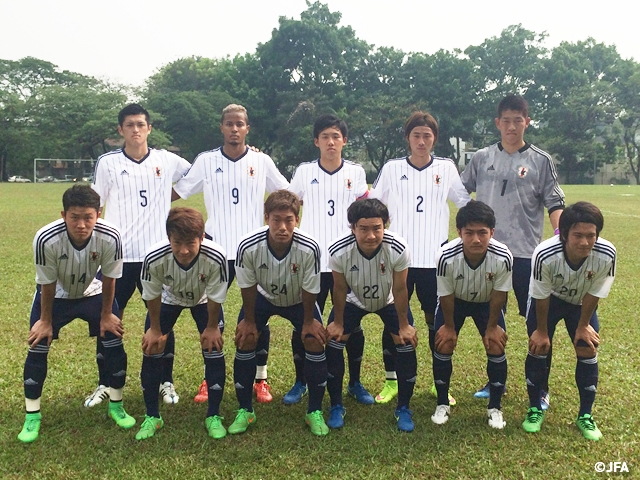 Players' Comments
MF #24 NOTSUDA Gakuto(Sanfrecce Hiroshima)
I'd never played in a circumstance with that much of thunderclaps before, so it was scary. The stormy rains took some vision away from me, but I eventually got used to it. Because the grass is longer in Malaysia, my feet would get caught with it a little, but the rain loosen the grass and it helped the ball go faster. Because we played at about the same time as our first game against Macau, it became a good rehearsal for us. Before this trip, I wasn't able to get a lot of play time, so it was good that I was able to play for the whole 60 minutes. Yet I felt tough physically to some extent, so I will need to adjust more.
DF #50 ANZAI Kazuki (Tokyo Verdy)
The rain and thunderclaps were hard, so I was playing being scared in the second half. Usually, games would get called when you have thunder storms, so it was a little scary. But it ended up being a good rehearsal before our main event. But I made too many mistakes and my body felt heavy, so I would say my condition is at 70 percent right now. The sunshine in Malaysia is stronger and I felt tougher even during the 30 minutes of the first half. It was my first time to play in the right side, and playing at a defensive midfielder in our game against Myanmar on 11 March for the first time since when I was in junior high school. But I think that I was chosen because I would be asked to take those roles, considering a short tournament, in which we would have to play with just one day's rest. So I want to adjust to it flexibly.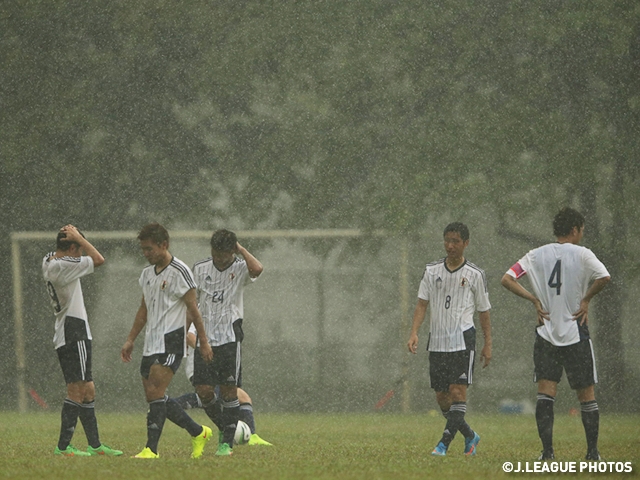 Schedule
Mon. 9 March

PM

Training
Tue. 10 March

PM

Official Training
Wed. 11 March
9-0
International Friendly vs. Myanmmar U-22 National Team
(@Fukuda Denshi Arena)
Tue. 17 March

AM

Training

PM

Training
Wed. 18 March

AM/PM

Training
Thu. 19 March

AM/PM

Training
Fri. 20 March

PM

Training
Sat. 21 March

17:00

Training Match vs. tbd(@Petaring Jaya Stadium)
Mon. 23 March

AM/PM

Training
Tue. 24 March

AM/PM

Training
Wed. 25 March

PM

Training
Thu. 26 March

PM

Official training(@Shah Alam Stadium)
AFC U-23 Championship 2016 Qualifiers
Fri. 27 March

16:00

1st Match vs.Macau U-22 National Team(@Shah Alam Stadium)
Sat. 28 March

AM

Training
Sun. 29 March

20:15

2nd Match vs.Vietnam U-22 National Team (@Shah Alam Stadium)
Mon. 30 March


PM

Training
Tue. 31 March

20:45

3rd Match vs. Malaysia U-22 National Team (@Shah Alam Stadium)
Local time