NEWS
U-22 Japan National Team travel to UAE
12 December 2015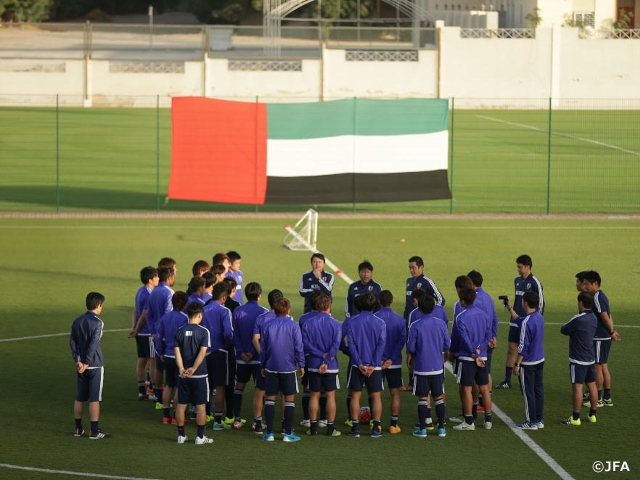 One day after their international friendly against the U-22 Yemen National Team, the U-22 Japan National Team traveled to Dubai, UAE, the second place on their oversea trip, on 11 December.
The team will stay at the football centre, which was built by the UAE Football Association. They will keep their training camp in the fine circumstances, with the stadium, training facilities and accommodation.
It hit a temperature of 23 degrees and the weather there has smaller temperature differences than in Qatar, the team began their training in the afternoon. The players who played longer in the game on the previous day worked on recovery menus and the others trained using the ball.
The team have completed two thirds of their trip and will not entre the final phase of it.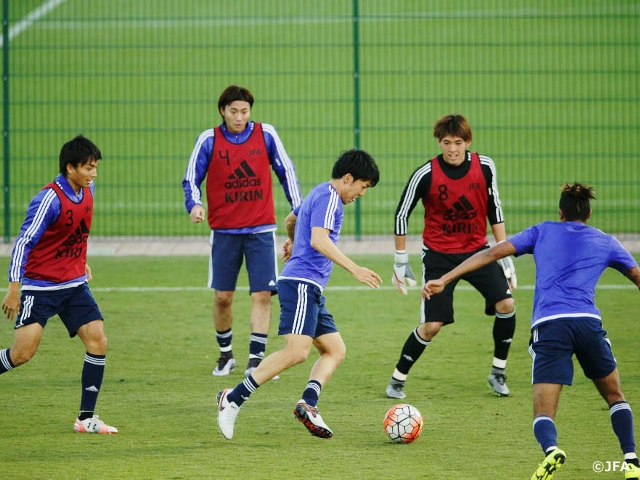 Coach and Players' Comments
TEGURAMORI Makoto, Coach
I wonder how our players are feeling about the result, which was a scoreless draw against Yemen yesterday. If they don't have any frustrations, that's weird. If they thought that they were looking down on Yemen and that they could score at some point, then I think that the mindset would lead to the draw for them. We are working on a project that we can't afford to lose.
There's a chance for anyone to lose to opponents who are considered to be worse and we came to realise that how important it was to get hard on anyone. As far as the teams in Asia who are competing for the Olympics berths, you have to know that there are not opponents who are below us. If we have even one person who thinks that we'll be fine and qualify if we do about this much.
Each and every one of us has to work with a sense of crisis, otherwise we won't get our goal achieved. We are not in the phase that we are fine if we have scoring chances. The tournament that we will be done if we lose is getting underway. While we have to keep winning, it's important that we set our common emotions and heat inside the team.
One of our teammates (NOTSUDA Gakuto) has gotten hurt in the FIFA Club World Cup. No matter how hard you are working, you have some misfortunes once in a while. You don't want to be told what to do, but you have to voluntarily come up with the mindset that you want to earn the Olympic berth from your own, playing for your teammates.
DF YAMANAKA Ryosuke (Kashiwa Reysol)
Compared to ourselves of two years ago, we've been able to pay attention to the strategies and team concept that coach Teguramori asks us for and I feel that's our growths. Through this trip, we were able to know the circumstances for the final qualifying. I think that it's a plus that we have some ideas of things like how we should prepare ourselves physically and what kind of cleats we should select.
As a defender, I think that we did what we should at least do by blanking Yemen in yesterday's game, but it's the entire team's responsibility that we didn't score any goals. Yet I want to take it positively that we came up with those issues before the final qualifying.
DF NAKATANI Shinnosuke (Kashiwa Reysol)
It was big that we got to know that it was a different weather from we thought during this trip. The pitch was sticky and you could get stumbled, so we want to be careful. As a defensive player, we can give ourselves a credit that we held Yemen to no goals, but it was a problem that we failed to score while we had that many set play opportunities. If we take on Yemen in our first group stage game in the final qualifying, there is no way that we can play in the same way we did yesterday, and that being said, I think it was a great learning lesson for us after all.
MF MAEDA Naoki (Matsumoto Yamaga F.C.)
We have gradually gotten to have the strengths in competing for the ball, but we have to push ourselves even harder from our practices in order to get through the final qualifying. It was our first time to play against a Middle East country in the Middle East, and it was good that we wound up finding so many issues regarding our own football, such as we struggled to capitalise on our scoring opportunities against the Middle East team yesterday.
We learned some strengths of Middle East teams, such as the strengths for the ball, but there are so many things that we need to do more, both as a team and an individual, and we need to ask ourselves more accuracy. With a theme of a growth, I've worked on football all year. Hopefully, I can develop myself capitalizing on things like the traits of Middle East countries and travels that we will experience during this trip.
FW KAMADA Daichi (Sagan Tosu)
I've joined this national team since training camp on August in Kyoto, and I feel that the team's unity has increased in the four months afterwards. Especially, we have deepened our understanding of our plays. You think it's different to play at away places than in Japan, but you don't really get to know until you actually play on the pitch and feel the whole atmosphere, and that's something I got to realise was completely different.
We wanted to check how the Middle East players use their legs and we wanted to come with positive results, those were our themes for this trip. It's difficult to attack against a team that have more men in their backfield and I think that it's important to play as the entire team when we have situations like that. Personally, I missed two scoring chances, and I think that it would've given us a momentum and played more smoothly and easily had I made one, so I think I've got to make a shot like that.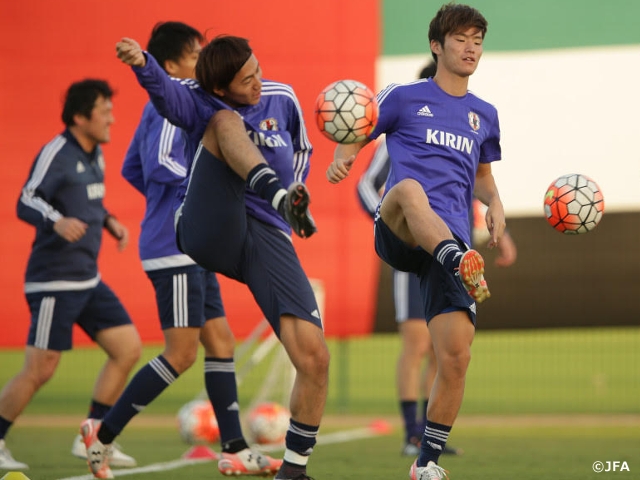 Schedule
Mon. 7 December
PM
Training
Tue. 8 December
AM
Training
Wed. 9 December
AM
Training
Thu. 10 December
0-0
International Friendly Match vs U-22 Yemen National Team
(@Grand Hamad Stadium)
Fri. 11 December
PM
Training
Sat. 12 December
AM
Training
Sun. 13 December
16:30
International Friendly Match vs U-22 Uzbekistan National Team
(@Thiyab Amana Stadium)