NEWS
U-22 Japan National Team begin training trip in Qatar, UAE
08 December 2015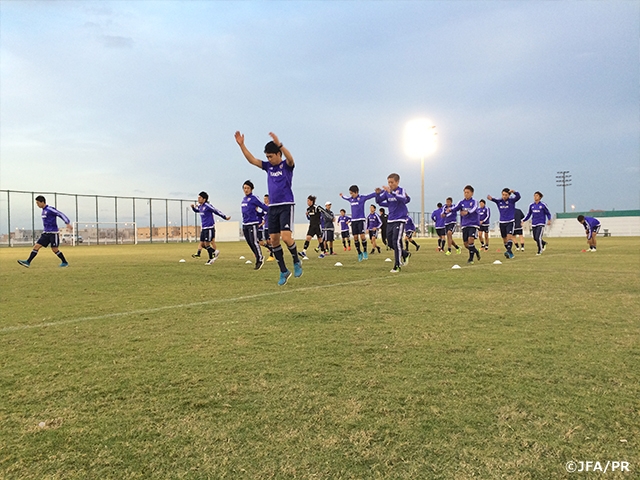 U-22 Japan National Team started their Qatar and UAE trip.
Except the three players of Avispa Fukuoka who just won the promotion to the J1 league and will be late for joining the squad, 23 players of the young national team arrived at Haneda Airport on 6 December. Their coach TEGURAMORI Makoto said to the players, "finally this simulation camp is getting started, and this is for the final qualifying round for the Olympics, which will be held one month later. I want you all to play as hard as it may seem a little too much." The coach's words set the players on edge with serious look before taking the flight.
After the 16-hour trip including a transfer, the squad arrived in Qatar, their first destination in the trip. Immediately, they got onto the pitch to loosen their stiff body after traveling. The day turned out to be the coldest day of the year in Qatar as the thermometer showed only 10 degrees Celsius. What made the matters worse was that the practice venue of Qatar Football Association Technical Committee Ground did not have any walls around, which allowed the cold winds kept blowing through the field.
Even though the weather was much cooler than expected, the players enthusiastically took on the assigned regimen, picturing how the final qualifiers to be played on the same pitch are going to be. After going through the recovery drills including jogging and stretching, they spent some more time using balls before wrapping up the friendly yet serious training on the first day.
The Avispa Fukuoka players are scheduled to join the rest of the squad on the next day and the full roster of 26 are going to keep on training on 8 December.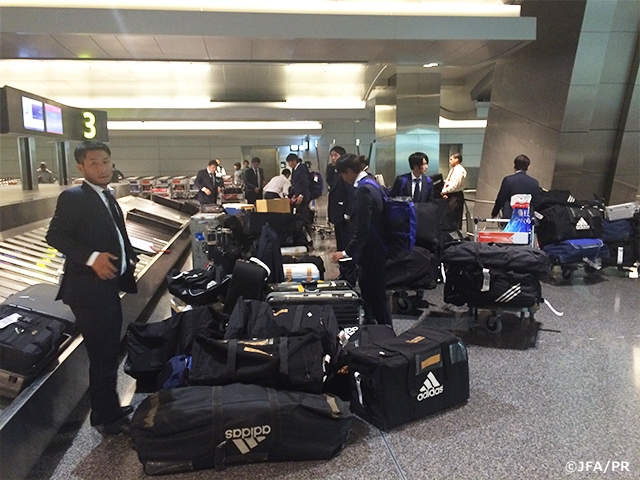 Players' Comments
KUSHIBIKI Masatoshi (Shimizu S-Pulse)
I understand it's a learning experience that I am having less playing time with my own club, but still they selected me onto U-22 Japan National Team. So I think what I need to do is to put up good results with this team.
It's good to have a training trip at the place where we have the tournament in January. Adjusting to an environment is easier when we know what we can expect in the environment than to come without knowing what to expect. We need to find out during this training trip what kind of characteristics this environment has.
We have matches to play in this trip, so of course we are expected to put up good results there. But this is also an opportunity for us all to show what we can do individually. So I want to show my ability to make them understand what I can really do.
HARAKAWA Riki (Kyoto Sanga F.C)
I can sense the improvement that this team have made since the launch. Compared to that period, how I view football has changed and now I can see the game of football from a different perspective. In this trip, the most important thing is to get adjusted to the environment of the final qualifiers. It's important to stay here 24 hours per day always thinking about it, and by successfully doing it, we can have a smoother transition when we come back in January.
Also in this training trip, we have a rare opportunity to play matches against Middle Eastern teams. There is a difficulty in reading a course of the match against those countries, and you don't experience it in Japan. So it's a good chance for us as a team and for all of us individually to be able to try different things there, even though they are practice matches. We don't have much time left before the final qualifiers, but in the practice matches we want to find more things that we need to correct, and we will make sure to correct those.
ARANO Takuma (Consadole Sapporo)
Since this team got put together, getting a medal at the Olympics in Rio de Janeiro has been our goal. And at the same time we have realised how tough it is to play against countries in Asia. We survived through the first round qualifiers in March, and I think we have come together into good form for the final qualifiers. I am thankful that we have an opportunity to work out at the same place where we have the final qualifiers in January.
It's the first long international trip since the first qualifying round, so I take it seriously that we need to get used to the fatigue from traveling and the change of environments. It means a lot for the team to experience how different the life here is and how difficult it is to play here.
I personally, I also want to pay attention to details such as the pitch conditions and meals we eat here to get fully adjusted to the environment. I want to be able to play my game no matter where I am. I will try to understand what I am expected to do on the pitch and also the team tactics, and I will show what I can do as much as possible to stay on the squad and do well in the final qualifiers.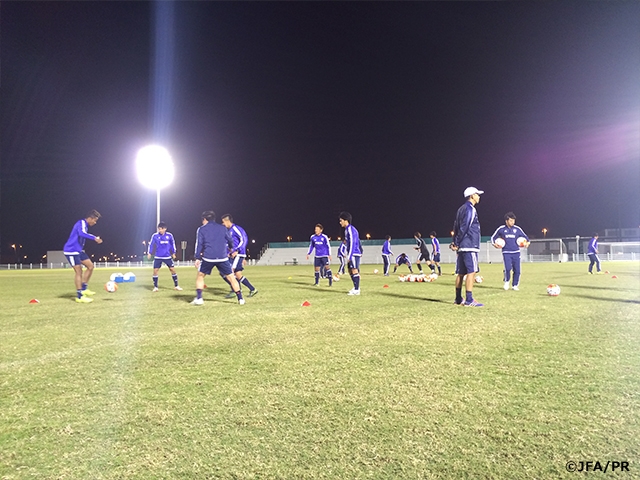 Schedule
Mon. 7 December
PM
Training
Tue. 8 December
AM
Training
Wed. 9 December
AM
Training
Thu. 10 December
16:30
International Friendly Match vs U-22 Yemen National Team
(@Grand Hamad Stadium)
Fri. 11 December
PM
Training
Sat. 12 December
AM
Training
Sun. 13 December
16:30
International Friendly Match vs U-22 Uzbekistan National Team
(@Thiyab Amana Stadium)