NEWS
U-22 Japan National Team Qatar, UAE trip Day 3
10 December 2015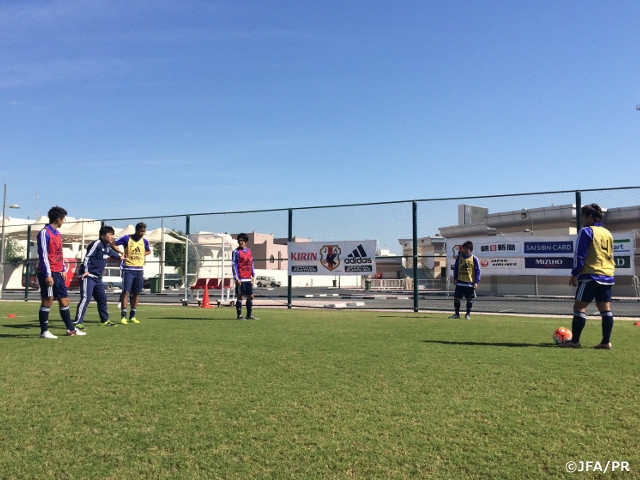 As for the field practice, the third day of the Qatar and UAE trip by U-22 Japan National Team saw only the morning session.
It was even warmer than the previous day, reaching 21 degrees Celsius.
After warm-ups and passing and controlling drills in groups of six, the squad were separated into offence and defence to go through positioning drills. Then they carefully made sure their defensive formations and assignments in the 6-on-4 + 4-on-6, before the session was finished with a 10-on-10 scrimmage.
After the practice, they visited Grand Hamad Stadium where the first and second fixtures in the AFC U-23 Championship against DPR Korea and Thailand respectively. They got the feel of the pitch, while picturing themselves standing there on 13 January next year.
After dinner, the squad had the first team meeting in this trip. Looking back the match they played last month against Shonan Bellmare, they discussed what they are still missing and what needs to be improved as well as coach TEGURAMORI instructed on the mental approach necessary for the upcoming matches.
Finally, 10 December has the match against U-22 Yemen National Team to be kicked off at 4:30 p.m. (10:30 p.m. Japan Time), as it is an important test for Japan looking at the final qualifiers.
Coach and Players' Comments
TEGURAMORI Makoto, Coach
It's the day before the match, but we had a productive training. This trip isn't just for matches, but also for the overall improvement for the final qualifiers next month. We want to train well, and we want to get better. In this trip, we improve as a team by undertaking match-style drills, but at the same time we are being able to rotate our players and give each player enough rest. We are convinced that we made the right choice to bring this many players.
In tomorrow's match, I want to let internationally less-experienced players get some more experience. Yemen is also one of the countries that are in the final qualifiers, so the match against them is a good test for us for the qualifiers. It should be an important match for both of us expecting the qualifiers coming up to see where we currently stand.
GK NAKAMURA Kosuke (Avispa Fukuoka)
We have only a limited period to work out together with the national team, but even when it's limited and short, we have been able to have good preparations for the final qualifiers, trying to understand little by little what kind of football we aim to execute. In this trip, we play at the same match and practice venues we are going to use at the final qualifiers and stay at the same hotel as we are going to stay. It's a plus for our team to get a glimpse beforehand of what's going to happen. In tomorrow's match, I as a goalkeeper have our team's win as the first priority and do my best for it.
DF IWANAMI Takuya (Vissel Kobe)
It was the Asian Games in September last year that I joined this team for the first time. The ending was disappointing back then after we lost to Korea Republic, but from there our team have come together through playing many matches together. In this trip, by coming to the same place as we are going to come for the qualifiers, we have a chance to experience the travelling necessary, the time difference, pitch conditions and the weather. It's very important. We want to take advantage of this in the qualifiers.
Our goal for tomorrow's match is first not conceding any goals. We sometimes have hard time to reset it by ourselves when the momentum turns unfavourable for us. So I try to lead that effort. I am the last line of defence, so regardless of how old I am, I want to take on the leadership role and work hard.
MF NAKAJIMA Shoya (F.C. Tokyo)
As this national team have different players come and go for the last two years, I think we have well shared the understanding of our ideal style of plays. We have understand each other in terms of how every one of us likes to play, so the sense of unity is there to bring out the best from each other.
Going through the same pitches and same hotel in this trip as we are going to in the final qualifiers will make it easier for us to come again for the qualifiers. It helps us expect what is going to happen and prepare for it. So it's been a very good training. Just as I try in any training trip, in this trip I try to improve as much as possible before going back to Japan and try to make as big a difference in front of goal as possible.
FW KANAMORI Takeshi (Avispa Fukuoka)
Since the launch of this team two years ago, we have tried to understand each other and we have come together as one team. And we are now being able to show that on the pitch. My club finished this season with a positive result, but personally I am not satisfied with what I did. I want to keep working hard to leave good results for my club in order to get selected to the national team.
I think this trip will turn out to be a wonderful simulation for the qualifiers in January. Not to waste this great opportunity, and we want to keep doing what we are supposed to do including dealing with the time difference, getting used to the meals here, and getting in the best possible shape in this environment. And we want to make sure to win matches. If I get a chance to play, I want to play hard and help my team win by scoring goals.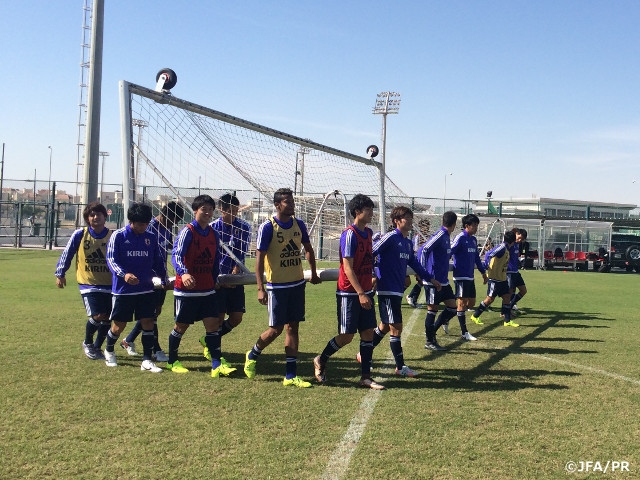 Schedule
Mon. 7 December
PM
Training
Tue. 8 December
AM
Training
Wed. 9 December
AM
Training
Thu. 10 December
16:30
International Friendly Match vs U-22 Yemen National Team
(@Grand Hamad Stadium)
Fri. 11 December
PM
Training
Sat. 12 December
AM
Training
Sun. 13 December
16:30
International Friendly Match vs U-22 Uzbekistan National Team
(@Thiyab Amana Stadium)