NEWS
U-19 Japan Women's National Team defeats Haiti 3-0 to mark their 3rd win of the tournament – The 2nd SUD Ladies Cup
16 May 2019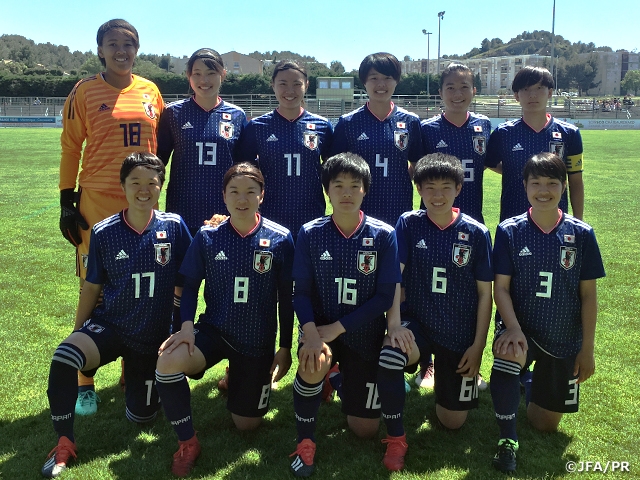 The 2nd SUD Ladies Cup vs U-19 Haiti Women's National Team
Wed. 15 May 2019 15: 00 (Local time) Match Duration 90mins (45mins x2)
Stade Pierre De Coubertin, France
U-19 Japan Women's National Team 3-0 (1-0, 2-0) U-19 Haiti Women's National Team
Scores
10' HIROSAWA Maho (U-19 Japan Women's National Team)
49' OSAWA Haruka (U-19 Japan Women's National Team)
77' ITO Sara (U-19 Japan Women's National Team)
Starting Line-up
GK: CHIKAZAWA Rena
DF: FUNAKI Nodoka, GOTO Wakaba, NAGAE Ibuki, MATSUDA Shino
MF: ITO Sara, TAKEDA Asumi, KANNO Oto, KATO Momo
FW: IMADA Sara, HIROSAWA Maho
Reserves
GK: TANAKA Momoko, OHBA Shu
DF: SHIRAI Himeno, TABATA Haruna
MF: MIZUNO Fukina, MORITA Misaki, NAKAO Momo
FW: KOJIMA Seira, TAKEDA Nanako, MIURA Haruka, OSAWA Haruka
Substitution
HT' IMADA Sara → OSAWA Haruka
HT' KATO Momo → MORITA Misaki
61' KANNO Oto → NAKAO Momo
65' TAKEDA Asumi → MIZUNO Fukina
66' CHIKAZAWA Rena → OHBA Shu
Match Report
On Wednesday 15 May, the U-19 Japan Women's National Team faced the U-19 Haiti Women's National Team in their fourth match of the second SUD Ladies Cup.
The match kicked off under clear skies at a newly built stadium, where the local kids cheered on the two sides. In the 10th minute, HIROSAWA Maho received the ball from KATO Momo before slotting the ball into the left corner of the Haitian goal to give Japan the early lead. Following the opening goal, Japan showed dominance over Haiti, but struggled to score another goal, as the first half ended with a score of 1-0.
In the second half, Japan brought in OSAWA Haruka for IMADA Sara, and MORITA Misaki for Kato. The two substitutes turned out to be effective, as both players were involved in the following goals for Japan. In the 49th minute, Osawa responded to a through ball delivered by Morita before netting the second goal for Japan. Osawa then assisted ITO Sara's 77th minute goal to make it 3-0. After this goal, Japan managed to keep the clean sheet to earn their third win of the tournament.
The final match of the tournament will take place on Saturday 18 May at 17:30 against the U-19 France Women's National Team.
Players' Comments
DF #16 NAGAE Ibuki (Fujieda Junshin High School)
As a team, we have been focusing on maintaining the team vibe for the entire match. We are also striving to build on the team concept while heightening the quality of our plays through this tournament. Considering the turf condition, I personally entered today's match with the intention to increase my pass speed, make quicker decisions, and heighten the quality of my passes. Our team managed to make quick transitions, score an early goal, and I think we were able to build on our team concept. Also, we managed to showcase a style of football well representing Japan, as everybody was involved in both offence and defence. It was a very fun match. We will now face France in our next match, so we hope to showcase a good performance to end this France Tour on a high note. Although we have just four days left, I will continue to work hard so that I can improve myself as much as possible.
MF #5 KANNO Oto (Nippon TV Beleza)
Prior to this match, we analysed our opponents on the day before. We kept communicating with each other while focusing on maintaining the team vibe. Despite the hot weather, it was great to see everyone working hard until the very end to earn the three points. We still have many aspects to improve on, so we will continue to work hard ahead of our final match against France.
Schedule
SUD Ladies Cup
Wed. 8 May
3-2
1st Match vs U-19 Mexico Women's National Team
(Salon de Provence / Stade D' Honneur)
Thu. 9 May
AM/PM
Training
Fri. 10 May
11-0
2nd Match vs U-19 Gabon Women's National Team
(Fos-sur-Mer / Stade de L'allee Des Pins)
Sat. 11 May
AM/PM
Training
Sun. 12 May
0-1
3rd Match vs U-19 DPR Korea Women's National Team
(Salon de Provence / Stade D' Honneur)
Mon. 13 May
AM/PM
Training
Tue. 14 May
AM/PM
Training
Wed. 15 May
3-0
4th Match vs U-19 Haiti Women's National Team
(Chateaurenard / Stade Pierre De Coubertin)
Thu. 16 May
AM/PM
Training
Fri. 17 May
AM/PM
Training
Sat. 18 May
17:30
5th Match vs U-19 France Women's National Team
(Salon de Provence / Stade D' Honneur)
Sun. 19 May
AM/PM
Training
*Local time
*The schedule is subject to change due to the team condition, the weather, etc.
Sud Ladies Cup 2019
Tournament Dates: Wed. 8 - Sat. 18 May 2019