NEWS
Japan advance to knockout stage with draw against New Caledonia in FIFA U-17 World Cup India 2017
15 October 2017
With a record of one win and one loss after first two group-stage matches of the FIFA U-17 World Cup India 2017, U-17 Japan National Team currently sitting in second place faced New Caledonia at Vivekananda Yuba Bharati Krirangan Stadium on Saturday 14 October.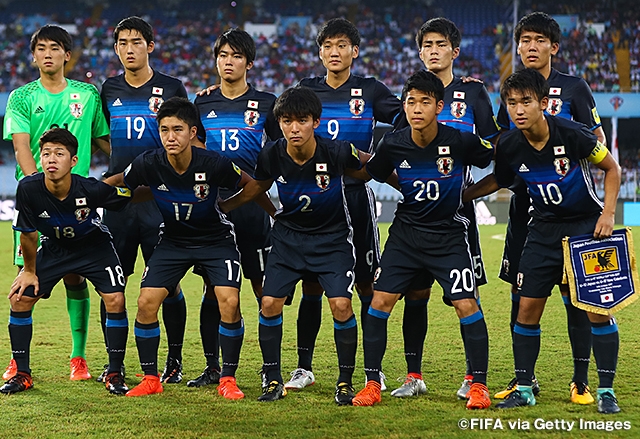 Japan entered the third game by replacing nine players from their previous match against France three days ago and got off to a good start. In the 4th minute, YAMADA Hiroto received a pass from NAKAMURA Keito in the box and fired a shot, but his effort hit the goalpost. Then, the Japanese squad took the initiative in the 7th minute, when Nakamura took the ball away from his opponent and dribbled up past two defenders to open the scoring for his side and net his fourth goal of the tournament.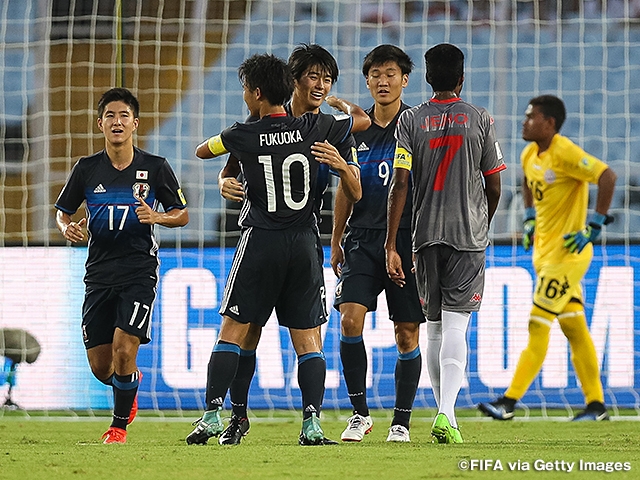 But Japan had a hard time finding the second against New Caledonia, newcomers to the championship hosted by the FIFA. After 42 minutes, YAMASAKI Taichi had a header but it again hit the goalpost, before they took a one-goal lead at halftime.
Japan substituted Nakamura with SUGAWARA Yukinari to switch to a three-back formation in the 57th minute. Moreover, they brought on OKUNO Kohei and KUBO Takefusa to add variety in attacks using the entire pitch.
However, New Caledonia threatened the Japanese goal and took advantage of their strong physicality to fashion a decisive chance. In the 81st minute, Vita LONGUE fired a shot at goal, but Japan goalkeeper UMEDA Togo denied his attempt with a fine save. It was moments later that the Caledonian squad levelled the match, when Jekob JENO headed home a corner into the Japanese net.
Japan were looking to reclaim a lead towards the end of the match, but were not able to find the target against the New Caledonia's tenacious defence. Japan ended up having a total of 22 shots, twice as many as the opponents, but failed to net the decisive goal until they were forced to a 1-1 draw. As a result, Japan qualified Group E in second place and will face England, who topped Group F, in the round of 16 on Tuesday 17.
Coach's and Players' Comments
MORIYAMA Yoshiro, Coach (U-17 Japan National Team)
We scored a goal early and thought that we could play with composure, but we actually got passive, fearing of making mistakes. It was frustrating to see that we played without showcasing a lot of energy. New Caledonia played as a group, and worked hard as they enjoyed the match, and I believe that they deserved to grab a point. They also showed us what we are lacking as a team. On the bright side, we could rest some of our players for our next game as we enter the knockout stages, where we will be competing at a much higher level. We would like to enter in good form and play the best we can.
DF #5 SUGAWARA Yukinari (Nagoya Grampus U-18)
It was frustrating that we didn't share the same vision regarding how we would play the game today. I came in as a substitute and tried to indicate how we should play by working hard and showing competitiveness rather than simply saying, 'let's go'. We haven't had many goal-scoring opportunities, and I decided that I will take a more advance position and aggressively seek for chances to fire shots at goal. Unfortunately, I couldn't make a significant impact in the game. However, it was a wonderful experience for my football career to play in front of a crowd of over 40,000 spectators. I must say that I received extra power by playing before such a huge crowd. In the future, I would like to stay composed even in an atmosphere such as the one we just were in.
DF #16 YAMASAKI Taichi (Sanfrecce Hiroshima Youth)
I had an image of how to play as a defensive midfielder from the previous day, but once I was on the pitch, I could not perform as I wanted. We made too many mistakes and it could have cost the game. New Caledonia had a lot of players who had strong physicality as well as the ability to drive the ball forward. I had confidence to win one-on-ones, but I let them initiate their attacks in midfield where I should have defended better. It gave them a chance to create goal-scoring opportunities as well. I believe that I was not able to keep up both technically and physically. Thus, I need to work harder in training to improve my work-rate as well as the quality of passing and first touches.
FW #13 NAKAMURA Keito (Mitsubishi Yowa SC Youth)
If we scored another goal as we intended in the first half, we could have played a lot easier in the second. We created several goal-scoring chances by dribbling and delivering good crosses. If we had taken advantage of them, then we would have won the match 2-0 or 3-0. Our intention was that we would attack using both flanks with pace and our defensive midfielders would surge up the pitch to send one-touch passes to the forward players, who would get inside to collect the ball to break through the opponents' defence. However, the forward and midfielder players did not combine well to execute those plays as expected. Strong teams always rise to occasions. We need to gear up before entering the Round of 16 as well.
Schedule
FIFA U-17 World Cup India 2017
Fri. 6 October
PM
Training
Sat. 7 October
PM
Official Training
Sun. 8 October
6-1
vs Honduras
(Indira Gandhi Athletic Stadium)
Mon. 9 October
PM
Training
Tue. 10 October
PM
Training
Wed. 11 October
1-2
vs France
(Indira Gandhi Athletic Stadium)
Fri. 13 October
PM
Training
Sat. 14 October
1-1
vs New Caledonia
(Vivekananda Yuba Bharati Krirangan Stadium)
Sun. 15 October
TBC
Travel or Training
Mon. 16 October
TBC
Training
Tue. 17 October
20:00
Round of 16 vs England
(Vivekananda Yuba Bharati Krirangan Stadium)
Wed. 18 October
TBC
Schedule to be confirmed
Thu. 19 October
TBC
Training
Fri. 20 October
TBC
Training
Sat. 21 October
17:00/20:00
Quarter Finals
Sun. 22 October
17:00/20:00
Quarter Finals
Mon. 23 October
TBC
Training
Tue. 24 October
TBC
Training
Wed. 25 October
17:00/20:00
Semi Finals
Thu. 26 October
TBC
Training
Fri. 27 October
TBC
Training
Sat. 28 October
17:00/20:00
3rd place playoff/Final
*Local Time
*The schedule is subject to change due to the team condition, the weather, etc.
FIFA U-17 World Cup India 2017
Tournament Period:6 October 2017(Fri.)~28 Ocotber 2017(Sat.)
Round of 16:
17 October(Tue.) 23:30 (Japan Time) vs Honduras