NEWS
U-17 Japan National Team make final preparation ahead of first match against Honduras in FIFA U-17 World Cup India 2017
08 October 2017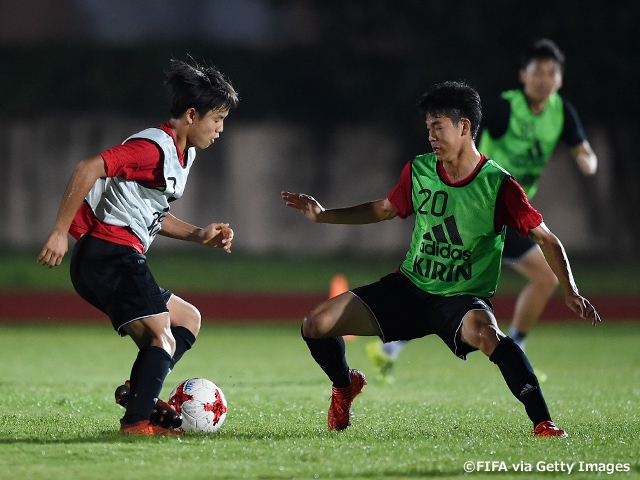 U-17 Japan National Team made their final preparation ahead of the first match in the FIFA U-17 World Cup India 2017 against the Honduras National Team on Saturday 7 October at a training facility in Guwahati.
After a warm-up, the team moved onto passing exercises, followed by training drills in different formations. They wrapped up their one-hour training session with an eleven-a-side half-court game and free training. After the practice, the team visited Indira Gandhi Athletic Stadium, the venue for their game next day. The players, including forward TANAHASHI Akito, who joined the team this day, checked the condition of the local grass and atmosphere inside the stadium as well as the dressing room where they will be get ready for the match.
Japan coach MORIYAMA Yoshiro has stated that he would like to see his players show their strong determination and get all energised when they enter the pitch, and perform brilliantly. Therefore, the Japanese boss added that he will encourage his players as he normally does in any tournament by saying "Enjoy the best stage in football!"
The "00JAPAN" consisting of the players mainly born in the year 2000 were assembled in March of 2015. Starting with a trip to Indonesia in April of the ssame year, the team have toured and played games in 14 countries and across 4 continents as well as holding domestic training camps for the past two and a half years. "Our players have built confidence going through these activities. Now we can compete against any team with courage," Moriyama said. Furthermore, his players also established mutual trust and this could be observed simply from the way in which they communicated with each other off-the-pitch.
Japan's opponents Honduras got through the CONCACAF qualifiers and will make their third consecutive and fifth overall appearance in the U-17 World Cup. The match will start at 8 p.m. (11:30 p.m. Japan time) as the young Japanese internationals kick off their World-Cup competition in India.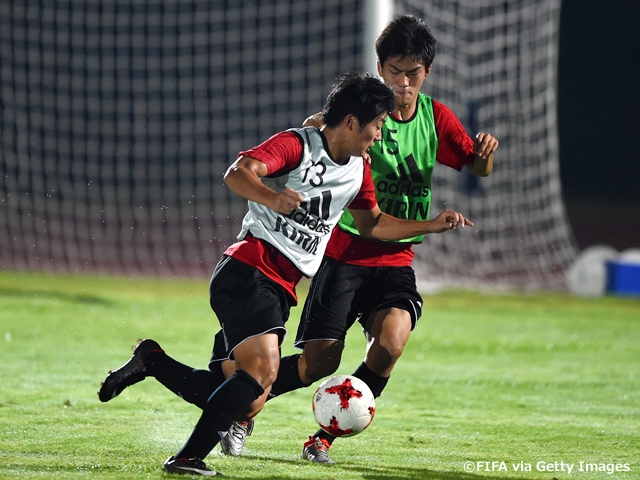 Coach's and Players' Comments
MORIYAMA Yoshiro, Coach (U-17 Japan National Team)
I really want my players to experience as many matches as possible in the World Cup. Talking about their future growth, it's just different from playing seven including the finals than only three in the first round. One of the advantages we have is that we played here in India when we competed in the AFC Championship last year. I don't have huge concern about the temperature or the humidity as we just experienced the hot and humid summer in Japan. Our players have gained significant confidence from holding tours in Europe and South America. We are looking to advance beyond the past best record of reaching the quarter-finals in this World Cup.
MF #10 FUKUOKA Shimpei (Kyoto Sanga F.C. U-18)
Our goal is winning the World Cup, and we faced many challenges on the way to coming here. We are ready and are looking to play with confidence. Honduras are especially competitive in the middle, and have excellent defensive midfielders as well. While we should be careful not letting them steal the ball easily, we want to have good communication with each other during the game. As a team, we have created good and relaxed mood off the pitch as well as enjoying good communication with one another on the pitch. I think we are ready to take advantage of our past experiences.
MF #14 KOZUKI Soichiro (Kyoto Sanga F.C. U-18)
As we try to break through their defence, we are looking to display what we have been working so far. We have to show our competitive spirit as well as the determination to win every one-on-one battle for the ball and threaten the opponents' goal as often as we can. The first game is always important. Therefore, we must secure a win in this game. I enjoy playing in front of a hug e crowd, and I am looking forward to it.
FW #13 NAKAMURA Keito (Mitsubishi Yowa SC Youth)
I have an impression that Honduras are a team that plays with high level of concentration and have height advantage over us. We would like to connect passes quickly. I certainly want to score, but also contribute to my team by playing solid defence as well as working hard to reclaim the initiative when we are faced with tough stretches during the game.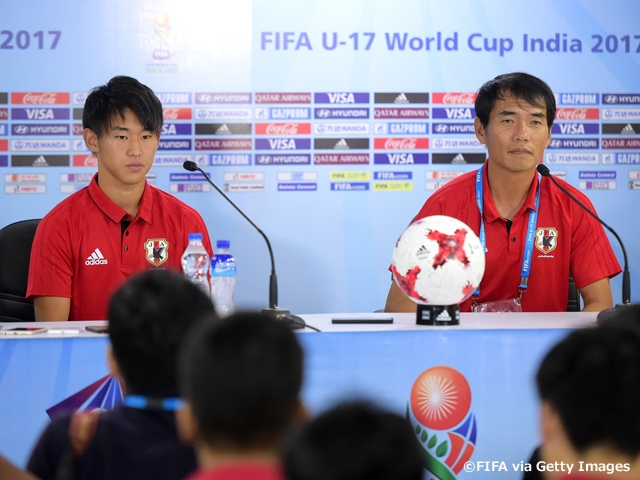 Schedule
Wed. 27 September
PM
Training
Thu. 28 September
AM/PM
Training
Fri. 29 September
AM/PM
Training
Sat. 30 September
PM
Training
Sun. 1 October
1-0
Training Match vs Hamamatsu University
(Omaezaki NEXTA FIELD)
Wed. 4 October
AM/PM
Training
Thu. 5 October
PM
Training
FIFA U-17 World Cup India 2017
Fri. 6 October
PM
Training
Sat. 7 October
PM
Official Training
Sun. 8 October
20:00
vs Honduras
(Indira Gandhi Athletic Stadium)
Mon. 9 October
PM
Training
Tue. 10 October
PM
Training
Wed. 11 October
17:00
vs France
(Indira Gandhi Athletic Stadium)
Fri. 13 October
PM
Training
Sat. 14 October
17:00
vs New Caledonia
(Vivekananda Yuba Bharati Krirangan Stadium)
Sun. 15 October
TBC
Travel or Training
Mon. 16 October
TBC
Training
Tue. 17 October
17:00/20:00
Round of 16
Wed. 18 October
17:00/20:00
Round of 16
Thu. 19 October
TBC
Training
Fri. 20 October
TBC
Training
Sat. 21 October
17:00/20:00
Quarter Finals
Sun. 22 October
17:00/20:00
Quarter Finals
Mon. 23 October
TBC
Training
Tue. 24 October
TBC
Training
Wed. 25 October
17:00/20:00
Semi Finals
Thu. 26 October
TBC
Training
Fri. 27 October
TBC
Training
Sat. 28 October
17:00/20:00
3rd place playoff/Final
*Local Time
*The schedule is subject to change due to the team condition, the weather, etc.