NEWS
U-17 Japan National Team claim convincing win against Honduras with 6 goals in tournament opener of FIFA U-17 World Cup India 2017
09 October 2017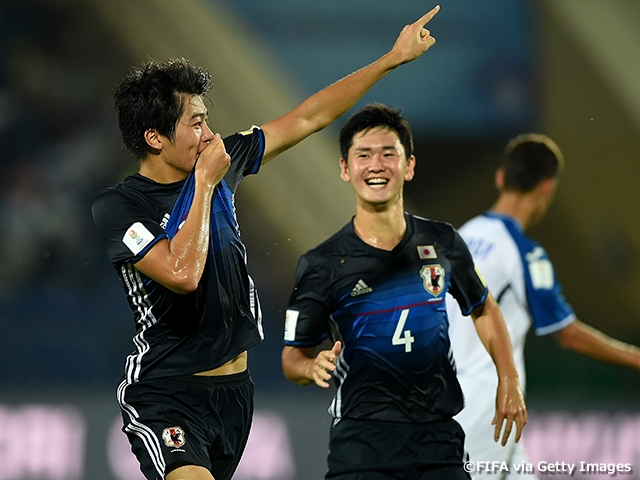 The FIFA U-17 World Cup India 2017 saw its commencement on Friday 6 October and the U-17 Japan National Team in Group E played their first game against Honduras at the Indira Gandhi Athletic Stadium on Sunday 8th.
The game kicked off with huge Japanese chants from the stands. Forward MIYASHIRO Taisei and KOZUKI Soichiro on the left led the team and exploited the space behind the opponents' defence, as they came close to the Honduran goal from the beginning of the match. In the 22nd minute, Japanese threatening attacks brought them an early advantage. Forward NAKAMURA Keito ran between the opponents' defenders and headed home a left corner from forward KUBO Takefusa to open the scoring for his side.
Japan found their rhythm by striking first. In the 30th minute, Nakamura, after receiving a floating pass from Kubo, dribbled up to the penalty area. Then, the Japanese striker went past an opponents' defender, who lost his balance, and calmly evaded the challenge of the onrushing goalkeeper to fire in his second with his left foot.
Although Japan conceded a goal from a corner in the 36th minute, Nakamura was put through cleanly by Kozuki and capitalised on the one-on-one chance with the opposing keeper to score a hat-trick with a dazzling left footer on 43 minutes to reclaim the two-goal lead. Then, just before the first half ended, both Kozuki and Nakamura combined well to find Kubo on the left side of the penalty area, where the Japanese star forward made no mistake to give his side a three-goal cushion 4-1 with his left foot at halftime.
Japan continued to dominate the match in the seond half. After 51 minutes, Kubo received the ball in midfield and sent a floating pass to midfielder FUKUOKA Shimpei, who collected it to deliver a cross from the left, and MIYASHIRO in front of the goal fired in with a header to extend the lead to 5-1.
Japan replaced some players and slowed the tempo down to finish off the game. Then, in the 90th minute, SUZUKI Toichi received a long-distance pass from KOBAYASHI Yuki iand dodged the opposing defender's challenge to score the sixth goal for Japan. During injury time of the second half, the opponent fired a strong long-distance shot, but goalkeeper TANI Kosei made a superb save and prevented them from scoring. Japan, who maintained their high concentration both offensively and defensively, claimed a convincing 6-1 win in the first game of the group stage.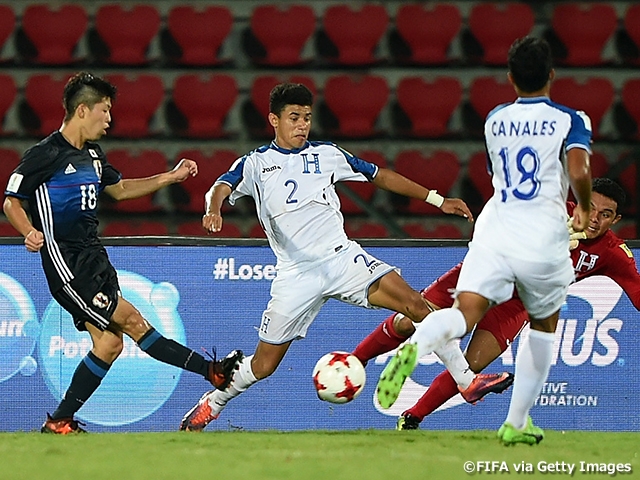 Coach's and Players' Comments
MORIYAMA Yoshiro, Coach (U-17 Japan National Team)
I expected that we could create goal-scoring opportunities if we took the ball up to the attacking third, since we were confident in attacking individually as well as a whole team. We struck the goal at a crucial moment in the early part of the game and, thereafter, controlled the game with composure. However, there were stretches where we failed to play at our pace and allowed the opponents to intercept the ball and counterattack. If we want to keep advancing in the championship, we must prevent the opponents from getting easy chances to hit us on the counter. I didn't expect this score difference, but I believe we have prepared ourselves well for the coming game against France by winning our first match.
FW #7 KUBO Takefusa(FC Tokyo U-18)
To be honest, I didn't expect to pull off a strong win with this scoreline. I felt relieved, but we will suffer a defeat, if we do not brace up for the next game. I will enjoy the win today, but refresh myself tomorrow to prepare for the coming match. We have been told that set pieces decide a game. As for the corner kick, Nakamura jumped above the surrounding defenders to head home an important opening goal.
FW #11 MIYASHIRO Taisei (Kawasaki Frontale U-18)
It was great for the team that we performed well from the beginning of the first half in midst of an excellent atmosphere of the World Cup. Also, I'm very pleased that we opened the scoring and added another to double the advantage. Even after conceding a goal, we stayed calm and attacked the opposing goal. Personally, I managed to initiate many effective attacks up front to fashion several promising goal-scoring chances. I felt that I could have scored two or three goals of my own, but I'm satisfied that we scored plenty as a team as well.
FW #13 NAKAMURA Keito (Mitsubishi Yowa SC Youth)
Since it was the World Cup, I was excited but nervous. I thought that I played a little awkwardly until I struck a goal with a header. It's rare for me to score from a header. I wasn't sure what happened at first, but I was over the moon when I saw it find the net. As Kubo sent me an excellent ball, all I needed to do was react to it. As for the second goal, although I was considering sending a cross, I decided to fire a shot, as the goalkeeper came forward to challenge me. From Kozuki's pass, I netted my third goal and made me realise that our combination plays are gradually improving as well.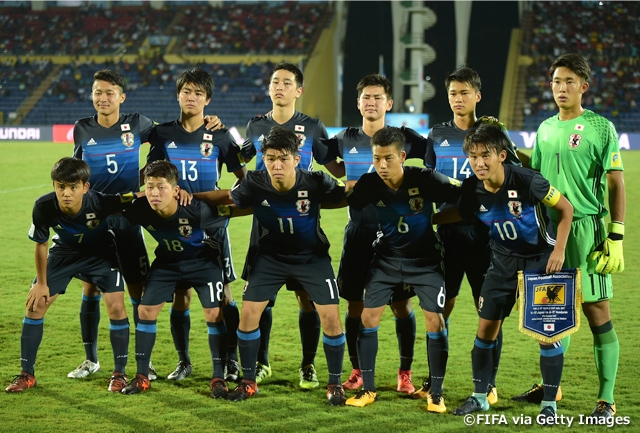 Schedule
FIFA U-17 World Cup India 2017
Fri. 6 October
PM
Training
Sat. 7 October
PM
Official Training
Sun. 8 October
6-1
vs Honduras
(Indira Gandhi Athletic Stadium)
Mon. 9 October
PM
Training
Tue. 10 October
PM
Training
Wed. 11 October
17:00
vs France
(Indira Gandhi Athletic Stadium)
Fri. 13 October
PM
Training
Sat. 14 October
17:00
vs New Caledonia
(Vivekananda Yuba Bharati Krirangan Stadium)
Sun. 15 October
TBC
Travel or Training
Mon. 16 October
TBC
Training
Tue. 17 October
17:00/20:00
Round of 16
Wed. 18 October
17:00/20:00
Round of 16
Thu. 19 October
TBC
Training
Fri. 20 October
TBC
Training
Sat. 21 October
17:00/20:00
Quarter Finals
Sun. 22 October
17:00/20:00
Quarter Finals
Mon. 23 October
TBC
Training
Tue. 24 October
TBC
Training
Wed. 25 October
17:00/20:00
Semi Finals
Thu. 26 October
TBC
Training
Fri. 27 October
TBC
Training
Sat. 28 October
17:00/20:00
3rd place playoff/Final
*Local Time
*The schedule is subject to change due to the team condition, the weather, etc.
FIFA U-17 World Cup India 2017
Tournament Period:6 October 2017(Fri.)~28 Ocotber 2017(Sat.)
U-17 Japan Fixtures:
1st Match 8 October(Sun.) 23:30 vs Honduras
2nd Match 11 October(Wed.) 20:30 vs France
3rd Match 14 October(Sat.) 20:30 vs New Caledonia
*Japan Time