NEWS
U-17 Japan National Team suffer defeat to France and now sit with a record of one win and one loss ~ FIFA U-17 World Cup India 2017
12 October 2017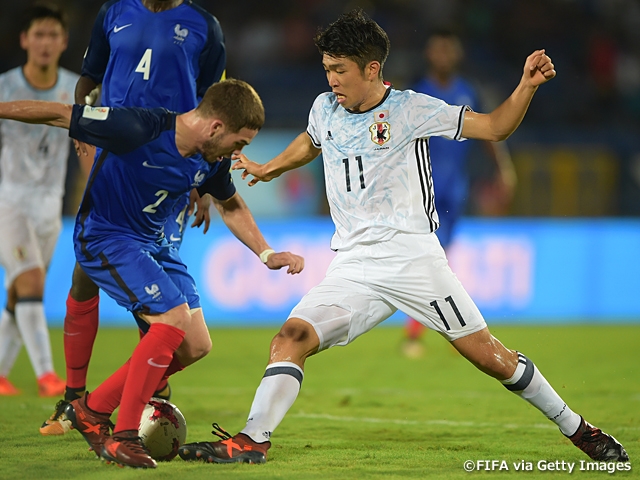 On Wednesday 11 October, U-17 Japan National Team played their second group-stage match of the FIFA U-17 World Cup India 2017 against France at the Indira Gandhi Athletic Stadium.
Japan changed two of the starting eleven players from the previous match. From the beginning of the first half, Japan was forced to defend against menacing attacks by France's powerful forwards. In the opening minute, Lenny PINTOR broke through the Japanese defence on the left flank and found Amine GOUIRI, who attempted the first shot in the game. This went wide to the right of goalpost, but was still a shocking start for the Japanese internationals.
Thereafter, Japan maintained better possession of the ball, but failed to get past the tall French defence and allowed them to create chances on the counter-attacks. In the 13th minute, Gouiri received the ball in the middle and surged up the left flank to fire a shot with his right foot. Goalkeeper TANI Kosei tried to block his effort, but it came off his leg and went past the goal line. Japan allowed France to score an opening goal.
The Japanese squad was looking to strike back, but they could not break through with their combination plays and had a difficult time finding players up front. In the 35th minute, Japan got a free-kick on the right side of the penalty area, and KUBO Takefusa kicked the ball quickly to the centre but the timing was off for onrushing NAKAMURA Keito. One minute later, KOZUKI Soichiro cut in from the left and tried to score but it was parried away by the French goalkeeper.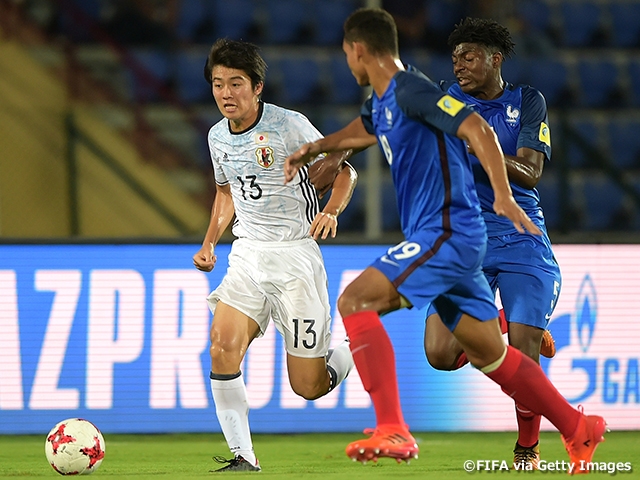 In the second half, Japan gradually found their rhythm as coach MORIYAMA Yoshiro reflected later, "We began to take control by moving up the pitch with courage." With their combination plays, the young Japanese team continued to threaten the French goal, but instead they conceded another goal on 71 minutes. After a neat exchange of pass with Yacine ADLI on the right, Gouri fired in the second for the French side.
Japan showed their resilience by scoring after 72 minute. Substitute YAMADA Hiroto kept possession in the box, and MIYASHIRO Taisei picked up a loose ball and challenged the opposing defender, who had illegally taken down the Japanese forward and given them a penalty. Miyashiro calmly netted the kick from the spot to cut the deficit to a single goal. Only a goal needed to equalise, but that was the difference in the match which ended 2-1 in favour of France. With this result, Japan now sit with a record of one win and one loss after two matches in the group stage.
Coach's and Players' Comments
MORIYAMA Yoshiro, Coach (U-17 Japan National Team)
We could not respond well to France's individual pace as well as their strength on the ball. Their quick counter-attack was a huge threat. However, this was one of the areas where we made the necessary adjustments and fix it during the game as well. In the knockout stages, we have the possibility to play against strong European teams and I expected them to play like France today. After this game, we have a better understanding of how they might play and also a better idea of how we can compete against them. In that regard, the match was a good lesson for us heading towards the knockout phase.
DF #3 KOBAYASHI Yuki (Vissel Kobe U-18)
All of the French players were fast as well as physically strong. We could have neutralised their strength if we could defend them without giving them any open space. However, we gave them the chance to hit us on the counter several times by giving them open areas where they could exploit. We could not respond to them quickly enough as well. I believe that we made it a difficult match for us because our defence did not function and gave each French player too many chances to display his individual strength.
DF #5 SUGAWARA Yukinari (Nagoya GrampusU-18)
We did get the feeling that we managed to hold on the ball, but when we reached in front of the French goal, there were high walls of 180 to 190cm. I think the difference in quality of play in front of the goal was the reason for our 2-1 loss today. Even though we lost today, I'm so sure that it was a good lesson for us. How we spend the next two days prior to our third match will make a huge difference for our team. We will reflect on our performance to make further improvements to the team.
FW #11 MIYASHIRO Taisei (Kawasaki Frontale U-18)
We were overwhelmed by their pace from the beginning of the match. I felt that we cannot beat these teams unless we put ourselves in top gear. This is not the end, and we need to shift our mind to the next match. I was looking to challenge the opponents whenever I had possession in front of the goal, and I believe this attacking mentality had earned us a penalty. Being one of two forward players, I had often talked with my other attacking teammate about the distance that we would take between us. If we play compact, then we can make short passes as well as get to the loose balls first. This is what we have been working on in training and has paid off when we scored the goal today.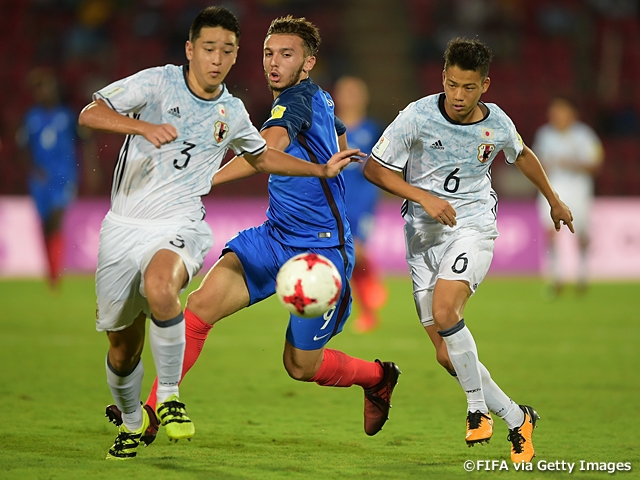 Schedule
FIFA U-17 World Cup India 2017
Fri. 6 October
PM
Training
Sat. 7 October
PM
Official Training
Sun. 8 October
6-1
vs Honduras
(Indira Gandhi Athletic Stadium)
Mon. 9 October
PM
Training
Tue. 10 October
PM
Training
Wed. 11 October
1-2
vs France
(Indira Gandhi Athletic Stadium)
Fri. 13 October
PM
Training
Sat. 14 October
17:00
vs New Caledonia
(Vivekananda Yuba Bharati Krirangan Stadium)
Sun. 15 October
TBC
Travel or Training
Mon. 16 October
TBC
Training
Tue. 17 October
17:00/20:00
Round of 16
Wed. 18 October
17:00/20:00
Round of 16
Thu. 19 October
TBC
Training
Fri. 20 October
TBC
Training
Sat. 21 October
17:00/20:00
Quarter Finals
Sun. 22 October
17:00/20:00
Quarter Finals
Mon. 23 October
TBC
Training
Tue. 24 October
TBC
Training
Wed. 25 October
17:00/20:00
Semi Finals
Thu. 26 October
TBC
Training
Fri. 27 October
TBC
Training
Sat. 28 October
17:00/20:00
3rd place playoff/Final
*Local Time
*The schedule is subject to change due to the team condition, the weather, etc.
FIFA U-17 World Cup India 2017
Tournament Period:6 October 2017(Fri.)~28 Ocotber 2017(Sat.)
U-17 Japan Fixtures:
1st Match 8 October(Sun.) 23:30 vs Honduras
2nd Match 11 October(Wed.) 20:30 vs France
3rd Match 14 October(Sat.) 20:30 vs New Caledonia
*Japan Time