NEWS
U-17 Japan National Team prepare for second group-stage match against France in FIFA U-17 World Cup India 2017
11 October 2017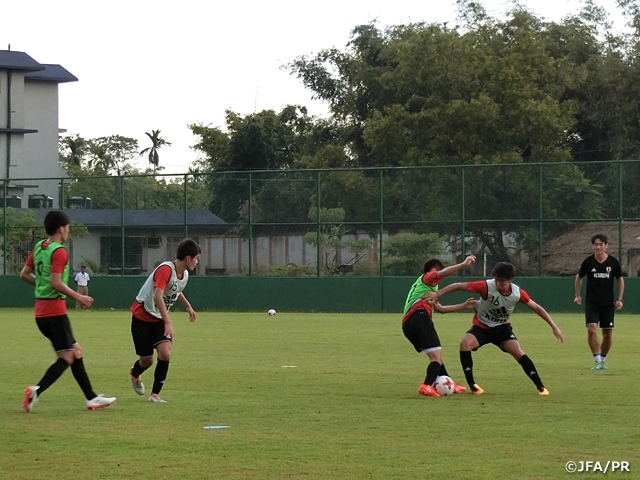 On Tuesday 10 October, one day prior to the next game, U-17 Japan National Team made their final preparation for the second group-stage match of the FIFA U-17 World Cup India 2017, after beating Honduras 6-1 in their cup opener.
There were two days in between the first and second matches and the team were separated into two groups for practice on Monday 9th. While the players who started their game had lighter training to recover from the fatigue with stretching and swimming using the facilities inside their hotel, others worked on passing exercises and 3-on-3 drills on the training field .On the next day (Tuesday 10th), the team checked their set-pieces as well as their build-ups plays and finishing using different attacking formations in heavy rain, while they were trying to establish a common vision to be shared within the team.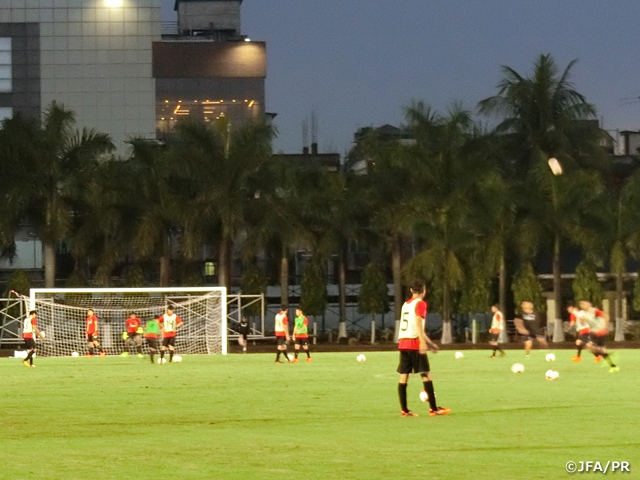 Forward player MIYASHIRO Taisei, a goal-scorer in the previous match against Honduras, said, "My condition has been excellent the past two days and I am fired up for tomorrow's game. Including the substitute players on the bench, we all want to work hard as a united team to secure a win." Another forward player TANAHASHI Akito expressed his determination, "This is an excellent opportunity. I am highly motivated after being called-up to the national team. I will give my best and hopefully contribute to the team's win as well."
France, on the other hand, managed to qualify for the World Cup by winning the play-offs against Hungary, after missing the chance to reach the semi-final of the UEFA U-17 Championship. This is their sixth time to play in the U-17 World Cup, and they will look to advance to the knockout stages for the first time since 2001. U-17 Japan National Team have previously met U-17 France players in an U-15 international competition which was held in France in October 2015 and beat their European rivals 3-2. In the last encounter, Miyashiro, KUBO Takefusa, and NAKAMURA Keito all scored in the match.
Firstly, Japan will do their best in the three group-stage matches. Then, the team will aim to make progress with each match as they find and work on the issues by playing these matches. If they reach the final, they will have a chance of playing in seven important international matches. But now, the team will sort out some of their problems that they had in the Honduras match and will try to showcase how much they have improved as a team in the upcoming game.
The second group-stage match against U-17 France will kick-off at Guwahati from 5 p.m. (8:30 p.m. Japan time) on Wednesday 11th.
Coach's and Players' Comments
MORIYAMA Yoshiro, Coach (U-17 Japan National Team)
U-17 France National Team have a very powerful offence. They have excellent set-plays as well as fast wingers and good finishers in the frontline. I expect that we will have to defend more than we did in the first match, and also think that we will have to show more tenacity near our goal. Even as such, we do have our strength which, I believe, will allow us to compete effectively against them. We want to attack them while neutralising their strength, and break through their defence time and time again to threaten their goal as well.
DF #3 KOBAYASHI Yuki (Vissel Kobe U-18)
If we win the next match, we can take a big step forward to the next stage. France have a characteristic forward player in a lone striker formation. If we stop his advances, then we have a high chance of winning. For our defensive midfielder and forwards to play by squaring up to the target, I want to find the gap in the opponents' defence by swiftly moving the ball. We will make a good preparation for the next match.
MF #8 OKUNO Kohei (Gamba Osaka Youth)
In the previous match against Honduras, I was brought on as a substitute and I had been talking with my teammates on the bench, 'we will capitalise on our chances once we get on the pitch'. In fact, I could get into the match fairly well. Defending with tenacity is the task that is given to me. So if I get another chance to play, I want to halt their attacks by making strong challenges at the initiating point of their attacking plays.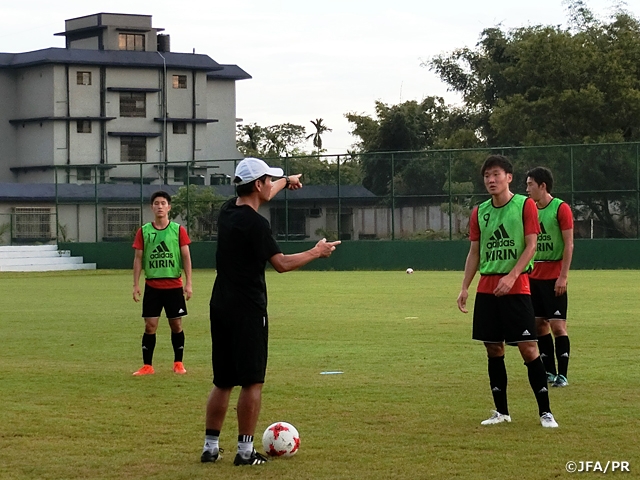 Schedule
FIFA U-17 World Cup India 2017
Fri. 6 October
PM
Training
Sat. 7 October
PM
Official Training
Sun. 8 October
6-1
vs Honduras
(Indira Gandhi Athletic Stadium)
Mon. 9 October
PM
Training
Tue. 10 October
PM
Training
Wed. 11 October
17:00
vs France
(Indira Gandhi Athletic Stadium)
Fri. 13 October
PM
Training
Sat. 14 October
17:00
vs New Caledonia
(Vivekananda Yuba Bharati Krirangan Stadium)
Sun. 15 October
TBC
Travel or Training
Mon. 16 October
TBC
Training
Tue. 17 October
17:00/20:00
Round of 16
Wed. 18 October
17:00/20:00
Round of 16
Thu. 19 October
TBC
Training
Fri. 20 October
TBC
Training
Sat. 21 October
17:00/20:00
Quarter Finals
Sun. 22 October
17:00/20:00
Quarter Finals
Mon. 23 October
TBC
Training
Tue. 24 October
TBC
Training
Wed. 25 October
17:00/20:00
Semi Finals
Thu. 26 October
TBC
Training
Fri. 27 October
TBC
Training
Sat. 28 October
17:00/20:00
3rd place playoff/Final
*Local Time
*The schedule is subject to change due to the team condition, the weather, etc.
FIFA U-17 World Cup India 2017
Tournament Period:6 October 2017(Fri.)~28 Ocotber 2017(Sat.)
U-17 Japan Fixtures:
1st Match 8 October(Sun.) 23:30 vs Honduras
2nd Match 11 October(Wed.) 20:30 vs France
3rd Match 14 October(Sat.) 20:30 vs New Caledonia
*Japan Time