NEWS
U-17 Japan National Team Czech trip - Match report on vs U-17 Hungary in 21st Vaclav Jezek International Youth Tournament
24 August 2014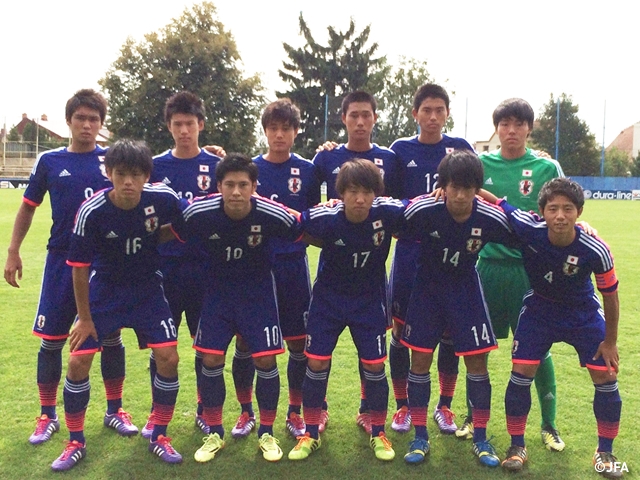 The 21th Vaclav Jezek International Youth Tournament
5th-6th place playoff vs U-17 Hungary
Saturday 23 August 2014   Kickoff:11:00 90minutes (45minutes halves)
STARE MESTO (Zlin,Czech Republic)
U-17 Hungary National Team 0-3(1st 0-1, 2nd 0-2)U-17 Japan National Team
Scores
27min SUGIMORI Koki (U-17 Japan National Team)
76min URATA Itsuki (PK) (U-17 Japan National Team)
84min KISHIMOTO Takeru (U-17 Japan National Team)
Starters
GK: KOJIMA Ryosuke
DF: NODA Hiroki, YAMAKAWA Tetsushi, MACHIDA Koki, URATA Itsuki
MF: TAKAGI Akito, SUZUKI Tokuma, SAKAI Daisuke, SUGIMORI Koki
FW: KISHIMOTO Takeru, KATO Mutsuki,
Substitutes
GK: ABE Koto
DF: MURAMATSU Kota
MF: Cy Goddard, KUBOTA Kazune, NAGANUMA Yoichi, INOUE Shion
FW: KOBAYASHI Hayate
59min KATO Mutsuki → KOBAYASHI Hayate
64min SUGIMORI Koki → NAGANUMA Yoichi,
78min URATA Itsuki → INOUE Shion
82min TAKAGI Akito → Cy Goddard
Match Report
In the fifth/sixth place match against U-17 Hungary National Team, Japan looked to play well for the first victory in the tournament. Just after the kick-off, they started controlling the ball in the Hungarian side and setting up their attacks. Their defence put pressure up front, got the ball and fired a shot to end their defence sequence. Then in the 27th minute, Japan got the possession high in the left flank, fed it into the middle where Suzuki sent it to the right. Then Noda, who was playing the right full-back in this match, fed a fast cross ball into the centre, and Sugimori put that into the goal in the end to give the first goal of the match for Japan.
After scoring the first goal, Japan kept creating more scoring opportunities as Kato and Kishimoto both fired shots in the box, but neither could add up the lead. After the 40-minute mark, they allowed the opponent to make their attacks, but Japan's defenders checked them before striking a shot. The first half ended with Japan leading by one.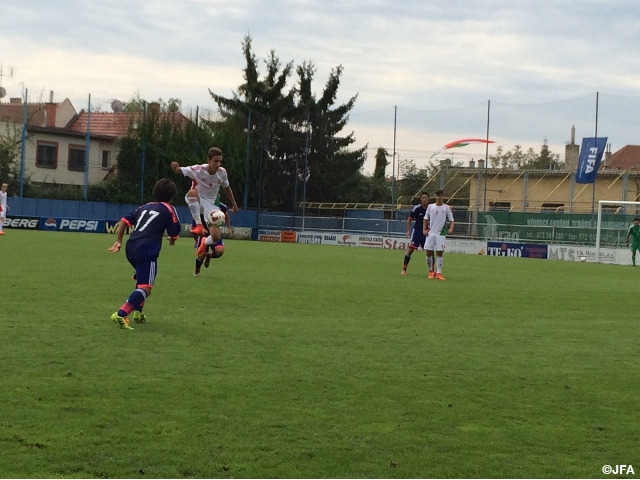 The beginning of the second half saw many of Hungary's offense and Japan's defence. Even when Japan got the ball, they gave it away soon after while their defence line couldn't control its timely position and allowed the opponent to fire a shot. In this match, however, Japan could survive tough stretches with efforts by every player on the pitch, which gradually created the ball movement in Japan's favour.
Then in the 76th minute, another attack started from the left flank and Kishimoto's dribbling penetration into the box led to a foul by a defender and a penalty kick. Urata calmly took advantage of the opportunity to make the score 2-0. In the following 84th minute, the left flank again triggered another attack when Machida got the ball high. He passed it to Kishimoto in the box, who composedly saw where the goalkeeper was and laid the ball into the goal for the three-goal lead. The match finished as the score remained unchanged since then. Japan managed to play through difficult stretches of the match and kept building up the lead for the first victory in this tournament.
With the completion of this trip, this U-17 Japan National Team ends their run in this year. However, the preparation for the qualifiers of the AFC U-19 Championship 2016 will start in full scale next year. The players will try to keep improving with their own club based on the experience they acquired during this trip.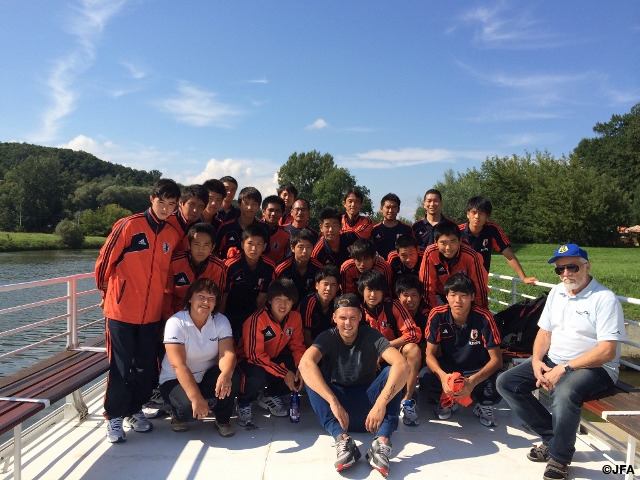 The team enjoyed a city tour in the afternoon of 22nd and had a team photo taken on the boat.
Comments
UCHIYAMA Atsushi, Head Coach
In the first half, our defence worked very collectively up front and created good offence to score a goal. But after the first goal in the late first half and the early second half, our mistakes were obvious and our defence line covered each other too late. We created touch stretches and allowed them to keep attacking our goal. In the match, we adjusted the positioning and managed to play through those stretches without giving away a goal, and we started possessing the ball, creating our attacks and added a few more goals. In this tournament, as we played more games, our players started little by little figuring out what plays they had to make depending on the opponent's style and pitch conditions. I want them to take this experience back to their own clubs and again to next national team run.
SAKAI Daisuke(Oita Trinita U-18)
It's been about two weeks since the SBS Cup all the way to this Czech trip and the result was disappointing. But I personally think I could have a lot of good experiences when I played among players one year older and I played matches against European teams. I had both things I did well and things I didn't do so well. About things I did well, I will keep improving them even better. About things I didn't do so well, I will think back why I didn't do them so well and I will work on them day in and day out.
INOUE Shion(Tokyo Verdy Youth)
I am so happy and thankful to be able to come to Czech Republic this time. During this trip, we played against Slovakia, Ukraine and Hungary all of who use their big bodies to play better. It's disappointing that we couldn't minimise their advantage and maximise our strength. We got assignments out of this trip, so I will work on them in my everyday practice.
KUBOTA Kazune(Osaka Toin High School)
On this Czech trip, we aimed to practice play based on the concept of "creative and attacking football". We lost two games in group stage but we managed to win in playoff. Personally, I realized I should improve something like angle of my body and positioning quality of off-the ball play (movement) for me to make adequate judgment and have more measures for judging the situation. Taking advantage of what I have learned in Japan National Team, I want to develop myself to be called up in Japan National Team for the next time.
KATO Mutsuki(Sanfrecce Hiroshima Youth)
I could learn many things in the Czech trip. Actually, almost none of things usually applicable in Japan was not applicable. It was really too bad we lost two games and could not win the championship. Personally, I should be much aggressive in trying to score the goal. Bringing back this issue, I want to improve that point to overcome the issues.
Schedule
The 21th Vaclav Jezek International Youth Tournament

Wed,20 August

1 - 2

vs U-17 Slovakia National Tema(Napajedla)

Thu,21 August

1 - 4

vs U-17 Ukraine National Team (kromeriz)

Say,23 August

3 - 0

5th/6th Place Decider vs U-17 Hungary (STARE MESTO)