NEWS
Report on U-17 National Team Czech trip (19 Aug)
20 August 2014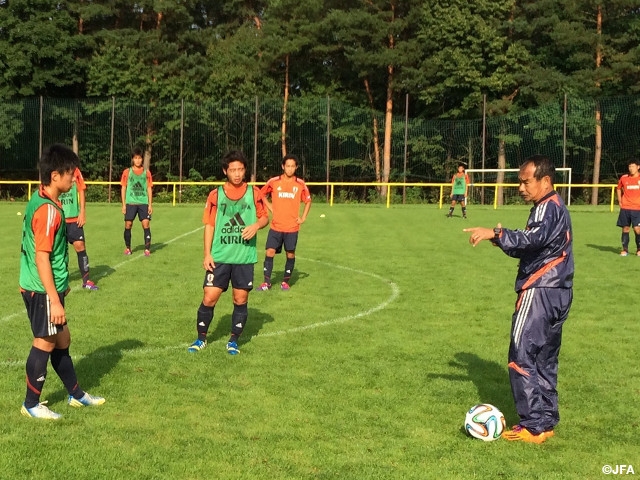 The U-17 Japan National Team had two practice sessions in the morning and afternoon for the first match of the tournament coming up tomorrow.
In the morning, after passing and controlling drills in pairs, players were split up by their positions. In the hypothetical game situation, they reviewed the timing of when to start team offence after picking up a ball; building up to expanding, and breaking down opposition's defence to finishing (shooting). And then they took on shooing drills. With scoring 10 goals within 4 minutes, the team of field players would have won. But they just scored two, giving up a win for the goalkeepers' side. After that, after field players asking for one more match, they scored 10 goals in 3 minutes and 45 seconds to end the contest with a 1-1 draw.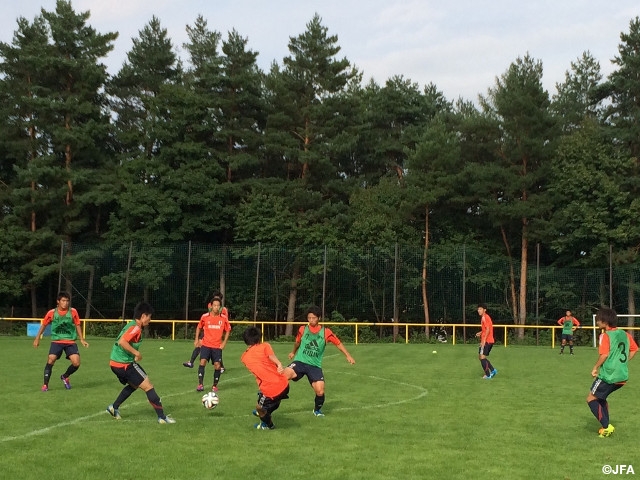 The team checked up their defence in the afternoon training.
To review the timing of the first defender's pressing with caring the opponent, they took on a 3-on-2 passing drill with limited touches in a small area. Then they kept adding more attacking players and expanding the area in stages; 5-on-5 with goalkeepers, 6-on-6 with goalkeepers and 8-on-5 with goalkeeper. After that, the training moved on to drills of how to adjust player's positioning when he covers behind other players and how to get the ball in an equally-numbered situation. Lastly the afternoon training finished with penalty kicks involving all the players to be ready for the real match.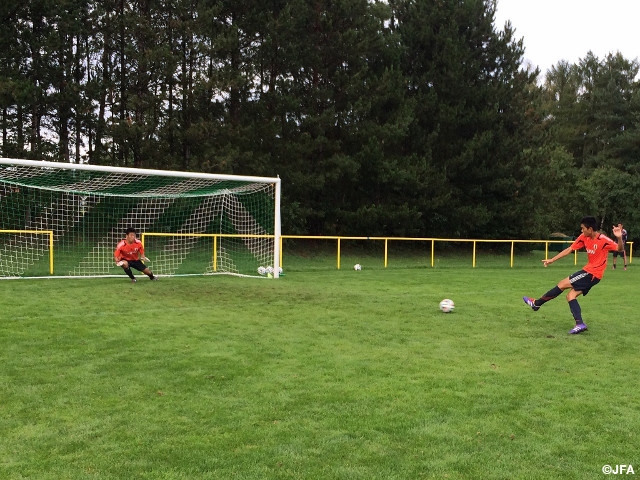 The first opposition will be the Slovakia National Team. The team will work together for a win in the first match to create a momentum.
Comments From Players
SUZUKI Tokuma(Maebashi Ikuei High School)
Having a good practice, everyone communicated with each other. We are ready for the first match in a good atmosphere. We will win the match against Slovakia focusing on achieving a good result and playing good football.
KISHIMOTO Takeru(Cerezo Osaka U-18)
The first thing I want to work on is to run enough. That's because I got injured three month ago and am not used to playing back in a real game, and the opponent players overseas are not good at coping with tenacious defence. I learned that from my team's international trip the other day. I will try pressing at the higher point and run a lot. What I'm lacking is to start running at the right time. In this trip, I will keep that in mind and score goals when I get a good opportunity to score. I hope to absorb all the experience I get here.
ABE Koto(Albirex Niigata Youth)
We all had a practice in a good mood today. We will work together to win the match against Slovakia as a team.
NODA Hiroki(Otsu High School)
After the 4-day training, I've understood what our coach requires as a team. This is my first time to be on the national team. I need to sell myself and try my best to let the team win. I've never played against an overseas team, so I want to experience their skills and physical intensity, and take advantage of the experience for my future career.
Schedule
The 21th Vaclav Jezek International Youth Tournament

Wed,20 August

17:00

vs U-17 Slovakia National Tema(Napajedla)

Thu,21 August

17:00

vs U-17 Ukraine National Team (kromeriz)

Say,23 August

Place Decider