NEWS
Match report on U-17 Japan against U-17 Ukraine in 21st Vaclav Jezek International Youth Tournament
22 August 2014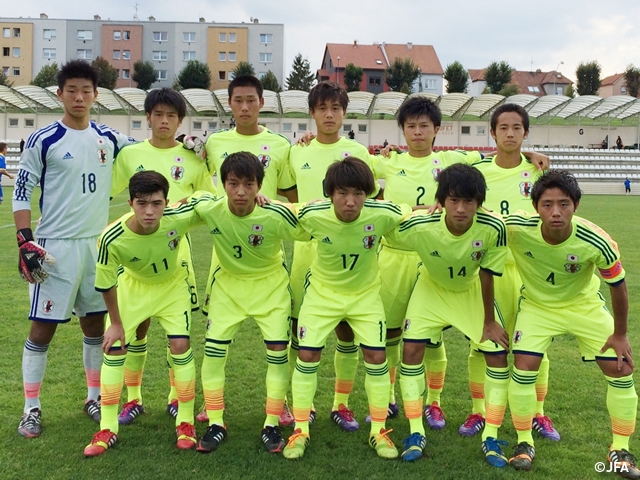 The 21th Vaclav Jezek International Youth Tournament
2nd Match vs U-17 Ukraine
Thursday 21 August 2014 17:00 Kickoff 90minutes (45minutes halves)
kromeriz(Zlin,Czech Republic)
U-17 Ukraine National Team 4-1(1st 3-0, 2nd 1-1)U-17 Japan National Team
Scores
14分 Goal Against(U-17 Ukraine National Team)
23分 Goal Against(U-17 Ukraine National Team)
45分 Goal Against(U-17 Ukraine National Team)
71分 Goal Against(U-17 Ukraine National Team)
78分 TAKAGI Akito(U-17 Japan National Team)
Starters
GK:ABE Koto
DF:SAKAI Daisuke、MURAMATSU Kota、YAMAKAWA Tetsushi、URATA Itsuki
MF:KOBAYASHI Hayate、SUZUKI Tokuma、SUZUKI Tokuma、Cy Goddard
FW:KISHIMOTO Takeru、SUGIMOTI Koki
Substitutes
GK:KOJIMA Ryosuke
DF:NODA Hiroki、MACHIDA Koki
MF:TAKAGI Akito、KUBOTA Kazune、NAGANUMA Yoichi
FW:KATO Mutsuki
50分 KOBAYASHI Hayate → TAKAGI Akito
55分 MURAMATSU Kota → NODA Hiroki
60分 SUZUKI Tokuma → KUBOTA Kazune
70分 Cy Goddard→ NAGANUMA Yoichi
Match Report
While Japan needed to win their second match against Ukraine by two goals or more to finish the group stage atop, only two minutes after the kick-off, they brought a Ukraine player down in the box and gave away a penalty shot. But Japan got out of the jam as the Ukraine's kicker missed his shot. Japan then started to make aggressive attacks and created shooting opportunities with good combination plays. Meanwhile, when Ukraine picked up a loose ball and fed a cross from Japan's left side, a Ukraine player in the box struck it into the back of the net in the 14th minute. Ukraine added the second goal from a similar setup in the 23rd minute to make the match tough for Japan.
Kishimoto and Sugimori created goal opportunities upfront, but their shots could not find the net. In the 45th minute, Japan's sloppy pass allowed Ukraine to score another goal on a short counter attack and to extend the lead to three goals, which gave Japan an extremely difficult situation before ending the first half.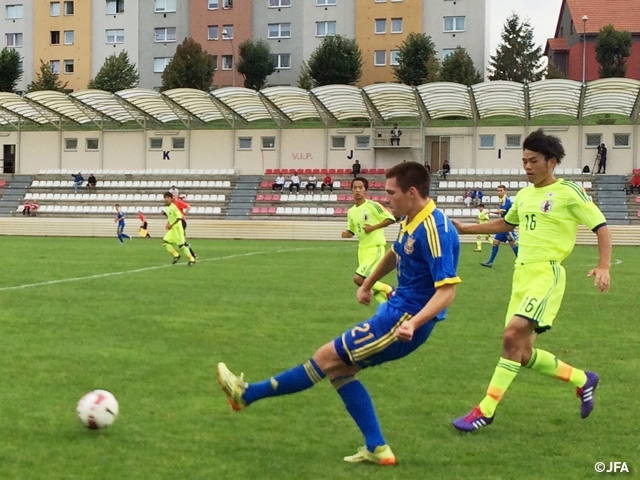 Japan continued to possess the ball more often in the second half, yet made mistakes in important situations so they could not create golden opportunities. In the 71st minute, Ukraine threatened Japan's left side again and sent a cross in. Although Japan cleared it to the right, Ukraine again sent it back inside to head the fourth goal. Japan, striving for a goal more than anything, finally came in with right side attack in the 78th minute as substituted Takagi struck a cross into the net.
Japan accelerated their offence as their defence became solid picking up second balls. Japan made attacks with moving around the ball in the opposition area, but the match score remained the same until the end. The 1-4 loss was Japan's back-to-back loss in the tournament. Despite increased number of attacks, the match did not satisfy Japan's side as failing to win physical contacts such as picking up loose balls and fighting hard on the ball in the box.
Japan will meet Hungary in the fifth-sixth place match on 23rd.
Comments
KOBAYASHI Hayate(Yokkaichi Chuokogyo High School)
Today's match against Ukraine reminded me of 1-on-1 intensity and hard-fight on the ball. As this was my second time to be called up for the national team, I was pleased and keen to try hard. We've got a lot of assignments to solve as individuals and a team. Team's mood is getting better and we are starting to communicate with each other well. I hope we can prove that on the pitch. We will go back to Japan with a win in the final match of the tournament coming up day after tomorrow.
Cy Goddard(Tottenham Hotspur Football Club/England)
Today we possessed the ball with our passing football. Ukraine was physical and we had hard time coping with that. I could receive the ball in the position where the opponents do not like, but I needed to improve the final pass and shot accuracy.
SUGIMORI Koki(Nagoya Grampus U18)
We were looking to win by two goals or more today but couldn't achieve that. We possessed the ball in both halves and created a couple of chances with a lot of shots. I'm disappointed that we couldn't turn them into goals as an individual and as a team. We still have one more game ahead. As a team, we will prepare well tomorrow for the match.
YAMAKAWA Tetsushi(Vissel Kobe U-18)
We've got a lot to correct today. We couldn't get many second balls, so we couldn't take the initiative in the match. So we became impatient when we built up from the back. Then we relied too much on kicking a ball forward and lost it often. We needed to try defending harder in the box especially when we allowed the goals. We still have time for the final match. We will correct what we need to and get very well prepared so that we can play as a team.
Schedule
The 21th Vaclav Jezek International Youth Tournament

Wed,20 August

1 - 2

vs U-17 Slovakia National Tema(Napajedla)

Thu,21 August

1 - 4

vs U-17 Ukraine National Team (kromeriz)

Say,23 August

5th/6th Place Decider