NEWS
U-17 squad comes up short against Slovakia in Vaclav Jezek International Youth
21 August 2014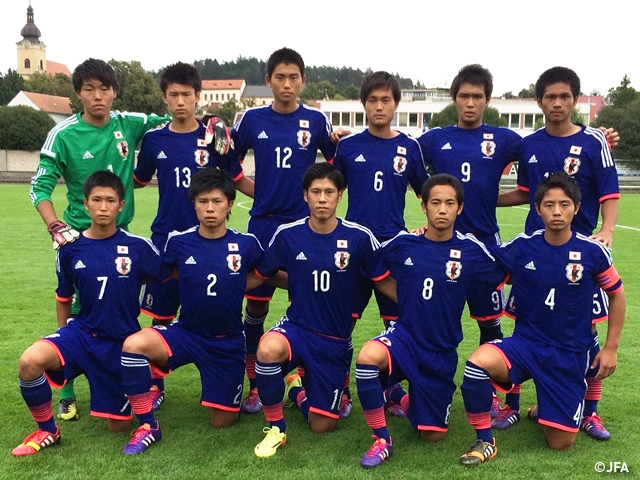 The 21th Vaclav Jezek International Youth Tournament
1st Match vs U-17 Slovakia
Wednesday 20 August 2014 17:00 Kickoff 90minutes (45minutes halves)
Napajedla(Zlin,Czech Republic)
U-17 Slovakia National Team 2-1(1st 1-0, 2nd 1-1)U-17 Japan National Team
Scores
25min Goal Against (U-17 Slovakia National Team)
58min Goal Against (U-17 Slovakia National Team)
78min SUGIMORI Koki (U-17 Japan National Team)
Starters
GK: KOJIMA Ryosuke
DF: MURAMATSU Kota, NODA Hiroki, MACHIDA Koki, URATA Itsuki
MF: TAKAGI Akito, SUZUKI Tokuma, KUBOTA Kazune, NAGANUMA Yoichi
FW: KATO Mutsuki, KOBAYASHI Hayate
Substitutes
GK: ABE Koto
DF: YAMAKAWA Tetsushi
MF: SAKAI Daisuke, INOUE Shion
FW: Cy Goddard, SUGIMORI Koki, KISHIMOTO Takeru
HT  MURAMATSU Kota → SAKAI Daisuke
55min KATO Mutsuki → KISHIMOTO Takeru
55min KOBAYASHI Hayate → SUGIMORI Koki
55min NAGANUMA Yoichi → GODDARD Cy
Match Report
The Japan Under-17 national team squared off against Slovakia in their first match in the tourney. Japan mainly started with the players that were called up for July's Niigata international. In the opening half, the Japan players struggled with the long turf, which made their passing speed slower. It enabled Slovakia to rob the ball and convert it for their attacks. And then on 25th minute, Japan gave a free kick to the opponents on their right side. A Slovakia player headed a cross into the goal for the game's first score. Toward the end of the first half, Japan finally got to be able to move the ball better with faster passes, and created some scoring chances, including a middle shot by defensive midfielder Suzuki. Yet they couldn't net one and entered halftime with a one-goal down.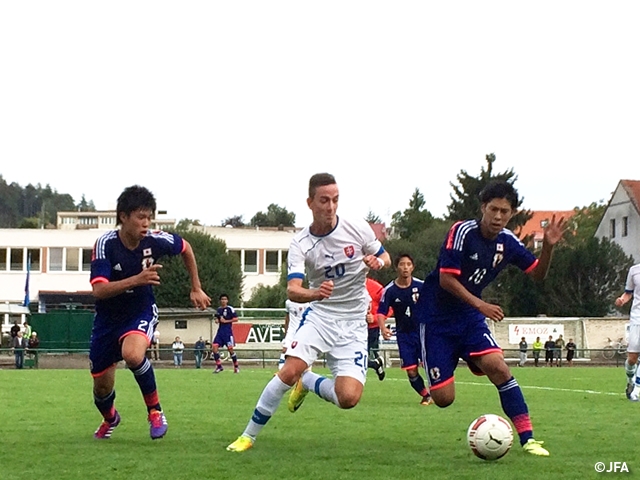 But at the start of the second half, Japan aggressively came on against their opponents trying to equal the contest. On 48th minute, Naganuma found a space and created a one-on-one situation with the goalkeeper, yet he missed it. Then on 58th minute, a Slovakia player had a chance with dribbling out of a melee before the Japan goal and scored another goal for the European side.
But Japan began their rally from then on. Kishimoto and Sugimori, who came in as substitute, took pivotal roles while Takagi, who was in the right side, and Sakai, another substituted player, attacked dribbling, and launched cross balls after cross balls before the Slovakia goal. On 78th minute, Takagi provided a fast and elaborate cross before the goal, and Sugimori put it in with his right foot to cut their deficit to one. Sugimori and Sakai created further scoring opportunities afterwards, but their shots would not go in as they would either hit the goal pots or nicely saved by the goalkeeper.
The match ended as it was with a 2-1 score. Japan takes on Ukraine on the next day as their second group stage game. Since Japan still has a chance to qualify through the first round with a victory with more than two-goal differential, they are expected to switch their mentality to face the match.
Comments From Players
KOJIMA Ryosuke(Nagoya Grampus U18)
We wanted to win today's first match to gain some momentum as a team, but ended up dropping it. On the goals we gave up, it wasn't that we allowed them to get us off-balance but found ways from set players and throw-ins. So I thought that we needed to not get loose at any time and have better preparation to have more consistent defense while we also have to have better, high-qualify judgements to cope with any situations. Individually, I felt that while I needed to have better positioning and anticipation of plays with better preparation, I also needed to have quicker decision makings. We still have a chance to finish atop in our group, so we are going to play to win with the entire team.
URATA Itsuki(JEF United Chiba U-18)
It's disappointing that we wound up not scoring any points in our first match. We struggled adjusting to the long turf and coming up with better offense in the first half. In the second half, we corrected it and had better attacks. For tomorrow's game, we would like to post a win with two-goal lead or more so we might still have a chance to advance to the placement matches atop in our group, so we will play as the whole team.
MACHIDA Koki(Kashima Antlers Youth)
It's frustrating that we couldn't post a win in our first match. We possessed the ball longer, yet struggled to raise our ball speed and had hard time finishing. Meanwhile, we gave up the two goals from a set play and throw-in, and it gave us defenders a lot of issues to correct. We swill have a chance to win the championship, so we shouldn't put our heads down, and we should have better preparation for our next match against Ukraine, correcting the issues that we had today.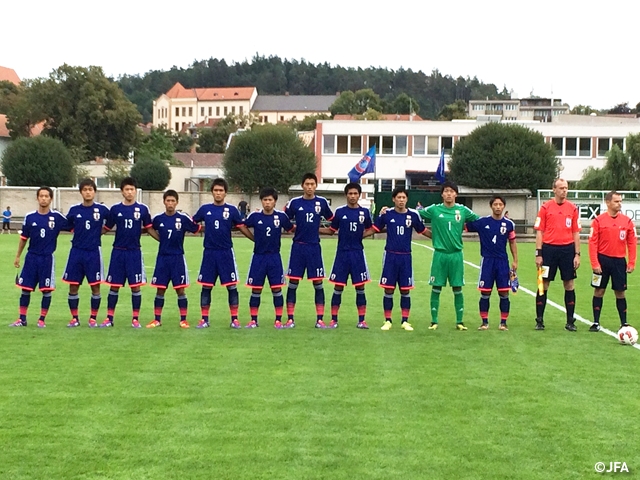 Schedule
The 21th Vaclav Jezek International Youth Tournament

Wed,20 August

1 - 2

vs U-17 Slovakia National Tema(Napajedla)

Thu,21 August

17:00

vs U-17 Ukraine National Team (kromeriz)

Say,23 August

Place Decider