NEWS
Japan Under-16 National Team loses to Croatia Under-16 in Delle Nazioni Tournament in Italy
26 April 2014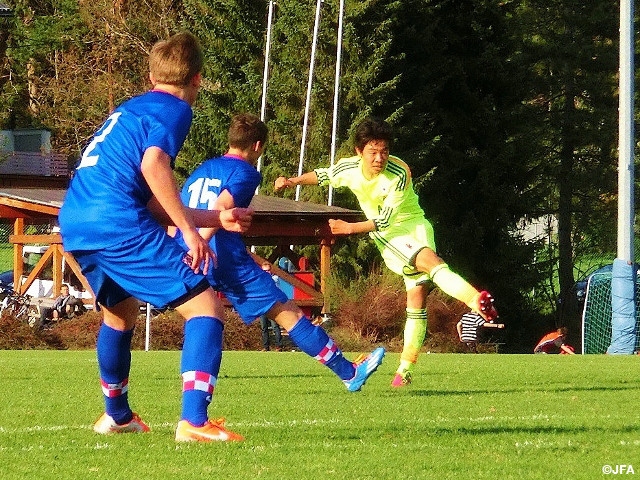 The 11th Delle Nazioni Tournament
Friday 25 April 2014 17:00 Kick Off 60 minutes(30 minutes half)
Kötschach-Mauthen(Austria)
U-16 Japan National Team 0-1(1stHalf 0-1、2ndHalf 0-0) U-16 Croatia National Football Team
Scores
10min Goal Against(U-16 Croatia National Football Team)
Starters
GK:OSAKO Keisuke
DF:KAJIYAMA Kanta、ONOZAWA Toshiki、IYOHA Osamu Henry、WATANABE Kouta
MF:SASAKI Takumi、IKEDA Taisei、KANDA Ryotaro
FW:ASADA Shogo、HANYA Yosuke、SUGA Daiki
Substitutes
GK:INOUE Seiya
DF:KATO Jun、ABE Masashi、YOSHIDA Shun
MF:ITO Ryoya、NISHIMOTO Takanobu、SATO Sota
40min ASADA Shogo →  NISHIMOTO Takanobu
40min SUGA Daiki →  ABE Masashi
50min KANDA Ryotaro →  SATO Sota
57min IYOHA Osamu Henry → ITO Ryoya
Match Report
In the rematch of last year's final in the 11th Delle Nazioni Tournament in Italy, the Croatia Under16 team struck in the opening minutes and preserved the lead until the final whistle.
The Japanese side began relaying passes better in the second half, but was not able to create decisive moments for scores near their opponents' goal. They also struggled to tear up the defense of Croatia, who played passively, mostly playing their men on their field in the game that was played under a shorter 30-minute half rule, and failed to tie it.
Japan still have a possibility to make it to the knockout round, so they just have to play better in the remaining two games to keep their hope alive.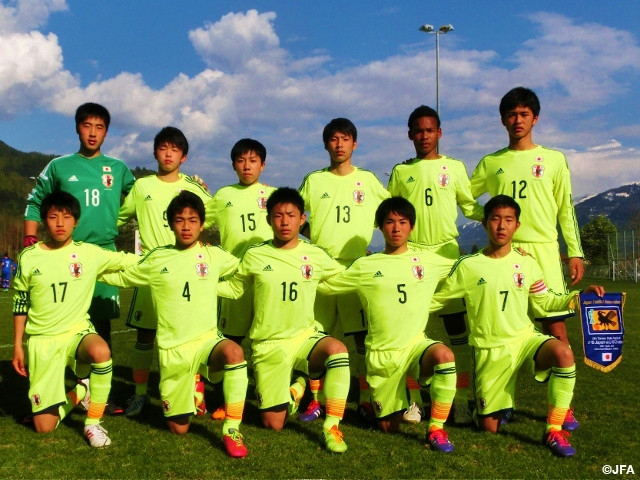 Comments from Head Coach and Players
Hirofumi Yoshitake, Head Coach
We gave up the goal right after we entered the game, and it exhibited our lack of a grand perspective in it. Us trying to find a way to score against the opponents that would firmly defend their goal, the game could be summarized like that. We possessed the ball but failed to kick lateral passes and make side changes, and that cost us creating decisive mementos in the whole 60 minutes. Now we would like to have strong will to score some goals and take advantage of attacking on the holes where our opponents are not really defending, so we will be able to make more decisive scoring opportunities afterwards. We will take on Chile, who have an international tournament back home next year, for our second game today, and we want to test how much we can compete against them with our brand of football.
WATANABE Kouta(Tokyo Verdy Youth)
We were not able to relay the ball from the opening moments, and because of our own mistake, we had a pinch and ended up allowing the goal. The opponents got tired a little in the second half and we could connect our passes better than in the first half, but we could not create decisive chances and ended up losing the game. Hopefully, we will work on to make more decisive opportunities and have a victory without giving up a goal in the next game.
YOSHIDA Shun(Shimizu S-Pulse Junior Youth)
I was watching the game from the bench, but I thought that our team were having tough times taking accurate positions and putting up our own game. I did not have a chance to play in today's game, but if I step onto the pitch, we would like to reflect on ourselves that we talked about in our meeting and improve for our upcoming games.
SASAKI Takumi(Vegalta Sendai Youth)
Because we have had our practices only twice and have not fully been able to share our thoughts between us, we got beaten by the opponents 0-1. But I know that despite of what kind of circumstances we are in, the national team have still got to win and that's something we have to reflect on. In fact, we were behind our opponents in terms of our mentality, and we did not have enough mental stickiness about one single play before we start talking about our tactics, and it came out as the result of the contest. In order for us to advance to the final round, we must win our next two games, and we would definitely like to get in those games with stronger mind-set for the victories.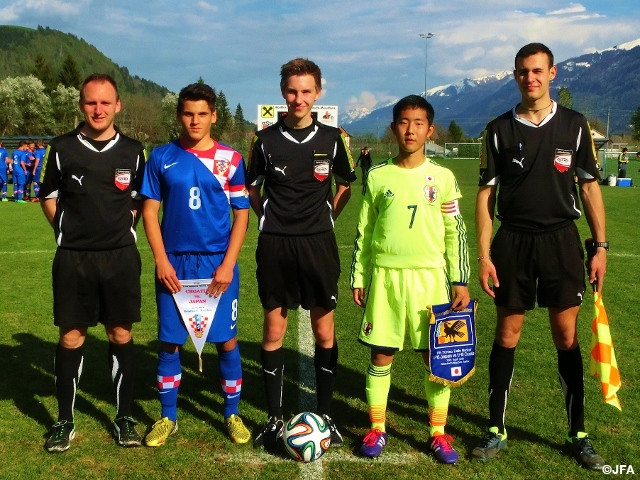 Schedule
The 11th Delle Nazioni Tournament
(Fri) 25th April
0-1
VS U-16 Croatia National Football Team
(Sat) 26th April
15:30
VS U-16 Chile National Football Team
(Sun) 27th April
17:00
VS U-16 Azerbaijan National Football Team
(Tue) 29th April
16:00
17:30
Semifinal(Nova Gorica/Slovenia)
Semifinal(Kotschach-Mauthen/Austria)
(Thu) 1st May
16:00
Final(Gradisca/Italy)