NEWS
Nadeshiko Japan hold training session ahead of match against Chinese Taipei - EAFF E-1 Football Championship 2019
11 December 2019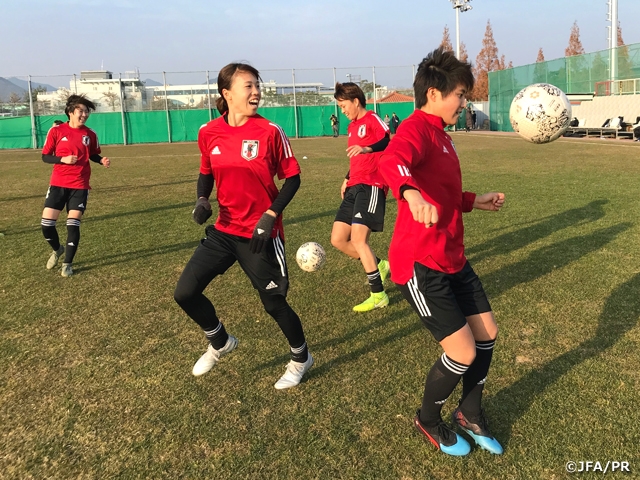 One day ahead of their first match of the EAFF E-1 Football Championship 2019 against the Chinese Taipei Women's National Team, the Nadeshiko Japan (Japan Women's National Team) held a training session behind closed doors on Tuesday 10 December.
In the training session held two days following their arrival to Busan, Korea Republic, the players were seen going through their warmup routines in a relaxed atmosphere for the first 15 minutes where the session was opened to the media, but once entering the tactical drills for the match, the players turned on their game faces and showed great intensity in each drill.
During the official press conference held on the day before, Chinese Taipei's coach ECHIGO Kazuo mentioned, "Compared to the other three teams, we are not in position to strive for the title." However, coach TAKAKURA Asako stayed alerted against Chinese Taipei, as she commented, "They have shown great performances at the Asian Games and they are a force to be reckoned with."
On this day, the opening match for both the men's and women's tournament took place, where the host national Korea Republic drew 0-0 against China PR in the women's side, giving the Nadeshiko Japan the opportunity to take the tournament lead with a win over Chinese Taipei.
The Nadeshiko Japan will face the Chinese Taipei Women's National Team on Wednesday 11 December at 16:20.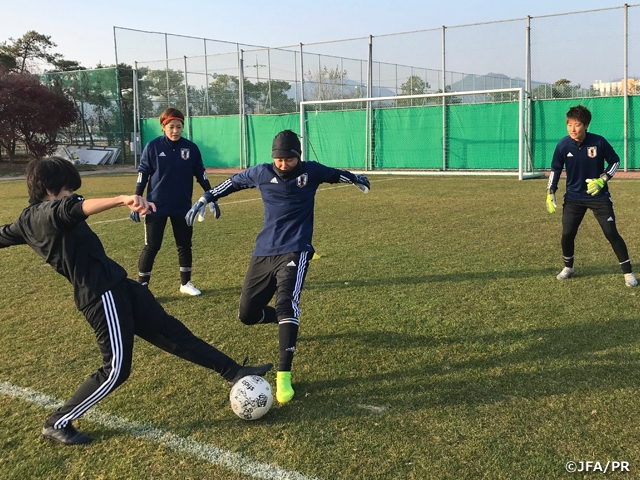 Players' Comments
DF #4 MIYAKE Shiori (INAC Kobe Leonessa)
In the previous tournament held in Japan two years ago, we played without our captain KUMAGAI Saki, and failed to win the title, which led us to realise the significance of Kumagai. We will once again play without her, but someone has to step-up to fill her position, and I feel like that is my job. There are many difficulties when playing a short-term competition in Asia. However, we have very limited time ahead of the Tokyo Olympics, so we hope to make the most of this tournament to build our team. We hope to earn positive results at this tournament, but at the same time, we hope to heighten the quality of our team.
MF #17 MIURA Narumi (Nippon TV Beleza)
We cannot approach this tournament as just another tournament. When counting how many days we have left and making sense of each match until the Tokyo Olympics, this E-1 Football Championship will be a very significant tournament for us. It is important that each player challenges themselves, but at the same time, we must actively communicate with each other to heighten the overall level of the team. That is why we are spending a lot of time holding group conversations off the pitch. Personally, I wrote down my strengths and weaknesses to find out what I can do to help out the team. I have been working to improve the quality of my plays in the team's build-ups and my shots from distance, so I will continue to challenge myself in this tournament.
FW #11 KOBAYASHI Rikako (Nippon TV Beleza)
I feel that we must make good use of this tournament to improve ourselves ahead of the Tokyo Olympics. We have worked tirelessly to improve the overall quality of the team since the World Cup, so we hope to showcase an improved version of ourselves at this tournament. Our primary goal is to win the title, and in order to achieve our goal, we must make the necessary adjustments on the pitch. It is important that we polish the small details of each of our plays. As a forward, I will stay eager to score goals and play with an aggressive mind to take the initiative.
Schedule
12月9日(月)
PM
Official Press-conference
TBC
Training
Tue. 10 December
TBC
Training
Wed. 11 December
16:20
1st Match vs Chinese Taipei Women's National Team
(Busan Asiad Main Stadium)
Thu. 12 December
TBC
Training
Fri. 13 December
TBC
Training
Sat. 14 December
15:55
2nd Match vs China PR Women's National Team
(Busan Gudeok Stadium)
Sun. 15 December
TBC
Training
Mon. 16 December
TBC
Training
Tue. 17 December
19:30
3rd Match vs Korea Republic Women's National Team
(Busan Gudeok Stadium)
*The schedule is subject to change due to the team condition, the weather, etc.
EAFF E-1 Football Championship 2019 Final Korea Republic
Tournament Dates: Tue. 10 - Wed. 18 December 2019
Tournament Venue: Busan Gudeok Stadium/Busan Asiad Main Stadium (Korea Republic)
Participating Countries: Chinese Taipei, China PR, Japan, Korea Republic