NEWS
U-18 Japan National Team start with a sweeping victory at the AFC U-19 Championship 2020 Qualification
07 November 2019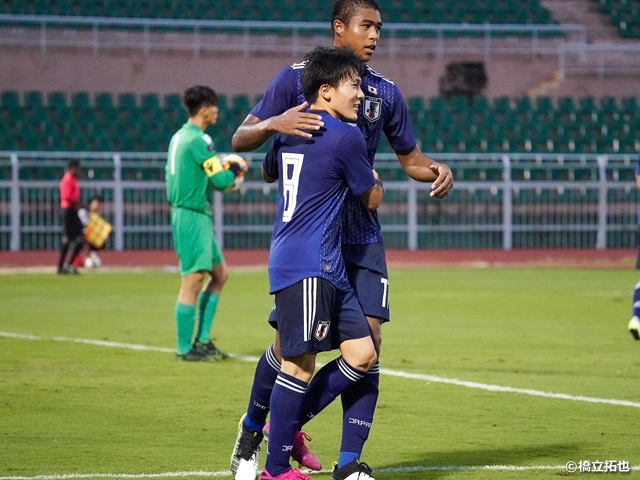 AFC U-19 Championship 2020 Qualification vs U-18 Guam National Team
Wed. 6 November 2019 16:00 (Local time) Match Duration 90mins (45minsx2)
Thong Nhat Stadium (Ho Chi Minh City, Vietnam)
U-18 Japan National Team 10-0 (3-0, 7-0) U-18 Guam National Team
Scores
9' TAKEDA Hidetoshi (U-18 Japan National Team)
19' TAKEDA Hidetoshi (U-18 Japan National Team)
42' SAKURAGAWA Soromon (U-18 Japan National Team)
47' AYUKAWA Shun (U-18 Japan National Team)
59' KATO Hijiri (U-18 Japan National Team)
64' AYUKAWA Shun (U-18 Japan National Team)
65' SAKURAGAWA Soromon (U-18 Japan National Team)
81' HARUYAMA Misaki (U-18 Japan National Team)
83' TAKEDA Hidetoshi (U-18 Japan National Team)
84' SAKURAGAWA Soromon (U-18 Japan National Team)
Starting Line-up
GK: KOKUBO Leobrian
DF: MIHARA Shuma, HAYASHIDA Kaito, NISHIO Ryuya, KATO Hijiri
MF: TAKEDA Hidetoshi, IWAMOTO Sho, MATSUMOTO Nagi, AYUKAWA Shun
FW: SOMENO Itsuki, SAKURAGAWA Soromon
Reserves
GK: OBATA Yuma, YAMADA Taiki
DF: YAMASAKI Taichi, NAKAMURA Takumi, KIMURA Seiji, BANGNAGANDE Kashif
MF: KAWAMOTO Riyo, SHIBATA Sosuke, KAWASAKI Sota, ISHIURA Taiga
FW: OMORI Shingo, HARUYAMA Misaki
Substitutions
63' SOMENO Itsuki → HARUYAMA Misaki
75' AYUKAWA Shun → KAWAMOTO Riyo
84' IWAMOTO Sho → ISHIURA Taiga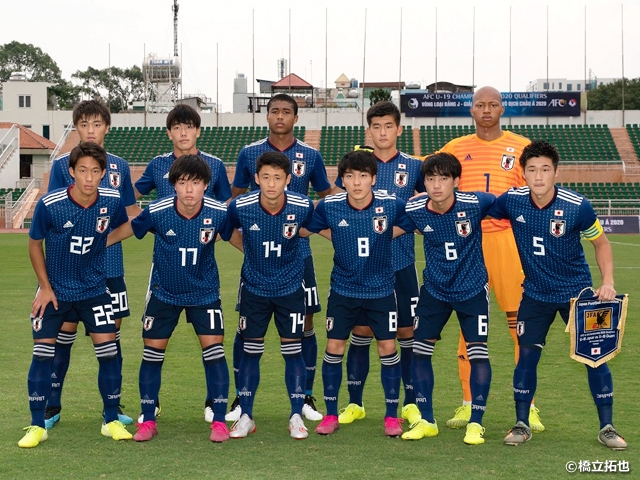 Match Report
On Wednesday 6 November, the AFC U-19 Championship 2020 Qualification has kicked off its action. In the competition that will also serve as the qualification round for the FIFA U-20 World Cup Indonesia 2021, the U-18 Japan National Team won their first match at Group J against the U-18 Guam National Team with a score of 10-0.
With the effect of the torrential rain, teams were not allowed to conduct their warmups on the pitch, but coach KAGEYAMA Masanaga told his players prior to the match, "We have prepared ourselves thoroughly for this match, so let's challenge ourselves to showcase our best performance at this stage." Despite starting off the match looking a little nervous, Japan managed to score the opening goal in the ninth minute, when TAKEDA Hidetoshi broke through the right flank before capturing the net. Following this first goal, Takeda scored another goal in the 19th minute to double the lead for Japan.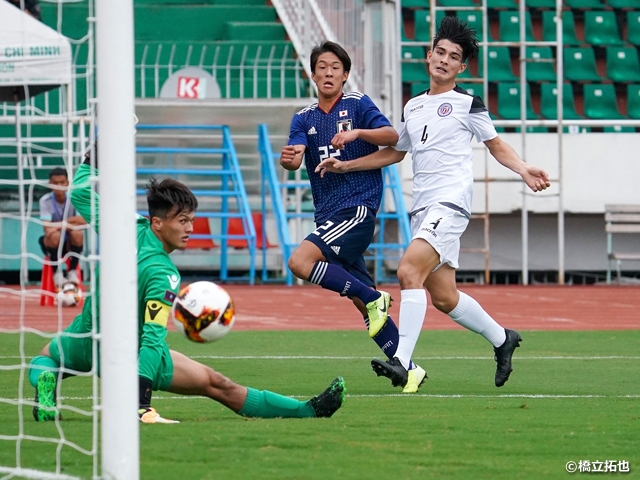 Although Japan struggled to capitalise on their opportunities for a while, SAKURAGAWA Soromon converted a cross delivered by AYUKAWA Shun in the 42nd minute to make it 3-0 at halftime. Japan showed their dominance by striking 21 shots in the first half alone.
In the second half, coach Kageyama sent off his players by telling them, "We have great momentum. Even if we're not scoring as many goals, don't worry about it. We are creating plenty of opportunities and the goals will come, so let's take it one step at a time." The Japanese players responded to their coach's words, as they started to goal spree in the second half. Ayukawa started the action in the 47th minute, when he converted the through ball sent by MATSUMOTO Nagi to score the team's fourth goal. Defender KATO Hijiri scored the fifth goal by striking a powerful shot with his left foot in the 59th minute, followed by Ayukawa's goal in the 64th minute. A minute later, Sakuragawa capitalised on a fast driven cross delivered by Ayuakwa to make it 7-0. The match will settle down for a while, but Japan picked up their momentum once again towards the end of the match, as HARUYAMA Misaki scored the team's eighth goal in the 81st minute, followed by Takeda's goal in the 83rd minute. Sakuragawa capped it off in the 84th minute, when he converted the cross sent by ISHIURA Taiga. With Takeda and Sakuragawa both registering a hattrick, Japan finished the match with a final score of 10-0 to earn a shutout victory in their first match.
The U-18 Japan National Team will now face the U-18 Mongolia National Team on Friday 8 November.
Players' Comments
DF #2 NISHIO Ryuya (Cerezo Osaka U-18)
The climate in Vietnam is very different compared to Japan, and it took us a while to get used to this hot and humid climate. Once we got used to this climate, we were able to hold our training session with a positive atmosphere and managed to prepare ourselves well before this match. In today's match, we were able to possess the ball for a long time and create numbers of close opportunities, but we struggled to convert our chances in the first half. Although we were able to pick up our pace and score more goals in the second half, I personally made many mistakes and bad decisions, so I hope to do a better job next time. However, it was great to see our team keep a clean sheet today. We hope to showcase our dominance in the following two matches and finish this tour with three consecutive shutout victories.
DF #17 MIHARA Shuma (Ehime FC U-18)
After arriving in Vietnam, we had to focus on getting our conditions up under this hot weather. Through the training match against Ryutsu Keizai University, we were able to see the areas we needed to improve on, and it helped us enter today's match against the U-18 Guam National Team in great form. It was great that we managed to keep a clean sheet today. We also showcased great offensive plays to score numbers of goals in the second half. However, we should be able to heighten the quality of our plays in the final third, so that is an aspect we must strive to improve on. We will prepare ourselves well ahead of the upcoming two matches and strive to finish this qualification round with three consecutive wins.
MF #8 AYUKAWA Shun (Sanfrecce Hiroshima Youth)
The environment surrounding us in Vietnam is very different from Japan, so we focused on making our adjustments to this environment before picking up the intensity of our training sessions. In our first match against Guam, we wanted to score as many goals as possible to earn an advantage within the group competition. However, we only scored three goals in the first half, despite taking 21 shots. I personally saw many scenes where I missed my opportunities in the first half, so I entered the second half with the intention to score goals. The early goal in the second half allowed us to pick up our momentum both as a team and as an individual. We are expecting tougher competitions in the following two matches, so I will focus on each of my shots and passes to help the team win through this qualification round.
MF #22 TAKEDA Hidetoshi (Aomori Yamada High School)
This year, I was out with an injury for a long stint, so I am honoured to be a part of this team for the AFC U-19 Championship 2020 Qualification. We started our trainings in Vietnam by getting used to the hot weather and pitch conditions. We were able to hold productive training sessions that allowed us to maintain the quality of our plays within the given circumstance while improving on the tasks we saw through the training match played in Japan. Although I was able to create numbers of opportunities to take shots, the quality of my shots was not so great, so I hope to showcase a better performance in our next match.
Schedule
AFC U-19 Championship 2020 Qualification Group J
Wed. 6 November
10-0
vs U-18 Guam National Team (Thong Nhat Stadium)
Thu. 7 November
AM
Training
Fri. 8 November
16:00
vs U-18 Mongolia National Team (Thong Nhat Stadium)
Sat. 9 November
AM
Training
Sun. 10 November
19:00
vs U-18 Vietnam National Team (Thong Nhat Stadium)
*Local time
*The schedule is subject to change due to the team condition, the weather, etc.
AFC U-19 Championship 2020 Qualification
Tournament Duration: Wed. 6 - Sun. 10 November 2019
Tournament Venue: Thong Nhat Stadium, Vietnam