NEWS
Japan Futsal National Team short-listed squad training camp report: Day 2
26 October 2016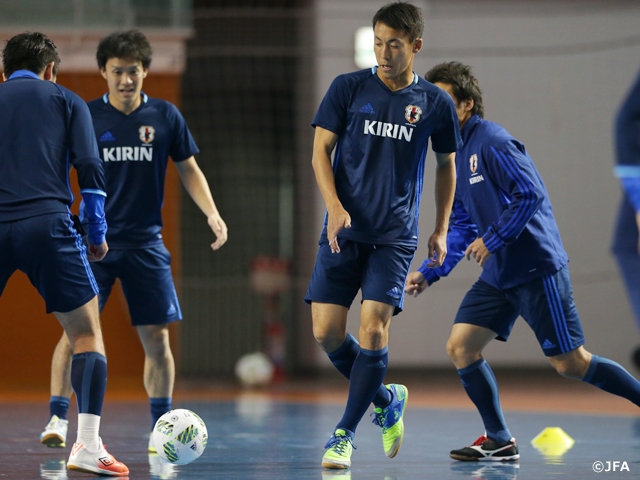 Japan Futsal National Team short-listed squad had their second day of their training camp. They had sessions in both morning and afternoon. The team have been reviewing session of the making pressure at designated defence spots in the morning. At the same time, they had 1 vs. 2, and 2 vs. 3 sessions considering the disadvantageous situations in defence. The sessions focused on promoting mutual understanding especially in "what to check" and "how to react".
In the afternoon, they focused on offence. They strictly trained the differences between 3-1 and 4-1 offence systems in fixed positions. The team's Coach Bruno GARCIA gave the players detailed directions taking some time to explain his approaches using a board. He has made effort to promote understanding in his team's concept even in this limited time of the camp.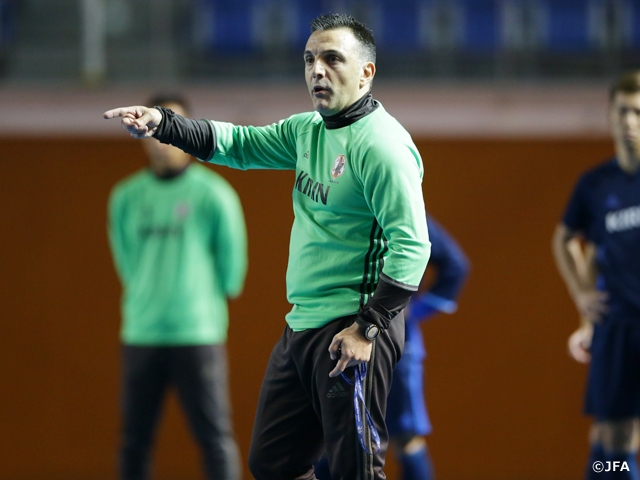 Players' Comments
MOROE Kengo (FUGADOR SUMIDA)
In the afternoon, we had offense training and checked our patterns in systemised attack. I had to put full energy in just to remember how to move, but I keep working hard to show additional value and my advantages to what I have learned today. We have only one more day for this camp; I get ready well for the rest of the training to make it very meaningful.
UEHARA Takuya (SHONAN BELLMARE)
The coach was changed and this is the new beginning of the squad. I am very happy to be called up in this opportunity. I was nervous since this is my first time to join in the squad, but I still believe that I could do keeping 100% of my level from the beginning. In this afternoon, we had intensive goalkeeper training and I have got a lot of inspirational things from the 2 senior goalkeepers. For the year 2020, I will continue to do my best during and after this camp to keep surviving as a squad member!
MORIMURA Takashi (VASAGEY OITA)
The second day of our training camp has finished and today we focused on offense. I have learned new detailed approaches such as when and how to move. Especially it was inspirational for me to learn about what to do and when to move as a pivot player. We have only one more day, I will do my best to absorb what he wants to teach us as much as possible.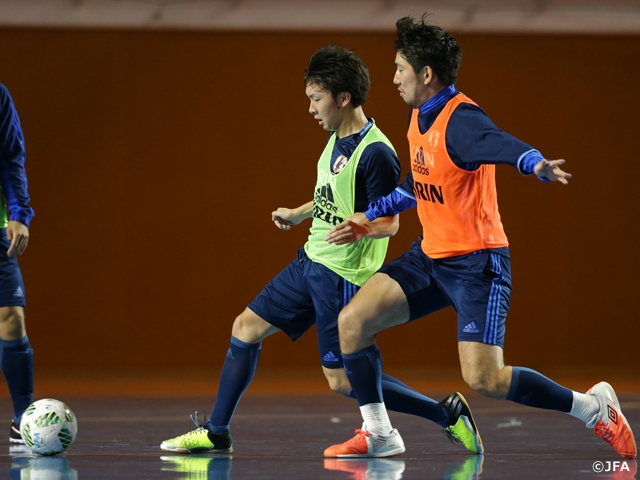 Schedule
| | | |
| --- | --- | --- |
| Mon. 24 October | PM | Training |
| Tue. 25 October | AM/PM | Training |
| Wed. 26 October | AM | Training |
*The schedule is subject to change due to the team condition, the weather, etc.