NEWS
Japan Beach Soccer National Team drops second match against Spain at the Intercontinental Beach Soccer Cup Dubai 2019
07 November 2019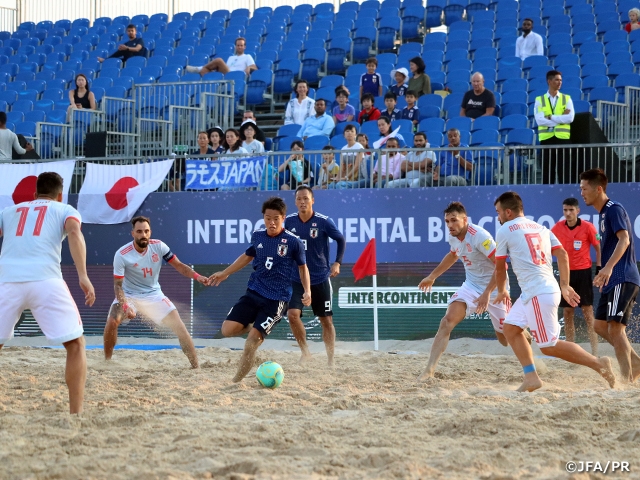 Beach Soccer Intercontinental Cup Dubai 2019
vs Spain Beach Soccer National Team
Wed. 6 November 2019 16:15 (Local time) Match Duration 36mins (12mins×3)
Kite Beach (UAE, Dubai)
Japan Beach Soccer National Team 2-3 (1-1, 0-1, 1-1) Spain Beach Soccer National Team
Scores
4' MATSUDA Kosuke (Japan Beach Soccer National Team)
10' goal against (Spain Beach Soccer National Team)
25' goal against (Spain Beach Soccer National Team)
30' goal against (Spain Beach Soccer National Team)
35' OBA Takaaki (Japan Beach Soccer National Team)
Starting Line-up
GK: KAWAI Yusuke
FP: MOREIRA Ozu, MATSUO Naoya, OBA Takaaki, OKUYAMA Masanori
Reserves
GK: GINOZA Tomoya
FP: TABATA Teruki, KOMAKI Masayuki, YAMAUCHI Shusei, AKAGUMA Takuya, SAITO Takumi, MATSUDA Kosuke
Match Report
On Wednesday 6 November, the Japan Beach Soccer National Team played their second group stage match of the Intercontinental Beach Soccer Cup Dubai 2019 against the Spain Beach Soccer National Team. Japan has faced Spain twice this year and lost both matches heading into this match. Despite showcasing an equally matched bout in their third encounter of the year, the team lost 2-3 against the European powerhouse.
Following their 6-4 victory over Italy, Japan started KAWAI Yusuke in goal, with a line-up of MOREIRA Ozu, MATSUO Naoya, OBA Takaaki, and OKUYAMA Masanori. The opening goal came in the fourth minute, when MATSUDA Kosuke received a pass from Kawai and struck a bicycle shot that went off the post before finding the back of the net.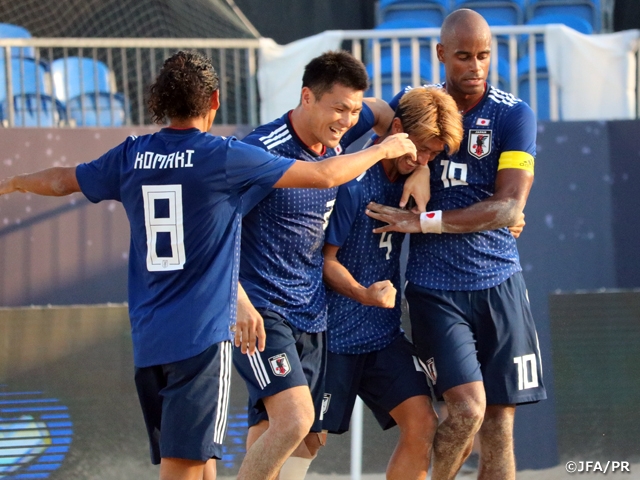 Moments later, YAMAUCHI Shusei followed with a bicycle shot that also struck the post, but his shot fell short from scoring a goal. Despite their dominance in the first period, Japan ended up conceding a goal in the 10th minute from their own mistake, ending the period 1-1.
After the second period ended scoreless for both sides, the third period started with Spain scoring the go ahead goal in the 25th minute, when they converted a bicycle shot. With momentum on their side, Spain managed to double their lead with a goal scored in the 30th minute. Despite the goal scored by Oba in the 35th minute, Japan fell short from levelling the match, as they lost the match 2-3.
The Japan Beach Soccer National Team will now face the UAE Beach Soccer National Team on Thursday 7 November at 18:45 local time.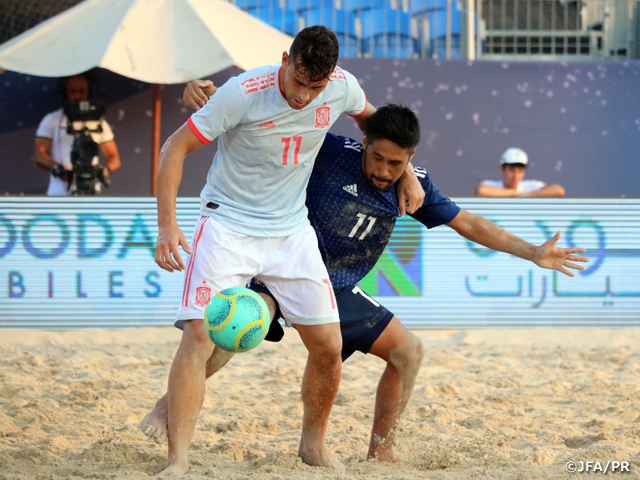 Players' Comments
FP #7 OBA Takaaki (Loewe Yokohama)
Although we managed to create many opportunities early in the match, we failed to convert our chances to extend our lead. Conversely, we ended up conceding goals from our own mistakes and allowed our opponent to take the lead. This was a very disappointing match and we all know that we need to improve ourselves in the technical and mental aspects, while the team also need to communicate more actively. We hope to feed off of this defeat and utilise the experience to improve ourselves in the future. For now, we will prepare ourselves ahead of tomorrow's match and strive to win our way through the group stage.
FP #8 KOMAKI Masayuki (Veertien Mie BS)
Spain was an opponent we haven't won this year, as we lost to them at the Mundialito and at an international friendly match, so we entered the match with the intention to stay communicated when playing defence. Although we managed to show many improvements from our previous match, we failed to find our rhythm in offence and couldn't convert our chances. The players must communicate with each other to address the issues and prepare ourselves ahead of our next match, so that we can showcase a better performance as a team.
Schedule
| | | |
| --- | --- | --- |
| Thu. 31 October | TBC | Training |
| Fri. 1 November | TBC | Training |
| Sat. 2 November | TBC | Training |
| Sun. 3 November | TBC | Training |
| Mon. 4 November | TBC | Training |
| Tue. 5 November | 6-4 | 1st Group Stage Match vs Italy (Kite Beach) |
| Wed. 6 November | 2-3 | 2nd Group Stage Match vs Spain (Kite Beach) |
| Thu. 7 November | 18:45 | 3rd Group Stage Match vs UAE (Kite Beach) |
| Fri. 8 November | TBC | Semi-Finals (Kite Beach) |
| Sat. 9 November | TBC | Final/Play-offs (Kite Beach) |
*Local time
*The schedule is subject to change due to the team condition, the weather, etc.
Intercontinental Beach Soccer Cup Dubai 2019
Tournament Dates: Tue. 5 - Sat. 9 November 2019
Tournament Venue: Kite Beach, Dubai