NEWS
Japan Beach Soccer National Team come from behind to earn win over Italy - Intercontinental Beach Soccer Cup Dubai 2019
06 November 2019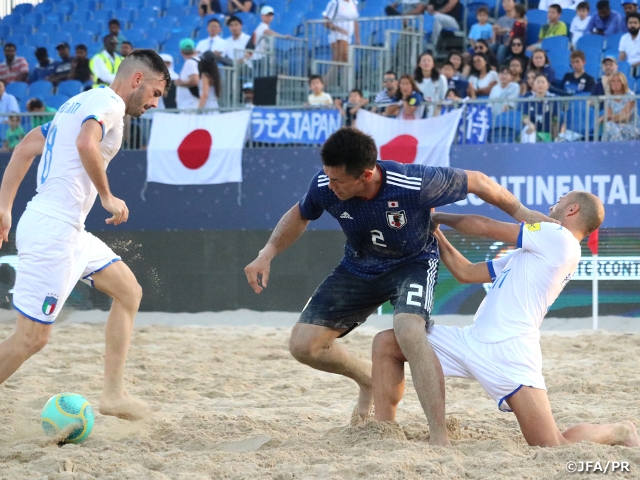 Beach Soccer Intercontinental Cup Dubai 2019
vs Italy Beach Soccer National Team
Tue. 5 November 2019 16:15 (Local time) Match Duration 36mins (12mins×3)
Kite Beach (UAE, Dubai)
Japan Beach Soccer National Team 6-4 (1-2, 1-0, 4-2) Italy Beach Soccer National Team
Scores
8' goal against (Italy Beach Soccer National Team)
11' goal against (Italy Beach Soccer National Team)
11' OKUYAMA Masanori (Japan Beach Soccer National Team)
19' OBA Takaaki (Japan Beach Soccer National Team)
25' OG (Japan Beach Soccer National Team)
29' AKAGUMA Takuya (Japan Beach Soccer National Team)
32' OKUYAMA Masanori (Japan Beach Soccer National Team)
32' goal against (Italy Beach Soccer National Team)
34' goal against (Italy Beach Soccer National Team)
34' YAMAUCHI Shusei (Japan Beach Soccer National Team)
Starting Line-up
GK: GINOZA Tomoya
FP: MOREIRA Ozu, MATSUO Naoya, OBA Takaaki, AKAGUMA Takuya
Reserves
GK: KAWAI Yusuke
FP: TABATA Teruki, KOMAKI Masayuki, YAMAUCHI Shusei, SAITO Takumi, OKUYAMA Masanori, MATSUDA Kosuke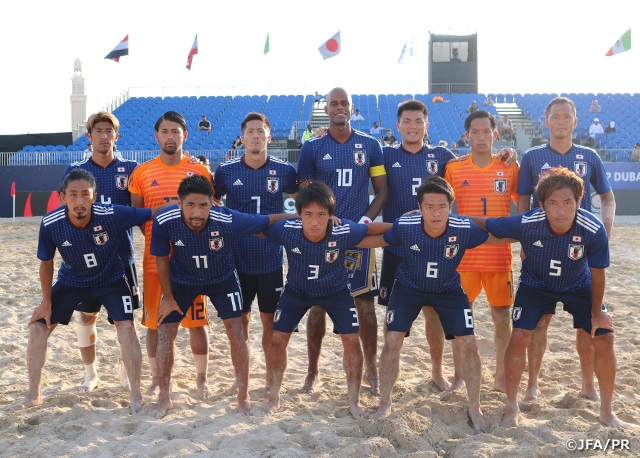 Match Report
On Tuesday 5 November, the Japan Beach Soccer National Team faced the Italy Beach Soccer National Team at their first group stage match of the Intercontinental Beach Soccer Cup Dubai 2019. Italy has finished fourth at the FIFA Beach Soccer World Cup Bahamas 2017 and currently ranks fourth in the world ranking.
The first period started with the two sides exchanging close opportunities, as Italy struck the post from a free kick, followed by AKAGUMA Takuya's bicycle kick that nearly captured the Italian goal. The opening goal came in the eighth minute, as Italy converted a free kick from the central area of the pitch. While MOREIRA Ozu's attempt from distance fell short from equalising the match, Italy capitalised on a mistake committed by Japan to double their lead. However, Japan managed to score back a goal with a volley shot taken by OKUYAMA Masanori to end the first period 1-2.
The second period saw both sides showing great aggression to attack the opposing goal. In the 14th minute, Italy came close to converting another free kick, but this time Japanese goalkeeper, GINOZA Tomoya, made a fine save to keep the score intact. A minute later, OBA Takaaki redirected a shot taken by Moreira, but his attempt couldn't capture the target. Japan's equaliser came in the 19th minute, when Akaguma's shot struck the post, allowing Oba to convert the deflection to level the match at 2-2.
With momentum on their side, Japan scored the go-ahead goal in the first play of the third period, as Oba's shot deflected off an Italian player before finding the back of the net. Akaguma made it 4-2 with a tremendous shot taken in the 29th minute, followed by a free kick converted by Okuyama in the 32nd minute to take a three goal lead. Despite conceding back to back goals to Italy, YAMAUCHI Shusei fired a dynamic volley shot just before the final whistle, as Japan took the first match of the tournament with a score of 6-4.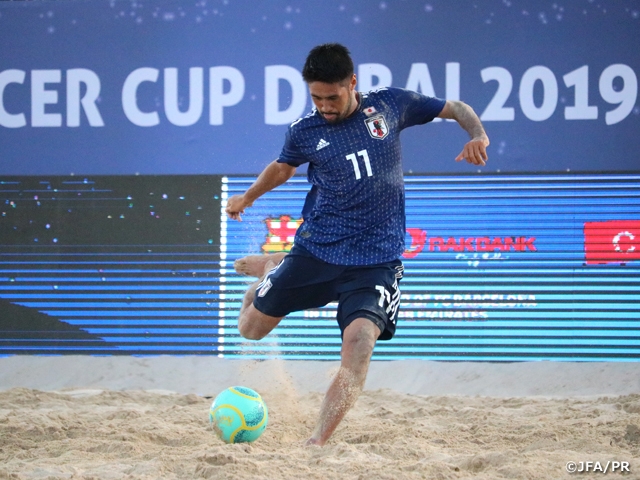 Japan Beach Soccer National Team will now face the Spain Beach Soccer National Team on Wednesday 6 November at 16:15.
Players' Comments
GK #12 GINOZA Tomoya (Veertien Mie BS)
The fact that we were able to win over an Italian side who finished fourth at the World Cup gives us great confidence. We focused on working on our tactics after arriving in Dubai, and we were able to test out many plays during this match. Despite conceding the opening goal, we managed to keep our composure and rally back to take control of the match. In order to get ourselves prepared for the World Cup, we hope to actively communicate with each other and work to improve the overall quality of our team performance. We are very thankful for our fans, supporters, family, and employers for their understanding and support.
FP #2 AKAGUMA Takuya (Dorsole Kitakyushu)
Although we gave up the opening goal, we managed to keep our composure and fight back as a team to earn this victory. It feels like we were able to showcase what we have been working on as a team and our efforts have earned us this result. We still have plenty of room for improvements, but we hope to prepare ourselves in the best way possible ahead of our match against Spain. We are very thankful for all the support from everybody.
Schedule
| | | |
| --- | --- | --- |
| Thu. 31 October | TBC | Training |
| Fri. 1 November | TBC | Training |
| Sat. 2 November | TBC | Training |
| Sun. 3 November | TBC | Training |
| Mon. 4 November | TBC | Training |
| Tue. 5 November | 6-4 | 1st Group Stage Match vs Italy (Kite Beach) |
| Wed. 6 November | 16:15 | 2nd Group Stage Match vs Spain (Kite Beach) |
| Thu. 7 November | 18:45 | 3rd Group Stage Match vs UAE (Kite Beach) |
| Fri. 8 November | TBC | Semi-Finals (Kite Beach) |
| Sat. 9 November | TBC | Final/Play-offs (Kite Beach) |
*Local time
*The schedule is subject to change due to the team condition, the weather, etc.
Intercontinental Beach Soccer Cup Dubai 2019
Tournament Dates: Tue. 5 - Sat. 9 November 2019
Tournament Venue: Kite Beach, Dubai