NEWS
Japan Beach Soccer National Team prepare for Switzerland practice match
24 April 2017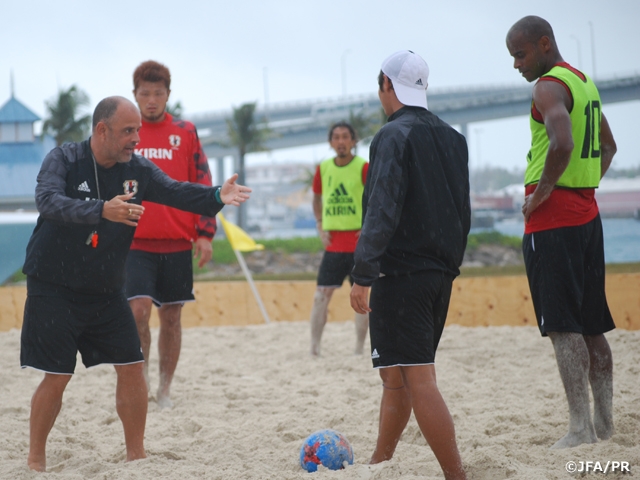 Currently holding a training camp in the Bahamas ahead of the coming FIFA Beach Soccer World Cup, the Japanese national team went through training in preparation for the practice match tomorrow against Switzerland on Sunday 23 April.
This was the first rainy day in the Bahamas after their arrival.
In their training, they warmed up with an accustomed routine of core training using resistance bands, followed by a series of sprints with varying body positions to improve their agility, and ended with a scrimmage practice to thoroughly check on their team tactics and strategies to be employed during the Switzerland match and the World Cup opener against Poland. They coached one another on the field, applauding for good plays and correcting poor one, and encouraged each other at times to keep their motivation up while making their final preparation for the tomorrow's match.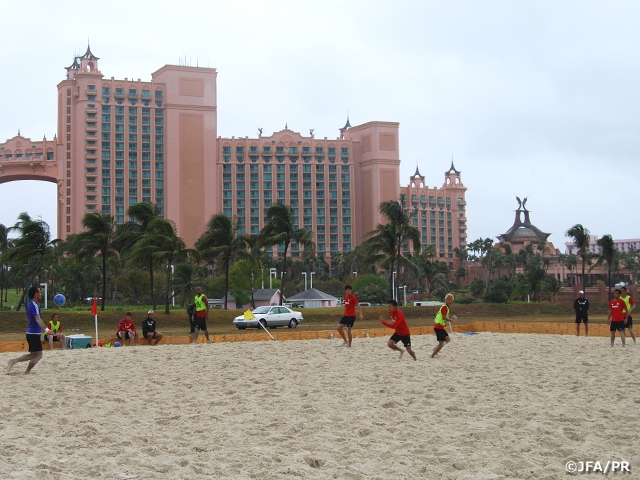 The Japanese team are scheduled to have their last practice match before the World Cup against European powerhouse Switzerland tomorrow (Monday 24) from 17:30 local time.
Players' Comments
FP #6 KOMAKI Masayuki (Veertien Mie BS)
I am getting accustomed to the local sand in the Bahamas. We made significant improvement in our team tactics as we added more attacking variations. In the scrimmage practices, we had plenty of fine goals and excellent defensive plays. We are having productive training in preparation for the upcoming matches, and will be looking ahead towards the coming World Cup and play in the practice game against Switzerland tomorrow.
GK #12 KAWAI Yusuke (Tokyo Verdy BS)
We are practising near the actual beach field to be used during the World Cup and getting a good feel for the local sand and varying weather conditions of rain and wind. The team are in excellent form as we approach the opening of the World Cup. Our motivation level is getting higher, while our team tactics improved significantly. Tomorrow, we will have our final training match ahead of the World Cup against Switzerland. This will be an important game to go through the checklists and make sure we all understand what we need to do as a team. We will do our best to play at our pace and have an excellent match.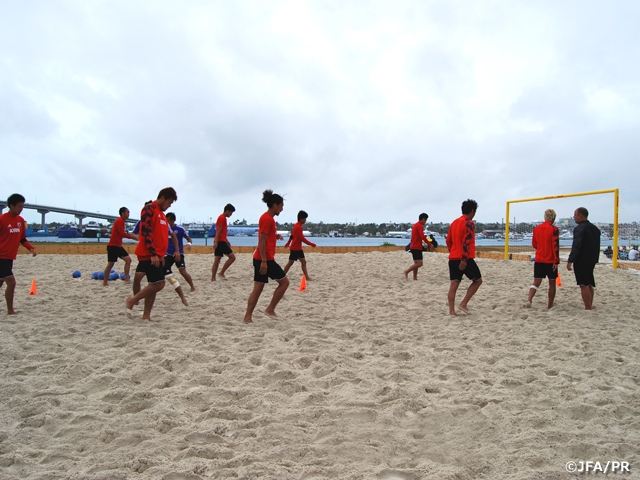 Schedule
Mon. 10 April
PM
Training
Tue. 11 April
AM/PM
Training
Wed. 12 April
AM/PM
Training
Thu. 13 April
AM/PM
Training
Fri. 14 April
AM/PM
Training
Sat. 15 April
9-3
International Friendly Match 1st
vs Germany (Nishihara Kirakira Beach)
Sun. 16 April
5-3
International Friendly Match 2nd
vs Germany (Nishihara Kirakira Beach)
Tue. 18 April
TBC
Training
Wed. 19 April
TBC
Training
Thu. 20 April
TBC
Training
Fri. 21 April
10-4
Training Match vs Bahamas
Sat. 22 April
TBC
Training
Sun. 23 April
TBC
Training
Mon. 24 April
17:30
Training Match vs Switzerland
Tue. 25 April
TBC
Training
Wed. 26 April
TBC
Training
FIFA Beach Soccer World Cup Bahamas 2017
Thu. 27 April
TBC
Training
Fri. 28 April
15:30
Group Stage 1st
vs Poland (National Beach Soccer Arena)
Sat. 29 April
TBC
Training
Sun. 30 April
15:30
Group Stage 2nd
vs Tahiti (National Beach Soccer Arena)
Mon. 1 May
TBC
Training
Tue. 2 May
18:30
Group Stage 3rd
vs Brazil (National Beach Soccer Arena)
Wed. 3 May
TBC
Training
Thu. 4 May
TBC
Quater Final
Fri. 5 May
TBC
Training
Sat. 6 May
TBC
Semi Final
Sun. 7 May
TBC
Final
*Local Time
*The schedule may be subject to change due to the team condition, the weather, etc.
FIFA Beach Soccer World Cup Bahamas 2017
27 April 2017 (Thu.) ~ 7 May 2017 (Sun.)
Tournament Information