NEWS
Nadeshiko Japan had official training for the match against Ecuador
15 June 2015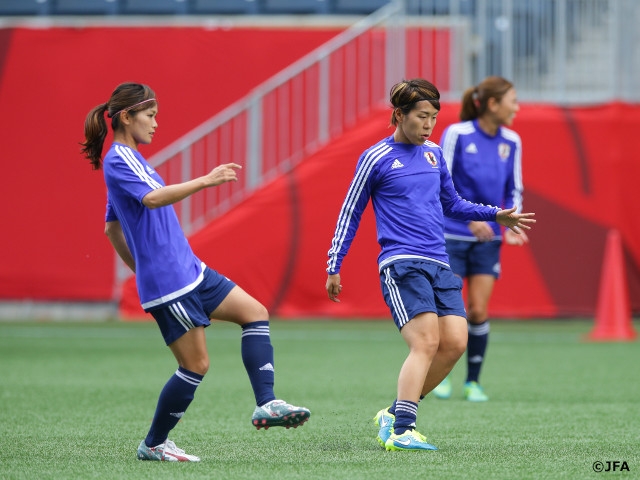 Nadeshiko Japan moved to Winnipeg where they will have their third match of FIFA Women's World Cup Canada 2015 on 13 June, and had an official press conference and training at the match venue Winnipeg Stadium on 14 June.
Head coach SASAKI Norio and forward OGIMI Yuki attended the official press conference. Nadeshiko Japan are now on top of their Group C after winning two straight games beating Switzerland and Cameroon. Ecuador, whom Japan will play for the next match, haven't won yet in their previous 2 matches. Nadeshiko Japan have to win or at least draw the match to guarantee going through as the top team of the group.
Japan head coach Sasaki told the reporters that he considers that they will have six days until the next Round of 16 on 23 June if they go through Group C and said "I don't think about giving the players rest now. To win the next match, I will select best players who are in good condition". He also told them about the team's situation that the players who haven't had opportunities to play have high motivation to prepare for the next matches and said that he will select the players considering the future matches after the next Round of 16.
Ogimi expressed her passion after being asked about intensive pressing-defense to her in the previous matches; "For several years including this World Cup, I feel that I am checked so intensively. But this is a good chance for the other teammates to get the ball. I am happy if I can contribute to the team in any way."
After the press conference, the team had official training for an hour, and they checked their strategy and pitch condition with some practical sessions.
Vanessa ARAUZ, the Head Coach of Ecuador says, "it is very difficult for us to face with the fact that we lost the two previous matches allowing 16 goals. However, the team without any challenge never grows up. We will do our best in the next match against Japan." The team captain Ligia Moreira(#16) says "it is such an honor that we can play against the previous champion of the World Cup. We will keep playing positively and show that we play for Ecuador."
For the 3rd match against Ecuador Women's National Team on 16th, Nadeshiko Japan will have training on the 15th to prepare well for the upcoming match.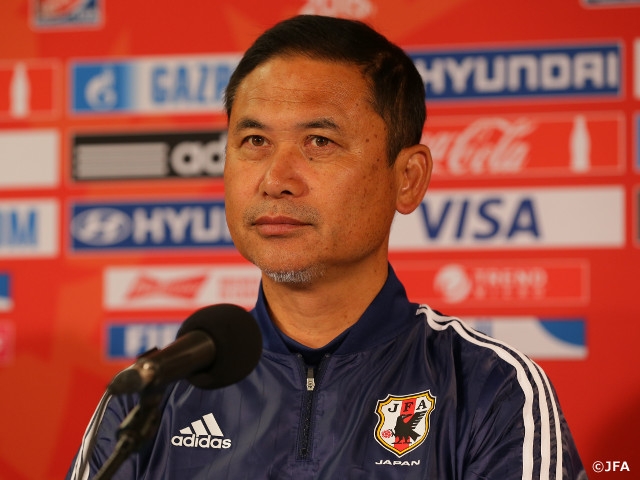 Head Coach and Players' Comments
SASAKI Norio, Head Coach (Nadeshiko Japan /Japan Women's National Team)
We want to move on to the next Round of 16 by beating Ecuador. What we need to do is paying more attention to the flow of the game, and being more aggressive. These are the issues we found in the previous match.
In the official training, we are having a practice game simulating the next match to select the best players. Going through Group C as the top team has been our aim since before the World Cup started. It is important for us to move on to the next stage by beating opponents and by overcoming our issues as a team.
DF #12 KAMIONOBE Megumi (Albirex Niigata Ladies)
Today we had a mini practice game in the official training. We want to prepare very well for the next match against Ecuador. I was substituted when it was difficult situation for us, and I found how I should move the ball round in the challenging situation, and how I could change the negative mood in the match were my issues. Good communication is also very important, so I will try my best for the rest of two days before the match. In offense, I want to stick to scoring and to help the teammates to calming down in any situation.
GK #1 FUKUMOTO Miho (Okayama Yunogo Belle)
We want to have a good match next time as a team. As a player on the pitch, all I have to do is do good job, so I just keep my level of play in any situation. I will concentrate on the next match. We don't know yet that who will be selected for the next one, but it does not matter who will play or who will be a substitute; we will be united well to win. I will want to be quick to save our goal and to prevent good form of offense from the opponents.
Vanessa ARAUZ, Ecuador Women's National Team Head Coach
We have learned a lot playing at our first World Cup. The match against Japan is important both for Ecuadorian people and for us. We just want to show our good play so that we can hold our heads up after the match. We know that Japan has played well in the previous 2 matches, but that does not mean that we won't be able to play well in the next match. We will be careful in defense, but always try to keep good balance to get any chance to score.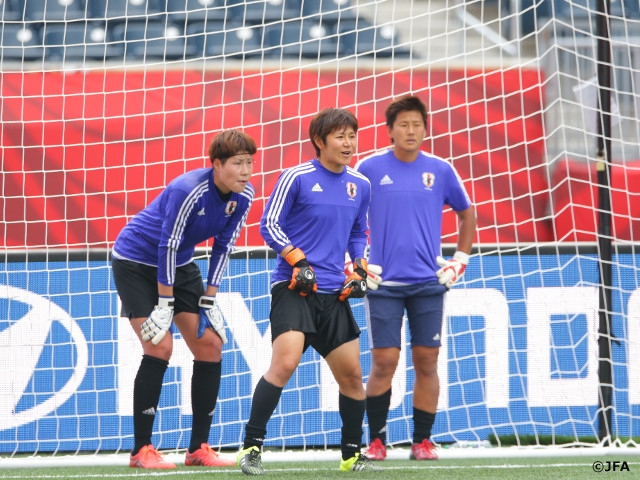 FIFA Women's World Cup Canada 2015
Ecuador Women's National Team vs Nadeshiko Japan (Japan Women's National Team)
Wed. 17 June Kickoff 6:00 (subject to change)