NEWS
Nadeshiko Japan to enter knockout stage, gain inspiration from the Olympic village
30 July 2021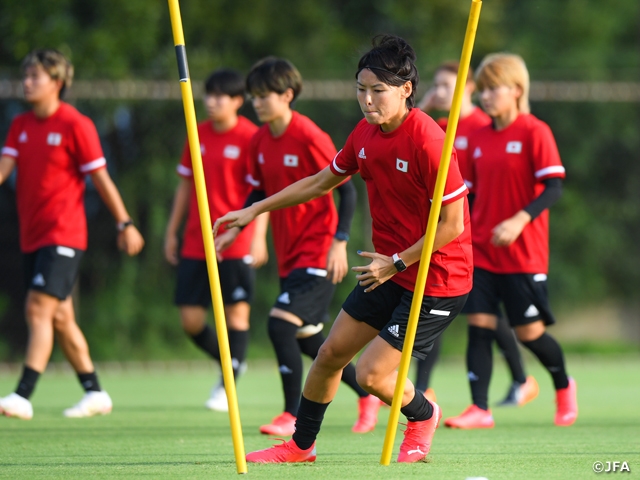 On Thursday 29 July, the Nadeshiko Japan (Japan Women's National Team) held their final training session ahead of their quarterfinal match against Sweden.
The team arrived at the Olympic village following their final group stage match against Chile to prepare for their next match against Sweden at Saitama Stadium 2002. After spending time at the tournament's venue hotels in Sapporo and Sendai, the players seemed to be inspired by other athletes staying at the Olympic village. With matches taking place every three days, the team have just one full day to prepare for their next match, after spending a day to travel and recover from their match against Chile.
On this day, the team held a training session which was open to the media for the first 15 minutes, as they went through their set-pieces and strategies, before working on their PKs to conclude the session.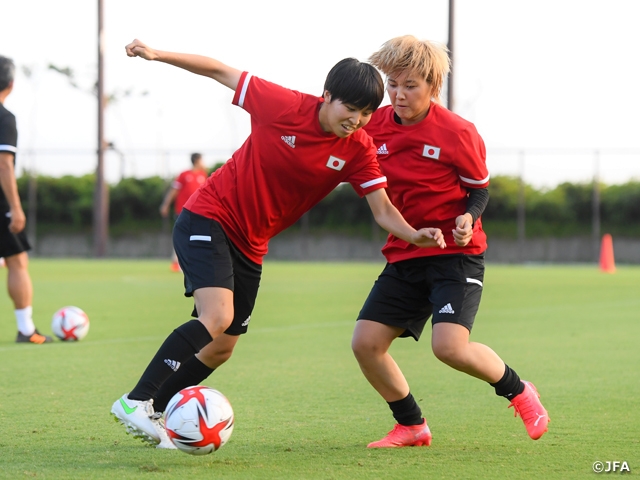 As mentioned in thePreview page, Sweden have become one of the top teams in the international women's football scenes in the recent years. They have defeated USA, who are considered as one of the tournament favourites, 3-0 at the group stage and swept all three matches in Group G to clinch their spot into the knockout stage.
The Games of the XXXII Olympiad (Tokyo 2020) women's football tournament quarterfinals between the Nadeshiko Japan and the Sweden Women's National Team will take place on Friday 30 July (19:00) at Saitama Stadium 2002.
Players' Comments
DF #4 KUMAGAI Saki (FC Bayern Munich/Germany)
We are just getting started, as we enter the knockout stage. We have been focusing on maintaining our physical conditions, but I personally feel like I am in great form right now. Sweden has fast players in the flanks, and they are capable of creating opportunities from their crosses. It is one thing to deny them from initiating their attacks, but our patience will certainly be tested in this match. We hope to learn from our mistakes against Canada and Great Britain, make the necessary adjustments to keep a clean sheet, and capitalise on our opportunities to win this match.
MF #14 HASEGAWA Yui (AC Milan/Italy)
There will be no draws from this point on, so we must go over what has to be done as a team and try to leave everything on the pitch. We saw many flaws in our matches at the group stage, but we were still able to make it through to the quarterfinals. We can go on and list all the mistakes we made up to this point, but we should rather focus on what we did right and be proud of the fact that we were able to fight as a team to make it this far. We will continue to fight with a challenger's spirit and give our best efforts on the pitch.
MF #20 HAYASHI Honoka (AIK Fotboll/Sweden)
Sweden is a very good team, so we must work together as a team and give our best effort to survive this knockout stage. The Swedish players are strong and skilful, so we need to find ways to stop them in order to initiate our offence. I have been able to focus on my plays under this intense atmosphere, so that has given me confidence. Since moving to Sweden, I have been able to anticipate for the next play and commit myself to win the ball in a fifty-fifty situation, so that is something I hope to bring to the team. There have been many aspects we need to improve as a team, so we hope to make the necessary adjustments on the pitch.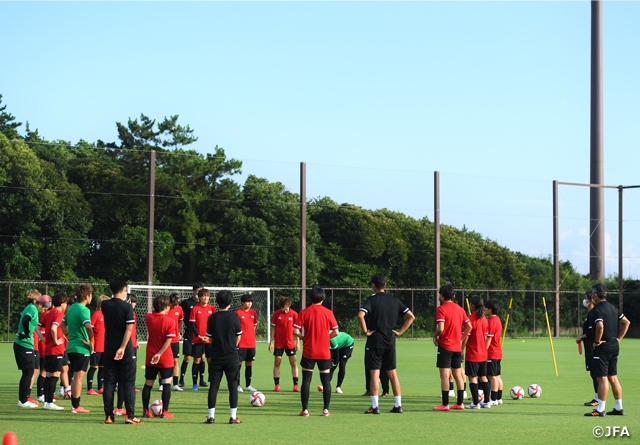 Games of the XXXII Olympiad (Tokyo 2020)
Football competition: Wed. 21 July - Sat. 7 August 2021