NEWS
Nadeshiko Japan hold training session ahead of final group stage match against Chile
27 July 2021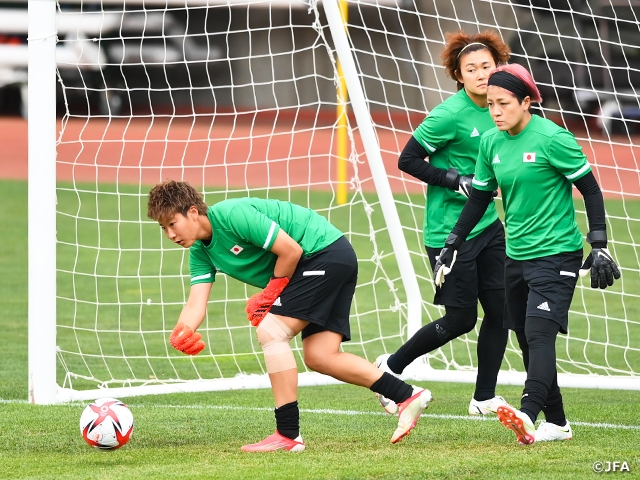 On Monday 26 July, the Nadeshiko Japan (Japan Women's National Team) held their final training session ahead of their third group stage match of the Games of the XXXII Olympiad (Tokyo 2020) against the Chile Women's National Team.
With 12 teams divided into three groups in the women's tournament, the top two teams of each group and the two best third-placed teams will advance to the knockout stage. After playing two matches in Group E, Japan is currently sitting in third place with one point. In order for Japan to clinch the knockout stage, they will need to earn points in their third match, while scoring as many goals as possible.
On this day, the training session was opened to the media for the first 15 minutes, while the rest was held behind closed doors. With the matches played every three days, the players went through drills to maintain their conditions, while also going over their tactics and set-plays, in a session that lasted about an hour.
In regard to the reports that a typhoon is approaching the Tohoku region, coach TAKAKURA Asako commented, "We certainly want to avoid a typhoon, but we will become the typhoon on the pitch." With the match being the only football match played with spectators, the coach mentioned, "We will convert the crowds voice to energy."
The Nadeshiko Japan's third group stage match against the Chile Women's National Team is scheduled to kick-off at 20:00 on Tuesday 27 July at Miyagi Stadium.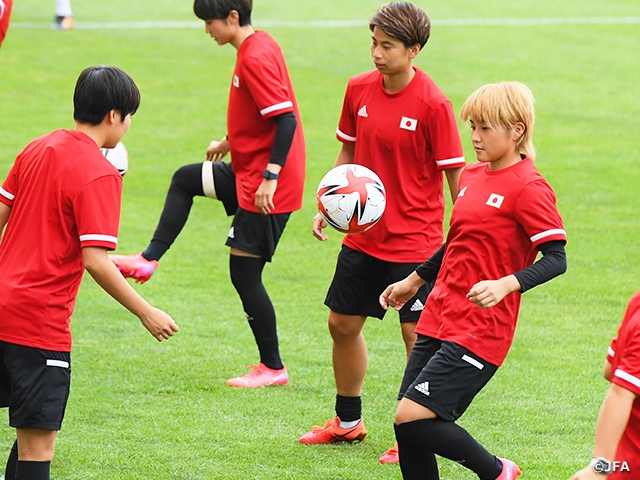 Players' Comments
MF #6 SUGITA Hina (INAC Kobe Leonessa)
We might have played too passively in our matches against Canada and Great Britain. Our strengths lie on our ability to possess the ball and keep the ball moving while evading the opponent's pressure, but because we spent too much time on our build-up plays, we were not able to create as many opportunities upfront to threaten the opposing goal. We have prioritised our defence up until this point, but now that we have our backs against the wall, we must take more risks and play more aggressively. At an individual level, I need to make more plays that can threaten the opposing goal by penetrating the spaces in the flank. I will do my best to make runs, deliver crosses, and take shots that can help the team score more goals.
MF #12 ENDO Jun (Nippon TV Tokyo Verdy Beleza)
Our next match against Chile is going to be a match we cannot afford to lose, especially with the crowd allowed into the stadium for this match. In the past two matches, I haven't been able to score goals as an attacker, while also not making much contribution in defence, so I need to step up my performance to help the team win the third match. I haven't been taking shots, so I will focus on taking more shots and try to create more chances for the team.
FW #11 TANAKA Mina (INAC Kobe Leonessa)
We have held joint training sessions with high school men's football teams in the past, but the players of Great Britain showcased similar speed and power, which were supplemented by their tactical skills. Through our sessions with the men's team, we were able to improve our response against faster opponents and cross balls. Although we were able to create good chances from our counterattacks, I feel like I was positioning myself too deep, which limited the overall number of our attacks. Our opponent also showcased great transitions, from offence to defence. Although we were able to improve our defensive game, we lacked intensity in our offence, so that is an aspect we must strive to improve ourselves moving forward.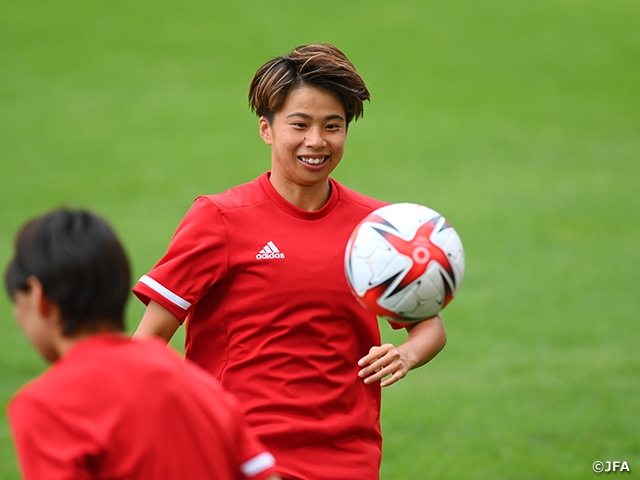 Games of the XXXII Olympiad (Tokyo 2020)
Football competition: Wed. 21 July - Sat. 7 August 2021