NEWS
Tosu earn first win in seven matches to remain atop of the table - Prince Takamado Trophy JFA U-18 Football Premier League 2022
28 November 2022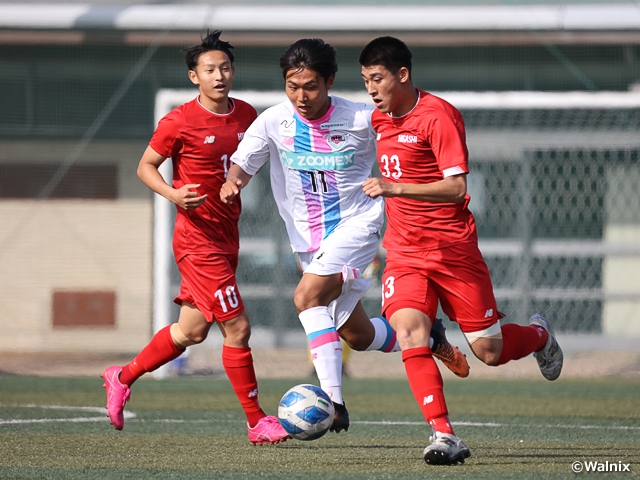 The 21st sec. of the Prince Takamado Trophy JFA U-18 Football Premier League 2022 WEST took place on Saturday 26 and Sunday 27 November. At Higashi Fukuoka High School Ground, Higashi Fukuoka High School (Fukuoka) faced Sagan Tosu U-18 (Saga).
Featured Match
Higashi Fukuoka High School 0-1 (0-1, 0-0) Sagan Tosu U-18
Tosu, who started the season with a record of nine wins and two losses leading up to July, were in good form at the top of the table, but after the 17th sec. match against Shimizu S-Pulse Youth (Shizuoka), they went winless in six consecutive matches. While Tosu stagnated, Vissel Kobe U-18 (Hyogo) caught up in points with 37. Although Tosu have the advantage in goal difference, Kobe have played one fewer match, making this a must win match for them to stay in contention for the title. "A win will help us regain our confidence. Our coach told us that the only way out is for us to win," said TAKEUCHI Ryotaro (#3).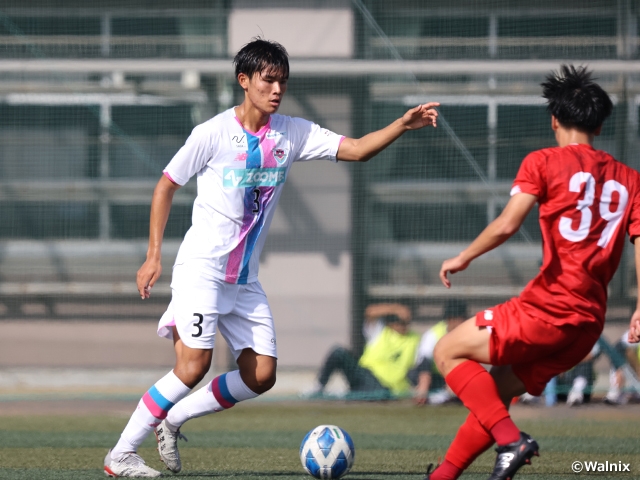 The match started with Tosu taking the initiative by delivering long balls into the spaces behind the Higashi Fukuoka defence line, as Takeuchi reflected, "We knew there will be spaces behind the opponents' defence line, so we anticipated to exploit those spaces." The opening goal came in the ninth minute, when OSATO Koma (#11) connected with a corner kick delivered by IMAMURA Motoki (#5) to give Tosu the lead.
After taking the lead, Tosu kept on creating opportunities as MASUZAKI Kosei (#17) and other midfielders added layers to their attack. In the 26th minute, Masuzaki controlled the ball upfront to setup the shot of SAKAIYA Keisuke (#9), followed by a chance created by NARAHARA Yoshiki (#7) in the 32nd minute, but fell short from scoring another goal in the first half.
However, the flow of the match changed dramatically in the second half with Higashi Fukuoka gaining control over the ball possession, as SHIMOKAWA Shosei (#10) later reflected, "We tried to build our game by possessing the ball from our defence." More and more chances were created by Higashi Fukuoka, as YOSHIOKA Takumi (#23) and TSUSHIMA Rikuto (#29) attacked the flanks, but the Tosu defence showed great composure to keep their one goal lead intact, as Takeuchi recalled, "Our opponents were trying to collect the ball to their tall forwards, so we made conscious efforts to deflect the ball. The fact that we worked on our defence against crosses all week, helped us keep our poise."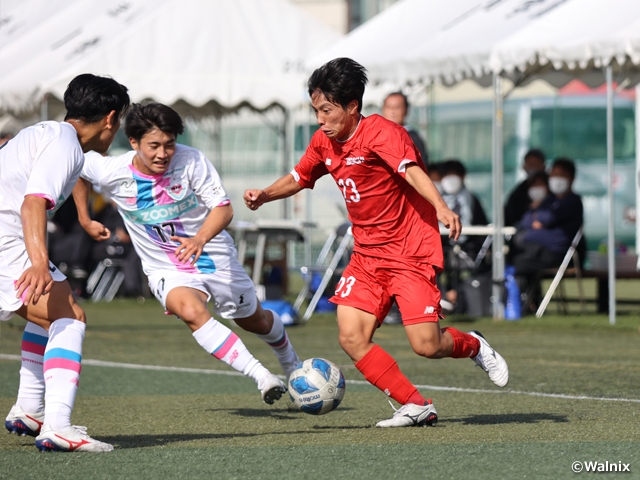 Towards the end of the match, Tosu introduced FUKUI Taichi (#10), who had returned from the U-19 Japan National Team's tour to Spain, and in the 79th minute, Fukui delivered a through ball that allowed Sakaiya to break through the right side of the box, setting up the shot of MATSUOKA Hibiki (#13), but his attempt was saved by the Higashi Fukuoka goalkeeper SUDA Junya (#1). With the final whistle, Tosu managed to earn their first win in seven matches that will allow them to enter the final match of the season as the leader of the WEST. On the other hand, Higashi Fukuoka kept their place in the Premier League as a result of the matches played at other venues.
Coaches and Players' Comments
MF #10 SHIMOKAWA Shosei (Higashi Fukuoka High School)
We had to face the league leaders in the midst of our race for survival. We knew we were up against a superior team, but we felt we had the edge in terms of mental toughness. Although we were able to possess the ball longer than we did in our last encounter with them, but we lacked quality to score goals, so that is something we hope to improve in our final two matches. We will do our best to conclude our final high school season on a high note.
MF #23 YOSHIOKA Takumi (Higashi Fukuoka High School)
Since losing in the All Japan High School Soccer Tournament qualifier, we shifted our focus towards the survival race in the Premiere League. I personally wanted to compete at the Premier League next season, so I was determined to help the team finish out of the relegation zone. It was great to see our team create chances from the flanks, which was something we couldn't do at the All Japan High School Soccer Tournament qualifier. I was told to make runs down the line to deliver crosses, and the fact that I was able to execute my plays against a strong team like Tosu gives me a lot of confidence moving forward. I will continue to work hard so that I can create more chances from the flank.
TANAKA Tomonori, Coach (Sagan Tosu U-18)
We can't let up just yet, but I feel very relieved that we were able to secure three points today. We haven't been winning in our recent matches, but our performance has not been bad. Our players clearly understand how important it is to close out the match, but we kept conceding goals at the end, which made me wonder what we were doing wrong. I don't know if we have resolved that issue, but I feel like our perseverance has been paid off today.
DF #3 TAKEUCHI Ryotaro (Sagan Tosu U-18)
After sustaining an injury during the first half of the season, this was my first start in while, so I was focused on keeping a clean sheet. I am happy that we were able to keep this match scoreless because we haven't kept many clean sheets since the start of the second half of the season. After battling through a tough stint, we are left with one more match we need to win. The situation is straightforward, so we intend to demonstrate everything we have accomplished throughout our time playing for Sagan Tosu.
Results of other matches
Riseisha High School 2-3 (2-0, 0-3) Shizuoka Gakuen High School
Vissel Kobe U-18 1-2 (1-0, 0-2) Nagoya Grampus U-18
Jubilo Iwata U-18 2-4 (1-1, 1-3) Ozu High School
Cerezo Osaka U-18 1-2 (1-0, 0-2) Sanfrecce Hiroshima FC Youth
Gamba Osaka Youth 3-3 (1-2, 2-1) Shimizu S-Pulse Youth
In an away match against Riseisha High School (Osaka), Shizuoka Gakuen High School (Shizuoka) conceded two goals in the first half but scored three in the second half to win the match 3-2. Vissel Kobe U-18 (Hyogo) suffered their first loss since the seventh sec. after failing to defend their first half lead taken from Nagoya Grampus U-18 (Aichi). YAMASHITA Motonari (#11) and KOBAYASHI Shunei (#9) each scored a pair of goals that helped Ozu High School (Kumamoto) win over Jubilo Iwata U-18 (Shizuoka). Despite conceding the opening goal to Cerezo Osaka U-18 (Osaka), Sanfrecce Hiroshima FC Youth (Hiroshima) scored two goals in the second half to claim the win. Gamba Osaka Youth (Osaka)とShimizu S-Pulse Youth (Shizuoka) exchanged three goals apiece to share a point.
Prince Takamado Trophy Premier League Official Twitter
%F0%9F%8F%86#高円宮U18 プレミアリーグ 2022%F0%9F%8F%86
%F0%9F%9F%A2WEST 第21節(11/27)%F0%9F%9F%A2#磐田 2-4 #大津#東福岡 0-1 #鳥栖#C大阪 1-2 #広島#G大阪 3-3 #清水

結果詳細はこちら%F0%9F%94%97https://t.co/EwnoNsPsov#高校サッカー pic.twitter.com/sBxymISA2N

— 高円宮杯 JFA U-18サッカープレミアリーグ (@jfa_u18) November 27, 2022
%F0%9F%8F%86#高円宮U18 プレミアリーグ 2022%F0%9F%8F%86
%F0%9F%9F%A2WEST%F0%9F%9F%A2(11/27時点)

%E2%9A%BD暫定順位表%E2%9A%BD
1%E2%83%A3 #鳥栖
2%E2%83%A3 #V神戸
3%E2%83%A3 #磐田
4%E2%83%A3 #静岡学園
5%E2%83%A3 #名古屋
6%E2%83%A3 #大津
7%E2%83%A3 #広島
8%E2%83%A3 #履正社
9%E2%83%A3 #東福岡
1%E2%83%A30%E2%83%A3 #清水
1%E2%83%A31%E2%83%A3 #C大阪
1%E2%83%A32%E2%83%A3 #G大阪

詳細はこちら%F0%9F%94%97https://t.co/AHqNVIJWJl#高校サッカー pic.twitter.com/LtU4LtZsny

— 高円宮杯 JFA U-18サッカープレミアリーグ (@jfa_u18) November 27, 2022
Prince Takamado Trophy JFA U-18 Football Premier League 2022
League Duration: Sat. 2 April - Sun. 4 December 2022