NEWS
Kawasaki Frontale claim EAST title in their first Premiere League season! - Prince Takamado Trophy JFA U-18 Football Premier League 2022
21 November 2022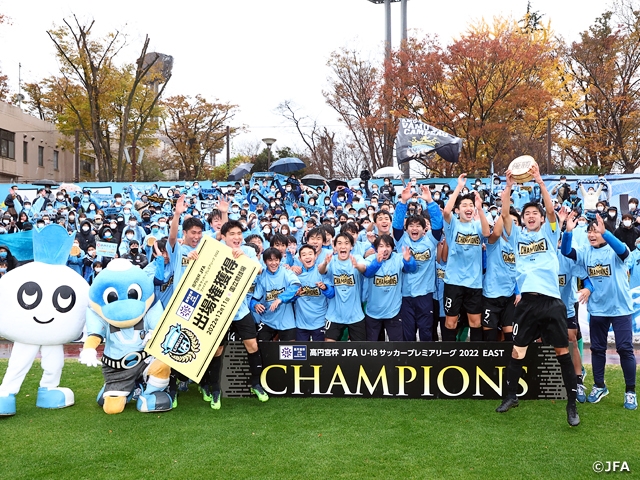 The 20th sec. of the Prince Takamado Trophy JFA U-18 Football Premier League 2022 EAST took place on Saturday 19 and Sunday 20 November. At Hodogaya Park Soccer Field, Kawasaki Frontale U-18 (Kanagawa) faced FC Tokyo U-18 (Tokyo).
Featured Match
Kawasaki Frontale U-18 1-0 (0-0, 1-0) FC Tokyo U-18
Kawasaki entered the match at the top of the Premier League EAST table and in position to lock up the title with a win this week, as second placed Yokohama F. Marinos Youth (Kanagawa), who trailed by seven points, defeated Aomori Yamada High School (Aomori) in an earlier match. However, the match proceeded at FC Tokyo's pace from the outset. After the shot taken by NAGANO Shuto (#41) struck the crossbar, TANABE Kota (#20) exchanged passes with KONNO Mitsuki (#18) to strike a shot in the 13th minute to threaten the Kawasaki goal. The Tokyo side continued to create chances from their high-press and fast breaks, as HIGASHI Renta (#13) made attempts to deliver long balls into the spaces behind the Kawasaki defence line.
Following a scoreless first half, FC Tokyo continued to control the game in the second half. TAGUCHI Kiichi (#15) headed the ball into the Kawasaki goal from a corner kick in the 52nd minute, but the goal was disallowed because it was ruled that a foul had been committed prior to the play. In order to add more depth to their offence, FC Tokyo brought on TAWARATUMIDA Kota (#11), who made numerous runs down the line to create chances from the right side.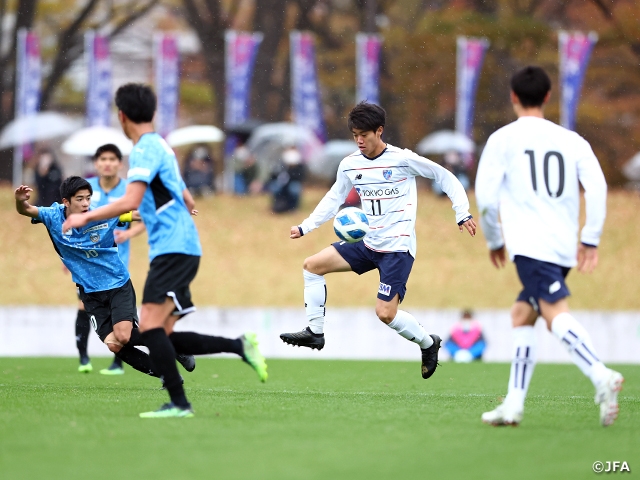 In efforts to change the dynamics of the match, Kawasaki introduced SHIBATA Shotaro (#32) to play in the left side. This substitution turned out to be effective, as Shibata disrupted the FC Tokyo defence by repeatedly exploiting the space and sending crosses from the flank. The golden moment came in the 84th minute, when OZEKI Yuto (#10) delivered a pass to Shibata, who laid off the ball to setup the cross of TSUCHIYA Kaito (#35) which was converted by GOKITA Kishin (#9), putting Kawasaki in the lead.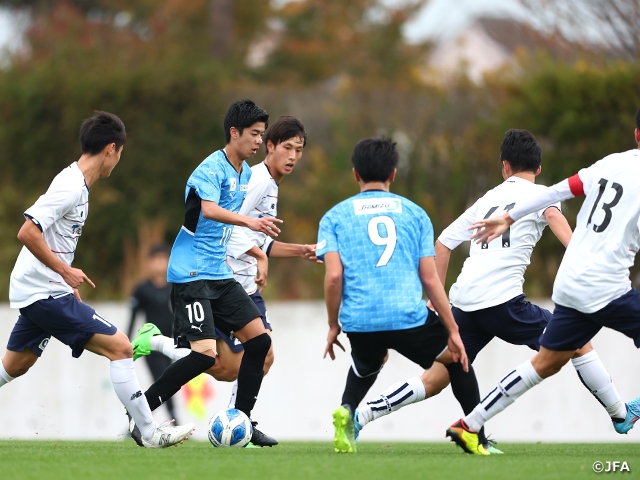 With the team holding onto the lead, Kawasaki won the "Tamagawa Clasico" 1-0 to claim the Premier League EAST title in their first season.
Coaches and Players' Comments
NAGAHASHI Yasuhiro, Coach (Kawasaki Frontale U-18)
The players worked extremely hard from the trainings, so I believed that they could accomplish it. With this being our first season in the Premier League, we faced many obstacles, but the players got stronger and stronger as the season progressed. We played a very though match today, but the fact that we were able to score first was huge. We will cherish every moment we have left with this squad.
MF #10 OZEKI Yuto (Kawasaki Frontale U-18)
I am so happy that all the work we have put in this year has paid off. I was so overwhelmed that I started crying after the match. FC Tokyo was much stronger than the last time we faced them. With both teams missing some of their core players, it was a tough match, but we managed to work together as a team to score that goal. With the title on the line, I think we had a stronger desire to win, which was the difference in this match.
OKUHARA Takashi, Coach (FC Tokyo U-18)
Facing an opponent we lost early in the season, we wanted to see how much we had improved since then, but the players put on a fantastic performance, possibly the best of the season. However, we didn't have what it takes to win the match. Kawasaki was simply better than us, and I would like to congratulate them for their victory.
MF #38 SATO Ryunosuke (FC Tokyo U-18)
Last time we played against them, I remember not being able to do anything. So, in that sense, I feel like I was able to do a lot more and showcase my abilities. Although I am happy with my overall performance, I lacked quality in my plays towards the end of the match, so that is an aspect I hope to improve on.
Results of other matches
Yokohama FC Youth 3-3 (1-0, 2-3) Kiryu Daiichi High School
JFA Academy Fukushima U-18 1-0 (1-0, 0-0) Kashiwa Reysol U-18
Aomori Yamada High School 0-2 (0-0, 0-2) Yokohama F.Marinos Youth
Maebashi Ikuei High School 1-0 (1-0, 0-0) Ryutsu Keizai University Kashiwa High School
Omiya Ardija U18 2-3 (1-1, 1-2) Funabashi Municipal High School
The match between Yokohama FC Youth (Kanagawa) and Kiryu Daiichi High School (Gunma) ended in a draw after the two sides exchanged three goals apiece. As a result, Kiryu Daiichi has been relegated to the Prince League. JFA Academy Fukushima U-18 (Shizuoka) defeated Kashiwa Reysol U-18 (Chiba) with a goal from SAITO Haru (#7) in the 9th minute. Yokohama F.Marinos Youth (Kanagawa) won against Aomori Yamada High School (Aomori), with MOCHIZUKI Kohei (#40) scoring two goals in the closing stages. In the match between Maebashi Ikuei High School (Gunma) and Ryutsu Keizai University Kashiwa High School (Chiba), Maebashi Ikuei grabbed three points with a goal by HORIKAWA Naoto (#33) in the 14th minute. Funabashi Municipal High School (Chiba), who played Omiya Ardija U18 (Saitama), scored the decisive goal during additional time to secure a valuable win for their bid to remain in the Premier League.
Prince Takamado Trophy Premier League Official Twitter
#高円宮U18 プレミアリーグ 2022%F0%9F%8F%86
%F0%9F%94%B4EAST 第20節(11/20)%F0%9F%94%B4#青森山田 0-2 #横浜FM#大宮 2-3 #市立船橋#川崎F 1-0 #FC東京#前橋育英 1-0 #流経大柏

結果詳細はこちら%F0%9F%94%97https://t.co/L3gtVZFUzK#高校サッカー pic.twitter.com/zwKMNjc7pC

— 高円宮杯 JFA U-18サッカープレミアリーグ (@jfa_u18) November 20, 2022
%F0%9F%8F%86#高円宮U18 プレミアリーグ 2022%F0%9F%8F%86
%F0%9F%94%B4EAST%F0%9F%94%B4

%E2%9A%BD️暫定順位表%E2%9A%BD️(11/20時点)
1%E2%83%A3 #川崎F
2%E2%83%A3 #横浜FM
3%E2%83%A3 #大宮
4%E2%83%A3 #FC東京
5%E2%83%A3 #青森山田
6%E2%83%A3 #横浜FC
7%E2%83%A3 #前橋育英
8%E2%83%A3 #流経大柏
9%E2%83%A3 #柏
1%E2%83%A30%E2%83%A3 #市立船橋
1%E2%83%A31%E2%83%A3 #AC福島
1%E2%83%A32%E2%83%A3 #桐生第一

詳細はこちら%F0%9F%94%97https://t.co/4ZZTNi2D0B#高校サッカー pic.twitter.com/7veF5rThkS

— 高円宮杯 JFA U-18サッカープレミアリーグ (@jfa_u18) November 20, 2022
Prince Takamado Trophy JFA U-18 Football Premier League 2022
League Duration: Sat. 2 April - Sun. 4 December 2022