NEWS
Ryutsu Keizai Kashiwa win the "Kashiwa Derby" to avoid relegation - Prince Takamado Trophy JFA U-18 Football Premier League 2022
28 November 2022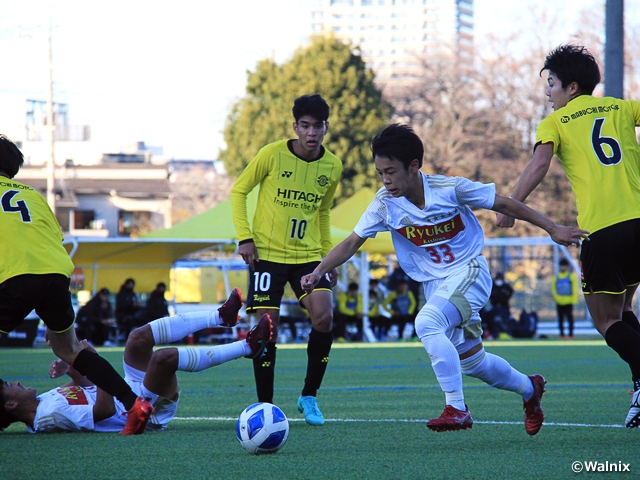 The 21st sec. of the Prince Takamado Trophy JFA U-18 Football Premier League 2022 EAST took place on Saturday 26 and Sunday 27 November. At Hitachi Kashiwa Multipurpose Ground, Kashiwa Reysol U-18 (Chiba) faced Ryutsu Keizai University Kashiwa High School (Chiba).
Featured Match
Kashiwa Reysol U-18 0-1 (0-0, 0-1) Ryutsu Keizai University Kashiwa High School
At the end of the 20th sec., Kashiwa was in 10th place with 22 points, just on the cusp of the relegation zone, while Ryutsu Keizai Kashiwa was in eighth place with 23 points, making this "Kashiwa Derby" a direct confrontation between the teams vying for survival.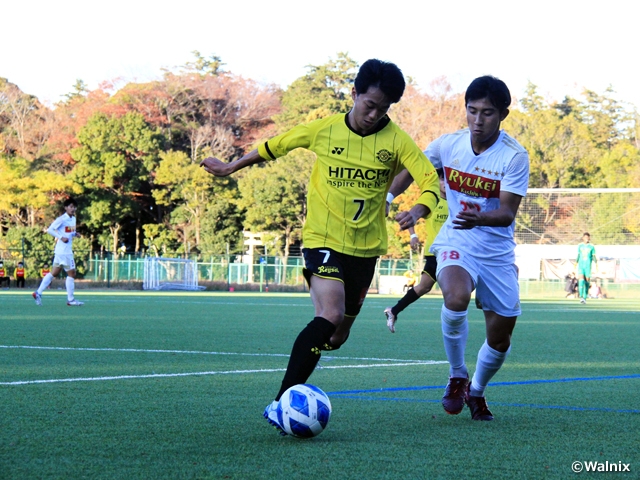 The match started with Ryutsu Keizai Kashiwa showing great aggression. They charged hard from their frontline, and immediately launched short counters when winning the ball.
After taking the initiative, Ryutsu Keizai Kashiwa scored the opening goal in the sixth minute, when SATO Ryuga (#13), who later commented, "I was determined to take the first shot," struck a magnificent shot to convert the cross delivered by HAGIWARA Masaya (#3).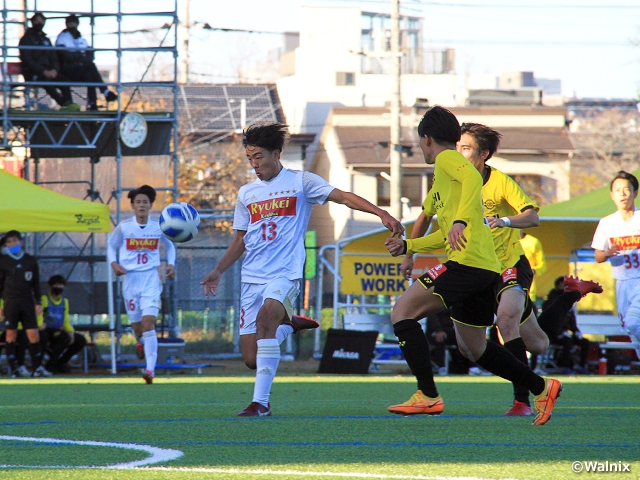 With momentum on their side, Ryutsu Keizai Kashiwa continued to dominate the match, as the majority of the first half was played in Reysol's half. The score remained 1-0, but it was a one-sided affair, with Ryutsu Keizai Kashiwa taking six shots to Reysol's zero.
In order to change the dynamics of the match, Reysol's Coach SAKAI Naoki brought in NAKAMURA Takumu (#8) and SEKITOMI Kanta (#46) to start the second half with the intention of "creating time with players who are good at possessing the ball." The addition of Nakamura allowed them to create chances from the left side, while Sekitomi revitalised their offence with his work ethic. In the 72nd minute, the 189 cm tall KONNO Nobuhiro (#18) was brought off the bench to add more firepower in the attacking third, but Ryutsu Keizai Kashiwa's defence remained focused to the end.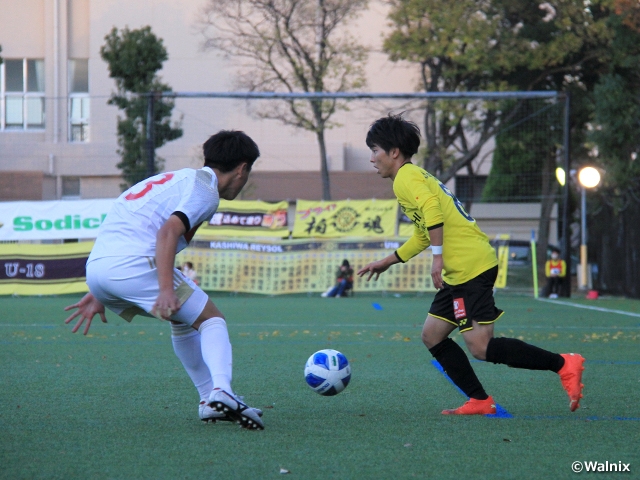 With the final whistle blowing after three minutes of additional time, Ryutsu Keizai Kashiwa secured their spot in Premiere League next season. Kashiwa Reysol U-18 remain in 10th place, as they square off against Yokohama F.Marinos Youth (Kanagawa) in their final match with their league survival on the line.
Coaches and Players' Comments
SAKAI Naoki, Coach (Kashiwa Reysol U-18)
We might have become overly conscious after learning that, based on the outcomes of the matches played before us, a victory in this match would guarantee our survival. It made us jittery and unable to make good decisions. However, we still have one more match to play, so we must switch our focus. As a team representing the Reysol organisation, we shall battle valiantly and work diligently to prevail in the ensuing match.
MF #10 MOHAMADO Faruzansana (Kashiwa Reysol U-18)
It was a game we had to win, and we all worked hard to do so. However, we gave up an early goal, and our offensive was ineffective. We knew our opponents were going to apply pressure from their frontline, and although we were able to evade that pressure, we couldn't find ways to advance the ball upfront. I personally need to be able to deliver more passes through the middle.
ENOMOTO Masahiro, Coach (Ryutsu Keizai University Kashiwa High School)
It was a game that epitomised the season, one that had to be fought patiently. I think the players were under a lot of pressure, but they faced it well. We played in a way we were most comfortable with, since we thought this match was the culmination of what we had done all year, and after we scored the first goal, we were truly able to play like ourselves. We have now secured our spot in the Premier League for next season, and it is very important for us to keep fighting on this stage.
MF #13 SATO Ryuga (Ryutsu Keizai University Kashiwa High School)
After losing to Kashiwa in the fourth sec., we entered this match determined to return the favour. This season, we have been involved in the survival race towards the end of the season, which has been tough but also exciting at the same time. We were told to be ready to exploit the space behind the opponent's defence line, and I was determined to take the first shot of the match, so I am glad I was able to capitalise on my first opportunity.
Results of other matches
Yokohama F.Marinos Youth 4-4 (2-1, 2-3) Kawasaki Frontale U-18
Funabashi Municipal High School 0-0 (0-0, 0-0) Kiryu Daiichi High School
JFA Academy Fukushima U-18 0-1 (0-1, 0-0) Aomori Yamada High School
Omiya Ardija U18 2-0 (2-0, 0-0) Maebashi Ikuei High School
FC Tokyo U-18 4-2 (1-1, 3-1) Yokohama FC Youth
The match between Yokohama F.Marinos Youth (Kanagawa) and Kawasaki Frontale U-18 (Kanagawa) ended in a draw after the two sides exchanged four goals apiece. Funabashi Municipal High School (Chiba) and Kiryu Daiichi High School (Gunma) shared a point in a scoreless draw. The goal scored by NISHIWAKI Kotaro (#3) in the sixth minute ended up being the decisive goal, as Aomori Yamada (Aomori) defeated JFA Academy Fukushima U-18 (Shizuoka) 1-0. Omiya Ardija U18 (Saitama) scored twice in the first half to defeat Maebashi Ikuei High School (Gunma) 2-0. FC Tokyo U-18 (Tokyo) scored four goals, starting with the goal of YAMAGUCHI Taiyo (#26) in the eighth minute, to take three points from Yokohama FC Youth (Kanagawa).
Prince Takamado Trophy Premier League Official Twitter
%F0%9F%8F%86#高円宮U18 プレミアリーグ 2022%F0%9F%8F%86
%F0%9F%94%B4EAST 第21節(11/27)%F0%9F%94%B4#市立船橋 0-0 #桐生第一#AC福島 0-1 #青森山田
#大宮 2-0 #前橋育英
#FC東京 4-2 #横浜FC#柏 0-1 #流経大柏

結果詳細はこちら%F0%9F%94%97https://t.co/Y65xFaqUYE#高校サッカー pic.twitter.com/GY9cEZgQv6

— 高円宮杯 JFA U-18サッカープレミアリーグ (@jfa_u18) November 27, 2022
%F0%9F%8F%86#高円宮U18 プレミアリーグ 2022%F0%9F%8F%86
%F0%9F%94%B4EAST%F0%9F%94%B4

%E2%9A%BD️順位表%E2%9A%BD️(11/27時点)
1%E2%83%A3 #川崎F
2%E2%83%A3 #横浜FM
3%E2%83%A3 #大宮
4%E2%83%A3 #FC東京
5%E2%83%A3 #青森山田
6%E2%83%A3 #横浜FC
7%E2%83%A3 #前橋育英
8%E2%83%A3 #流経大柏
9%E2%83%A3 #市立船橋
1%E2%83%A30%E2%83%A3 #柏
1%E2%83%A31%E2%83%A3 #AC福島
1%E2%83%A32%E2%83%A3 #桐生第一

詳細はこちら%F0%9F%94%97https://t.co/4ZZTNi2D0B#高校サッカー pic.twitter.com/53pb2WutLT

— 高円宮杯 JFA U-18サッカープレミアリーグ (@jfa_u18) November 27, 2022
Prince Takamado Trophy JFA U-18 Football Premier League 2022
League Duration: Sat. 2 April - Sun. 4 December 2022