NEWS
Aomori Yamada and Kashiwa each walk away with a point after exchanging multiple goals - Prince Takamado Trophy JFA U-18 Football Premier League 2022
04 July 2022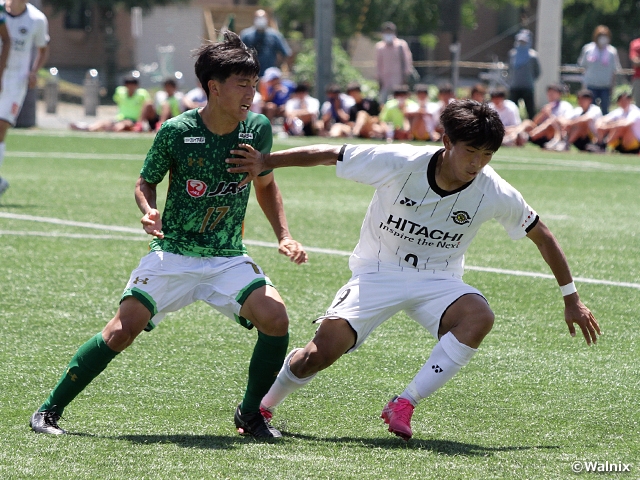 The 11th sec. of the Prince Takamado Trophy JFA U-18 Football Premier League 2022 EAST took place on Saturday 2 and Sunday 3 July. At Aomori Yamada High School Ground, the defending champions of the Premier League EAST, Aomori Yamada High School (Aomori), squared off against Kashiwa Reysol U-18 (Chiba).
Featured Match
Aomori Yamada High School 3-3 (2-2, 1-1) Kashiwa Reysol U-18
The match started with the home side taking the lead, as TAKUSHIMA Yoshiki (#5) converted the loose ball caused by the long-throw of WATANABE Rai (#2) in the sixth minute.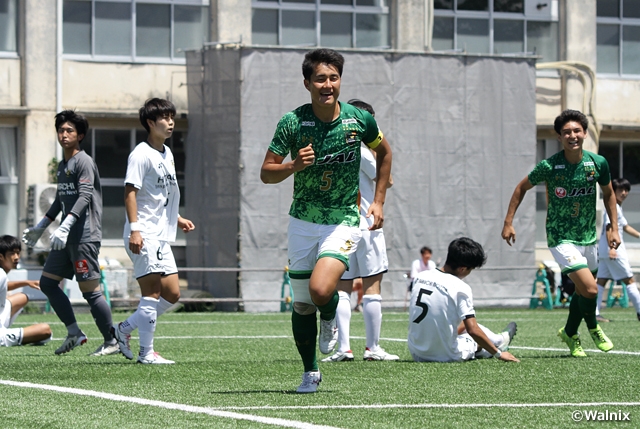 Gaining momentum from the opener scored by their captain, who had just returned from a lengthy injury lay-off lasting seven months in the previous week, Aomori Yamada scored their second goal in the 16th minute, when KOYANAGI Itto (#8) converted the cross of NISHIWAKI Kotaro (#3). Despite taking an early two-goal lead, Aomori Yamada's KOMINATO Tsuna (#10) later reflected, "Things went a bit too favourable for us. It made us let our guard down."
Kashiwa on the other hand, was unfazed by the early goals, as YAMAMOTO Outa (#9) mentioned, "We weren't worried at all." With Aomori Yamada blocking the spaces in the centre, Kashiwa showed great composure to keep the ball moving by effectively utilising the width of the pitch. The visitors' patience was paid off in the 29th minute, when KONO Nobuhiro (#18) struck a header off of a cross sent by Mohamado Faruzan SANA (#10) to cut the deficit in half, before scoring the equaliser during additional time of the first half.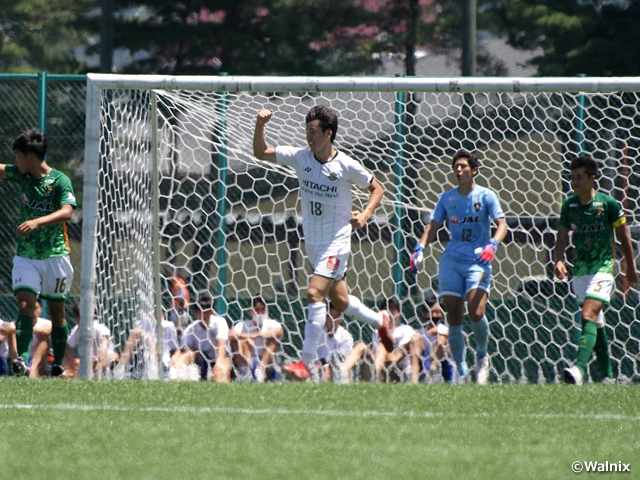 Learning from the mistakes they made in the first half, Aomori Yamada entered the second half with a more aggressive approach. In the 60th minute, Nishiwaki delivered his second assist of the match, delivering a cross that was converted by Watanabe to put the home side in the lead once again.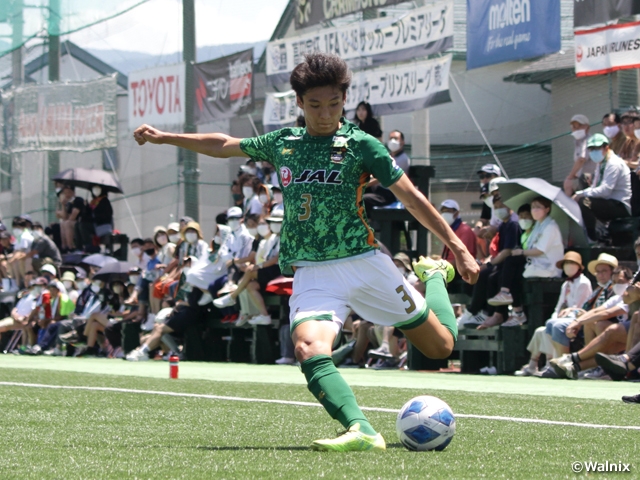 However, the tide shifted towards Kashiwa from this point onwards, as Aomori Yamada's coach KURODA Go later mentioned, "In addition to the fact that it was the hottest day of the year in Aomori, we were getting overwhelmed by the opponent's pass-work and techniques."
With momentum on their side, Kashiwa rallied in the closing minutes, which led to the play created by Kono in the 85th minute. The pass delivered by Kono, who had propelled Kashiwa's offence throughout the match, found Yamamoto, who scored the equaliser with a shot he later reflected, "I knew Kono was going to pass the ball, so I just focused on hitting the ball as hard as I could."
Aomori Yamada found themselves in deep trouble when they had one of their players getting sent off in the 87th minute, but it allowed the home side to commit to defence for the remainder of the match, as Kominato commented, "We had issues with the way we played against Kiryu Daiichi after we were a man down, so we were able to make use of that experience." After the two sides combined for a total of six goals, Aomori Yamada and Kashiwa Reysol each walked away with a point.
Coaches and Players' Comments
KURODA Go, Coach (Aomori Yamada High School)
We need to become a team that could hold onto a 2-0 lead. We must reflect on the fact that we conceded three goals, but also have a positive view on how we managed to secure a point despite the given circumstance. We continue to see good competition within the team while we compete in the Premiere League, and since the start of the season we have made about six changes to our starting line-up, so I feel that our squad is getting stronger.
DF #5 TAKUSHIMA Yoshiki (Aomori Yamada High School)
It is disappointing that we couldn't follow up on our shutout performance from last week. We expected our opponents to dominate the ball possession, but we need to address how we conceded goals through plays from the flanks. The time I spent away from the team after the injury was really hard, but I've come this far thanks to the support of many people. I am really grateful for that.
SAKAI Naoki, Coach (Kashiwa Reysol U-18)
It is an issue that we conceded from set-pieces, which we had been paying maximum attention to and thoroughly covered during our training sessions. However, it is also true that Aomori Yamada's skilful timing, which cannot be simulated in trainings, their aggressiveness and intensity, as well as their pinpoint techniques were all excellent. We really wanted to three points from this match, but we didn't have what it takes to win at the end.
FW #9 YAMAMOTO Outa (Kashiwa Reysol U-18)
Although we conceded consecutive goals in the early minutes, we were not worried at all. The fact that we made conscious efforts to score one goal at a time led to this result, but I personally would have liked to be more involved in the team's goals. Aomori Yamada were solid in front of their goal, but I need to be able to score against teams like them.
Results of other matches
JFA Academy Fukushima 4-2 (1-1, 3-1) Funabashi Municipal High School
Omiya Ardija U18 1-0 (0-0, 1-0) FC Tokyo U-18
Yokohama FC Youth 1-1 (0-1, 1-0) Ryutsu Keizai University Kashiwa High School
Maebashi Ikuei High School 0-2 (0-1, 0-1) Yokohama F.Marinos Youth
Kawasaki Frontale U-18 4-0 (3-0, 1-0) Kiryu Daiichi High School
JFA Academy Fukushima (Shizuoka) defeated Funabashi Municipal High School (Chiba) at home, thanks to the late brace scored by SHIIBA So (#6). OZAWA Haruki (#3) scored the game-winner in the 74th minute to help Omiya Ardija U18 (Saitama) earn their fifth win of the season. The match between Yokohama FC Youth (Kanagawa) and Ryutsu Keizai University Kashiwa High School (Chiba) ended in a draw after each side scored a goal apiece. Yokohama F.Marinos Youth (Kanagawa) scored a goal in each half to win over Maebashi Ikuei High School (Gunma). Led by the brace of GOKITA Kishin (#9), Kawasaki Frontale U-18 (Kanagawa) recorded their eighth consecutive victory by defeating Kiryu Daiichi High School (Gunma).
Prince Takamado Trophy Premier League Official Twitter
%F0%9F%8F%86#高円宮U18 プレミアリーグ 2022%F0%9F%8F%86
%F0%9F%94%B4EAST 第11節(7/3)%F0%9F%94%B4

%E2%9A%BD試合結果%E2%9A%BD#大宮 1-0 #FC東京#横浜FC 1-1 #流経大柏#青森山田 3-3 #柏#前橋育英 0-2 #横浜FM#川崎F 4-0 #桐生第一

結果詳細はこちら%F0%9F%94%97https://t.co/L3gtVZFUzK#高校サッカー pic.twitter.com/sGrwCGmasV

— 高円宮杯 JFA U-18サッカープレミアリーグ (@jfa_u18) July 3, 2022
%F0%9F%8F%86#高円宮U18 プレミアリーグ 2022%F0%9F%8F%86
%F0%9F%94%B4EAST%F0%9F%94%B4

%E2%9A%BD暫定順位表%E2%9A%BD
1%E2%83%A3 #川崎F
2%E2%83%A3 #横浜FM
3%E2%83%A3 #FC東京
4%E2%83%A3 #前橋育英
5%E2%83%A3 #大宮
6%E2%83%A3 #青森山田
7%E2%83%A3 #横浜FC
8%E2%83%A3 #柏
9%E2%83%A3 #流経大柏
1%E2%83%A30%E2%83%A3 #AC福島
1%E2%83%A31%E2%83%A3 #市立船橋
1%E2%83%A32%E2%83%A3 #桐生第一

詳細はこちら%F0%9F%94%97https://t.co/xyY4xTyaZQ#高校サッカー pic.twitter.com/aIA6QqHO9q

— 高円宮杯 JFA U-18サッカープレミアリーグ (@jfa_u18) July 3, 2022
Prince Takamado Trophy JFA U-18 Football Premier League 2022
League Duration: Sat. 2 April - Sun. 4 December 2022